Comments Off

on Classical Music Still Matters – Part 1 – Live from Caracas –
February 19, 2012 by Admin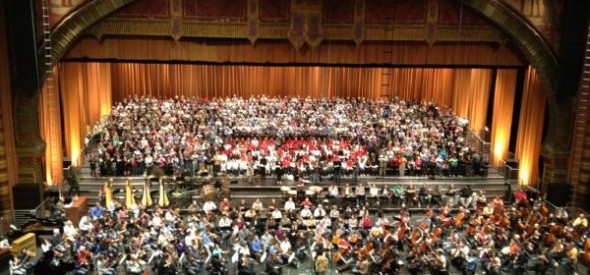 The Los Angeles Philharmonic and its Music Director Gustavo Dudamel and the Simon Bolívar Symphony Orchestra presented an extraordinary live performance of Mahler's Symphony No. 8, the "Symphony of a Thousand" on February 18 at Caracas, Venezuela's Teatro Teresa Carreno, broadcast to movie theaters across North America and television in South America. The North American broadcasts are part of what is now a regular L.A. Phil. series. I'm old enough to still be amazed that something of this scale can be broadcast to a movie house ten minutes from my home in large scale imagery and with such superb sound.
It was a remarkable and memorable concert for several reasons:
1. The performance – although perhaps lacking in a little subtlety, it more than made up for this in sheer brilliance of musicianship, enthusiasm and commitment to the music. It had life and vibrancy that fairly leapt off the giant screen – beyond many other more "Mahlerian" interpretations
2. The scale of the performance and number of performers, which included more than 1,100 (!!) voices (including a children's choir) and the combined orchestras of the Los Angeles Philharmonic and the Simon Bolívar Symphony Orchestra. The photos above and below will give an idea of the size of the stage needed to hold all the performers.
(It occurred to me that the event was also an excellent way of stress testing the Teatro Teresa Carreno facilities. I'm happy to report that they came through just fine.)
3. The beautifully produced background features that led up to the performance – these gave a vivid and moving picture of the interaction between the L.A. Phil and the Venezuelan musicians. American actor John Lithgow was a fine host and commentator for these.
4. The wonderful faces of the Venezuelans while singing or playing – all graduates of Dr. Jose Antonio Abreu's magnificent creation, El Sistema.
5. The face of Gustavo Dudamel at the end of the performance. During the prolonged applause, he seemed to want to blend into the background. I can't imagine what he must have been thinking, especially as a product of El Sistema and as a "local boy made good."
Actually, a lot of local boys and girls made very good with this performance, a true validation of a country's collective wisdom in committing to music as a big part of life.
This concert is what happens when good intentions and good hearts come together. This is how fine the intersection of people and music can be.
It was a truly wonderful thing to see and hear. I cannot recommend these L.A. Philharmonic performances highly enough. You can find much more about future Philharmonic events at http://www.laphil.com/laphillive/index.cfm?utm_source=lapa&utm_medium=upcoming&utm_campaign=frontpage&utm_content=thin_banner.
Category Sound | Tags:
---
Comments Off

on Classical Music Still Matters – Part 1 – Live from Caracas –
Sorry, comments are closed.