Comments Off

on The Stan Kenton Centennial Concerts – Concert 1 – The Innovations Orchestra
February 6, 2012 by Admin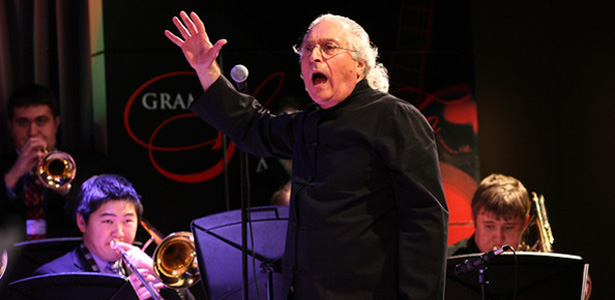 I had either the good luck or the good sense to attend a terrific concert on Friday, January 27, 2012 at Manhattan School of Music's Borden Auditorium. The Stan Kenton Centennial Concerts – Concert 1 – The Innovations Orchestra was a spectacular and enlightening evening of some of Kenton's most innovative music from 1949-1952. Given how much I learned throughout the concert, I'll opt for the good sense reason for attending.
The large stage was filled with more than 30 string players and nearly 30 brass, percussion and wind players. MSM faculty member, conductor and event organizer Justin DiCioccio led this group nimbly and often spectacularly through some of the most difficult music ever created for such forces. The compositions were by Kenton, as well as Pete Rugolo, Bill Russo, Manny Albam, Rob Graettinger and others. All of the pieces were in The Innovations Orchestra's repertoire for those three remarkable years.
I have to say that DiCioccio smiled at his players more often than just about any conductor I've ever seen, jazz, classical or whatever, especially after their remarkable performance of Graettinger's
City of Glass
, the largest , most complicated and central piece of the evening. Well he might have. The playing, nuanced and extremely musical, seemed flawless.
[flagallery gid=1 name=Gallery]
To say that the young MSM players pulled the performances off idiomatically and authentically would be to understate the obvious. The trumpets and trombones were especially fine and well written for, but I'm guessing this was what the composers had intended. There's nothing quite like the sound of massed brass – be it Ellington, Kenton, Don Ellis, The Village Vanguard Jazz Orchestra, whoever. The Innovations Orchestra composer's writing for these sections was harmonically dense and richly textured, and was beautifully managed at this concert by young people for whom Kenton's music could not have been familiar at first. I'll attribute this successful and no doubt steep learning curve to DiCioccio and the MSM staff as part of their first-rate preparation of the concert.
Speaking of the Ellington, Kenton, Ellis, VVJO timeline, it occurred to me to ask why The Innovations Orchestra music isn't more valued as the great American creation it was and still is. DiCioccio hinted that some if not all of it might not have been heard for 60 years. If that's the case, then shame on the American jazz community. The music  was, for me, enlightenment and perhaps even revelation. It's time for a little re-evaluation of this great material. I know how important Kenton's big band/big ensemble compositions are, even those that weren't completely successful (and he had a few of them), but there are plenty of these recordings to listen to. At the moment, there don't seem to be any modern recordings of the music of the Innovations years. The MSM performances, if recorded, would be a good place to start. Filling this gap could shed a new light on Kenton's evolution. Then, when arguments break out over who are the greatest American composers and musical innovators, along with Ellington, Copland, Ives, Gershwin and a few others, we can talk about Stan Kenton and his associates of The Innovations Orchestra as being worthy of addition to the pantheon.

Category Sound | Tags:
---
Comments Off

on The Stan Kenton Centennial Concerts – Concert 1 – The Innovations Orchestra
Sorry, comments are closed.