Comments Off

on Even More Spring 2014 NYC Concert Reviews and Notes
April 19, 2014 by Admin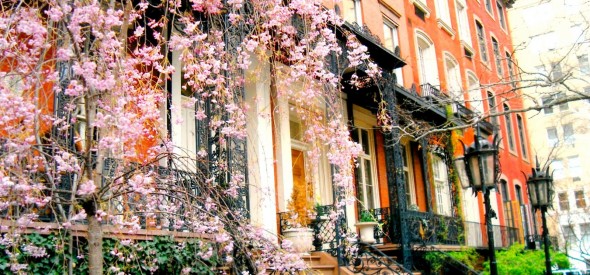 By independent New York concert reviewer Mark Greenfest.
Harold Rosenbaum conducts two choral orchestras on a regular basis.  One, consisting of professional singers, The New York Virtuoso Singers, specializes in premieres and recent pieces by living composers.  On Sunday, March 30, 2014 at 3pm at Merkin Concert Hall in New York (W. 67 St. near Broadway), this chorus – arguably, the best chorus in New York, bar none –  performed a program called More Premieres!  Mary Mackenzie, soprano; Sarah Griffiths, Suzanne Schwing, Alex Guerro, and Steven Moore; Elizabeth Smith, Helen Karlowski, soloists, got individual credits; as did Emily John, conductor of the Vox Nova Choir of Special Music School; and, these instrumentalists – the pieces were mostly a capella – got credits: Brent Funderburk, piano; Nina Uesato, violin; Nadira Novruzov, flute and Alexsa Jack, djembe.  I arrived too late to hear the first two pieces:  Karen Siegel, Confessions from the Blogosphere, and Thea Musgrave, Ithaca. Ms. Siegel won the NYVS Composers Competition, and her craft is lucid and sophisticated – with clear vocal lines and tasty textures.  Fortunately, there is a link to You Tube for her piece (http://www.youtube.com/watch?v=eZiKbcb7W8c).  Thea Musgrave, Distinguished Professor at the City University of New York, with a world reputation, had her piece performed recently by the BBC in England (she's Scottish) and there's a link to hear that excellent piece – http://www.youtube.com/watch?v=nV9G4s6Pkcg.  Michael Schachter, Three Wallace Stevens Songs (World Premiere); Chandler Carter, Canores (World Premiere); and, a 'golden oldie,' Ernst Krenek, Kantate von der Vergaenglichkeit der Irdischen, Op. 72, shared the program. The Kaufman Music Center's Special Music School (which shares the same building as Merkin) Vox Nova Choir presented one piece, Yotam Haber's appealing I AM – these singers are high school age and younger.  I have decided not to write about the individual pieces in detail; I just would like to point out this was the best ensemble to perform any choral piece, no matter how easy or how difficult, and that the entire program was most enjoyable! Visit NYVS at http://nyvirtuoso.org/.
The National Opera Center America, (330 7th Avenue at 29th St.) in New York, presents a series Creators in Concert featuring music by and discussions with some of the most exciting opera composers.  Wednesday, April 2, 2014, at 7 pm, the program featured Music and Words with Paola Prestini.  The named performers included Cree Carrico, soprano; Helga Davis, vocalist; Eve Gigliotti, mezzo-soprano; Stephen Gosling, pianist; David Adam Moore, baritone; Gyan Riley, guitarist and composer; and, Amelia Watkins, soprano.  Pieces featured included  Cut Him Out in Little Stars; I  Believe from De Deo; excerpts from The Hubble; and, The Mass from The Colorado (a film). Ms. Prestini, born in Italy, is a Soros Fellow, earned a doctorate in composition from Julliard, and co-founded Vision Into Art. She's an amazing scholar – the women's music pieces she arranged from mountainous areas in Italy stem from the ancient Greek, rather than the Roman or Etruscan traditions. She's a wonderful melodist. No matter how rich nor how sparse her musical setting is, her vocal lines are almost always lyrical and respect the richness and diversity of the voice.  These performers were all outstanding – mature artists with tremendous sensitivity and technique.  I consider Ms. Prestini to be a true musical genius – her music is gorgeous, ageless, brilliant and entertaining; and, it was a real pleasure to hear an evening of her music (unfortunately, I arrived late to it).  Her music is so delicious, and a link to a live broadcast of this program on You Tube is preserved on the National Opera Center's YouTube page (http://www.youtube.com/watch?v=mDs4tU3PrTk), that anything that I can add in commentary would be superflous.  Enjoy! NOC is online at http://www.operaamerica.org/content/about/operacenter/index.aspx. Visit Paola Prestini at http://paolaprestini.com/.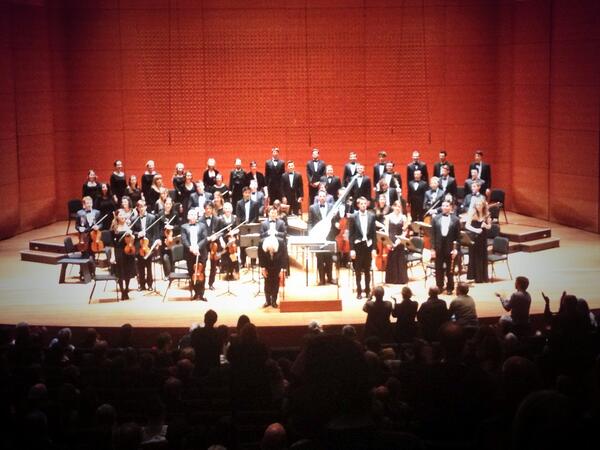 Julliard415, the baroque ensemble, joined the Yale Baroque Ensemble and Yale Schola Cantorum in J. S. Bach's St. John Passion, Friday, April 4, 2014 at 7:30 pm in Alice Tully Hall, under the direction of conductor Masaaki Suzuki and concertmaster Robert Mealy.  The singers included especially fine soloists from Yale: tenor Kyle Stevens as Evangelist; Molly Netter, soprano; Sara Couden, mezzo-soprano; Edmund Milley, baritione (as Jesus); Gene Stenger, tenor; and, Andrew Padgett, baritone. Their diction and that of the chorus was excellent, and their vocal tone, pleasurable and skillled. The conductor maintained a brisk and lively tempo and the orchestra consisted of wood instruments, which accompanied the singers well; the baroque instruments having a spunky tone and lively quality. Bach, in writing the St. John Passion, took text and music from various sources – the chorale numbers, which sometimes act as a commentary, come from various Protestant church hymns, and are much livelier than the Evangelist's commentary. This is a work of genius that has garnered much praise over the centuries.  (About a dozen or so working members of the press corps were in attendance, writing review notes).  I really enjoyed this performance, and the consensus was that this was not only delightful but "incredible" (which I heard from two colleagues). More about the ensemble at http://www.juilliard.edu/about/newsroom/press-kit/juilliard415.
Ensemble 212 and Young New Yorkers' Chorus collaborated on a concert, Saturday, April 5, 2014 at 8pm at St. Michael's Church (Episcopal, at Amsterdam Av. & 99th St.).  The church is an especially nice venue because of its resonant acoustics and Tiffany windows. The program began with a short and robust piece by Ke-Chia Chen (b. 1979), Chasing the Sun for chamber orchestra.  Although the balances were off because some performers played too aggressively, its a very colorful and lively piece that should remain on the concert stage. Then, the orchestra and chorus performed Gustav Mahler (1860-1911), Ich bin der Welt abhanden gekommen from Ruckert-Liede (1901), arranged by Stanley M. Hoffman, which was conducted by Michael Kershner.  This is a beautiful and rousing choral piece.  (As the program notes state, Mahler's melodic development and "subtle tension between inner tension and repose make this one of his most remarkable vocal settings.)  The final and key piece of the evening was the world premiere of the orchestral reduction for chamber orchestra by Yoon Jae Lee of Gustav Mahler, Symphony No. 2 in C Minor (1888-94; orch., 2014).  This is one of the acclaimed masterpieces of late 19th Century music, and Mr. Lee's reduction, which is still substantial, is absolutely brilliant. The orchestra, chorus, the two soloists – Raquel Gonzalez, soprano, and Hyona Kim, mezzo-soprano – and the conductor, Kyunghun Kim, gave excellent performances (for the most part). This piece includes the Urlicht from Des Knaben Wunderhorn, and its a most inspiring composition.  Mr. Lee is engaged in the Mahler Chamber Project, so that the Mahler symphonic pieces may be performed by smaller orchestras and heard live by greater audiences. Their site is at http://www.ensemble212.org/.
Welltone New Music, curated by composer-conductor Victoria Bond, presents a three-concert series at Symphony Space's Leonard Nimoy Thalia Theater in April. The first concert, April 7, 2014, at 7:30pm, was entirely dedicated to the music of composer Valerie Coleman, the flutist of the Imani Winds. Ms. Coleman has created a significant body of works, pleasurable, thoughtful and entertaining, which were performed exceedingly well by the Imani Winds, the Da Capo Chamber Players, and by guest artists, Nathalie Joachim. flute; Rochelle Small-Clifford, soprano; Dmitri Dover, piano; Michiyo Suzuki, clarinet; and, Tim Cain, narrator.  Pieces included Danza de la Mariposa, Lenox Avenue, Rubispheres, Afro-Cuban Concerto for Wind Quintet (a brilliant piece), The Dawes Rolle, Freedmen of the Five Civilized Tribes, Portraits of Langston (Hughes), and Tzigane for Wind Quintet.  Valerie Coleman's music is very communicative and speaks for itself – her music ranges from lovely and lyrical to jazzy and frolicsome, and is, sometimes, gorgeous. The next Cutting Edge program is April 21. More about the series at http://www.cuttingedgeconcerts.org/.
North/South Consonance, Inc. (http://www.northsouthmusic.org/about.asp) presented Spring Intermezzo, music by composers from Europe and the Americas on Sunday, April 6, 2014 at 3 pm in Christ & St. Stephen's Church (69th St. near Broadway), with Claudia Schaer, violin, and Max Lifchitz, piano.  Violin and piano pieces included Tonia Ko, Still Life Crumbles (2012), Luciano Berio, Due Pezzi (1949, rev 1966), and Elizabeth Bell, Les Neiges d'Antan (1998). Violin solos included Matthew Peterson, Nacken (2011), Juan Pablo Contreras, Palimsesto (2011), and Max Lifchitz, Transformations No. 2 (1982). Piano solos were Bernard Rands Impromptu (2012) and Impromptu No. 2 (2013) and Silvia Berg, Simple Lines (2012) and The White Roses Fragrance (2012).  There were some excellent pieces on the program, and the musicianship of Ms. Schaer and Mr. Lifchitz is outstanding. I am particularly enamored with Elizabeth (Betty) Bell's piece, Les Neiges d'Antan, which is somewhat programmatic; the composer writes, "The sonata is a dip into the nostalgia of my life." The North/South Consonance programs, although they accept donations, are always admission free.  Three more programs remain on this season's calendar: Monday, May 5, at 8 pm, Cinco de Mayo, with piano music of Mexican composers performed by Max Lifchitz; Tuesday, June 10, Resonances from East and West, with mezzo-soprano Laura Nichols and the North/South Chamber Orchestra; and, an especially exciting Season Finale, June 17, with soprano Carol Wilson, flutist Lisa Hansen, violinist Mioi Takeda, violist Edmundo Ramirez, pianist Helen Lin, and the Chamber Orchestra, performing new works by Katherine Hoover, Victor Kiuolaphides, Max Lifchitz, Alla Pavlova, and Anna Veismane.
Miller Theatre of Columbia University has a series, Bach, Revisited in which they pair works of a living composer who has been visited in the Composer Portraits series with movements of a Bach classic. Thursday, April 17, 2014 at 8pm, Miller produced Tower + Bach with the Curtis 20/21 Ensemble performing, and a discussion between composer Joan Tower and Miller general manager Melissa Smey. The Curtis Institute performers did an adequate job performing Bach's Bradenburg No. 5; the violinists, violist, cellist, harpsichordist and flutist are most accomplished young players, but one would wish that the flutist had performed on a baroque traverse flute, instead of a modern one, and that the performers were more familiar with baroque practices – it would have made the note-perfect Bach a lot more exciting (as the Julliard 415 performers are so trained). Their performances of Joan Tower (b. 1938), however, were absolutely stellar.  I love Big Sky (2000), a seven minute trio for violin, cello, and piano, in which Ms. Tower bases on a memory of riding her horse around a mountain valley near LaPaz, Bolivia, surrounded by the Andes and the mountains around it.  The piece has a gorgeous sound and an emotional wildness to it. Bach, with his precise counterpoint, immaculate harmonies, and progressive development, complements Ms. Tower, who is much more emotional – like Beethoven. Eunice Kim, violin; John Henry Crawford, cello; and Lisa Kaplan (Eighth Blackbird), piano, all gave outstanding performances.  Ms. Tower's String Quartet No. 5 (2011), White Water, with its angular glissandos and racing energy, got a memorable performance by Joel Link and Brian Lee, violins; Milena Pajaro van-de Stadt, viola; and, Camden Shaw, cello.  There is rapid "cascading action" throughout the piece, and whitewater is an appropriate allusion. Ms. Tower's In Memory (2002) – in this evening, performed by a string chamber ensemble – is a powerful lament; first, for a friend, and then for September 11.  It's a one movement, 20 minute piece.  I liked the concluding allegro of the Brandenburg Concerto No. 5, which was performed looser and livelier than the prior two movements, which were interspersed with the Tower.  This program had some wonderful music and most astute programming. More about the series at http://www.millertheatre.com/event-series/bach-revisited.
Category Sound | Tags:
---
Comments Off

on Even More Spring 2014 NYC Concert Reviews and Notes
Sorry, comments are closed.