Comments Off

on May 2015 Concert Reviews from Mark Greenfest
May 24, 2015 by Admin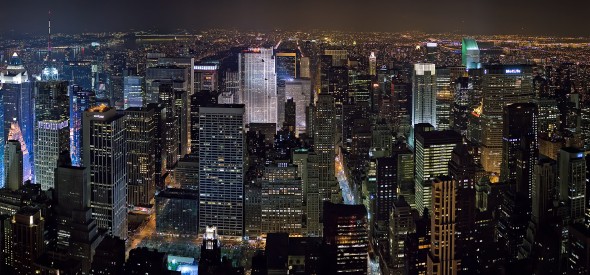 The New York Philharmonic performed a program conducted by its Music Director Alan Gilbert at Avery Fisher Hall in New York with a premiere by Peter Eotvos (b. 1944) Senza Sangue (Without Blood – 2014, revised 2015), with Anne Sofie von Otter, soprano, and Russell Braun, baritone, as vocal soloists. Franz Schubert (1797-1828), Symphony in B Minor, D. 759, the Unfinished Symphony, completed the program.
Although that piece – the symphony that Schubert wrote but never finished – is performed often, it's a gorgeous piece; I adored it as a child and I enjoy it every time I hear it conducted by such a wonderful orchestra led by a great conductor. (It's around 24 minutes long in two movements, allegro moderato and andante con moto.)
The Eotvos piece is around 45 minutes long and provided the balance of the program.
Although the beginning of Senza Sangue (Without Blood) is nocturnal – and uses a sound palette akin to Bartok's Bluebeard's Castle, with cascading melodic fragments – some transparent, some circular, all interacting with each other, or constantly transforming in a soundscape – much like Henri Dutilleaux, (who was instrumental in recommending Eotvos for the Kravis commission and to whose memory the piece is dedicated). A visual image would analogize the piece orchestration to something constantly transforming, with vivid points of light in the darkness (like the aurora borealis). This operatic piece is very much a sonic landscape, with a relentless forward momentum from the vocal lines surrounded in a sea of shooting stars.  The vocal lines, in French, are mostly recitative, with expressive embellishments as dramatic highlights.
The story recounts the tale of two elderly people who have met before – he shot and killed her father when he was around 20 (in what seems to have been a civil war) but saved her life as she was hiding nearby. She went into a schizophrenic state and arranged for a series of revenge killings over the years. She comes to him, not to kill him, but to let him save her life once again by joining him in companionship. The piece is replete in dramatic tension.
Alessandro Baricco's novella Senza Sangue (2002) in Italian was translated into English in 2004, but it is sung in Italian with supertitles; Mari Meziei's libretto is focused and striking.
The New York New Music Ensemble
Merkin Concert Hall
Monday, May 18, 2015 at 8pm
Falling:  Music of Lee Hyla and Mathew Rosenblum
Jean Kopperud, clarinets;  Linda Quan, violin; Christopher Finckel, cello;
Daniel Druckman, percussion; Stephen Gosling, piano; with guests
James Baker, conductor; Jamie Jordan, soprano; Kelli Kathman, flute;
Lois Martin, viola; Meighan Stoops, clarinet; Mathew Rosenblum; composer/
electronics.
With three pieces of the late, irrepressible Lee Hyla – musicians' musician and composers' teacher – and one of Mathew Rosenblum on the program, this concert was an event of life affirmation.
I am going to write precious little about the performers – each one is a world-class master, they have superb ensemble, and they get the music – in their minds, their instruments, and, in their gut – (just listen to them, if you don't believe me.)
After intermission, the program concluded with Mathew Rosenblum, Falling (2013) for soprano, flute, clarinet, violin, cello, piano and percussion, which was a New York premiere.
The first of the late Lee Hyla's pieces was Mother Popcorn Revised (2009) for violin, cello, piano, which was a New York premiere. Although atonal, this Lee Hyla piece is so full of life and energy – ebullient in its enthusiasm, its gestural vocabulary, its squiggles, burst, circles and clusters – melodic fragments, similes, consonances and dissonances – that it's content, loosely based on a fragment of a James Brown song, doesn't matter – the piece has a brilliant, eccentric and erratic life of its own, full of joy and energy.
Next up was Field Guide (2006) for flute, bass clarinet, violin, viola, cello, piano and percussion. Lee Hyla uses birdsongs in a particularly vivid and indescribable manner. Each instrument sings out its own bird's song – for instance, the violin is the Australian Superb Lyrebird. The result is not a mystic lyricism like Messiaen, but it is more like a joyful cacophony, that is funkily lyrical, and makes sense as a musicians' jam.
Last of Lee Hyla's pieces was Polish Folk Songs (2007) for clarinet, bass clarinet, violin, viola, cello, piano and percussion (in three movements). In Polish Folk Songs, written as a tribute to his grandmother who died in 1973 –  Lee lets these tunes butt heads, serenade each other, appear like church organ passages, Bartokian manipulations, rocking big bands, and other musical shapes and forms – some traditional, some new, some totally spontaneous. It's musical, wonderful – and, it defies description. This is not one of Chopin's mazurkas – it is Polish; it is colorful; and, it is most alive!
After intermission, the program concluded with Mathew Rosenblum, Falling (2013) for soprano, flute, clarinet, violin, cello, piano and percussion, with conductor. Opening with percussive accents sounding like an Australian rainstick, this piece is soon joined by recorded speech of a woman talking – and, then in an interjection that a 29-year old stewardess fell to her death out of an airplane – this music builds in climactic riffs, with individual instrumental voices playing past each other and serenading one another in turn – both connected and disconnected.  This piece is brilliant, vivid and quite alive. It uses techniques pioneered by Scott Johnson and a few others, but there is nothing derivative nor trite about its borrowings.
This treatment of James Dickey's text of his poem "Falling"  and other musical elements is fascinating and exciting, and it compliments the wonderful spontaneity of his friend Lee Hyla's music, and it is superb, in its own right.  I loved soprano Jamie Jordan's performance – it was fresh and vulnerable (and, incredibly difficult).
Too often a music review is like what Tom Wolfe called the "painted word" about art criticism – how can one capture either the spirit of the music or the composer's attitude?  This concert was infused with the spirit of Lee Hyla, who had taught in Boston for many years and then in Chicago, who, although he died in 2014 – last year – was a palpable presence here tonight.  (I owe it to Lee to write nothing trite.)
The New York Public Library for the Performing Arts at Lincoln Center, Bridge Records and pianist Shirley Perle hosted a special free George Perle Centennial concert at the Bruno Walter Auditorium at NYPL at Lincoln Center, Thursday, May 21, 2015, at 8 pm.
Listening to decades of George Perle's pieces, one sees how wonderful and innovative he was as a composer – respecting tradition and expanding it.
His Lyric Piece for Cello and Piano (1946), performed by Fred Sherry, cello, and Michael Brown, piano, has very rich sonorities of the cello backed up by the piano with some syncopated rhythms and arpeggiation. His Sonata a quattro (1982), of which the DaCapo Chamber Players (Patricia Spencer, flute; Meighan Stoops, clarinet; Marina Kifferstein, guest violin; and, Raman Ramakrishnan, guest cello) performed is an excellent piece. The nocturne is very nocturnal, with the flute taking the lead, the clarinet joining in or providing a countermelody, and, the violin and the cello providing a background depth – a lovely and mysterious piece.  The pulse picks up and one's pulse races for the energetic finale, with all sorts of figuration providing a fascinating mosaic of sound. His Six Etudes for Piano (1976) (praeludium, gigue, papillons, romance, variations, and perpetuum mobile) performed by Sining Liu, piano, is an extraordinary modern piano piece.  These virtuosic etudes of a modern temperament – the piece starts driving forward relentlessly – tests the mettle of a most accomplished teenage piano prodigy.  (Ms. Liu studies at Julliard in the Pre-College Division.) His String Quartet No. 2 (1942) got a memorable performance from the Boccioni String Quartet (Samuel Park, violin; Jeremias Sergiani Velaquez, violin; Meredith Treaster, viola; Ken Kubota, cello). This tonal and lyrical string quartet is very beautiful, with complex counterpoint and modern figuration; it is structurally striking and aurally pleasurable.    His Lyric Intermezzo (1987),  in five sections, performed by Michael Brown, piano, is a great piece. (The sections are andante, grazioso, rondoletto, fantasy variations, and postlude.)  This lyrical intermezzo is decidedly postmodern – Italian renaissance music, cinematic accents, syncopated touches, and modern techniques are in there – it is amazingly colorful and delicate – a really delicious piece.  Perle's For Piano and Winds – Allegro (1988) concluded the program. This piece was performed by the stellar Sylvan Winds (Svjetlana Kabalin, flute; Gerard Reuter, English horn; Nuno Antunes, clarinet; Gina Cuffari, bassoon;  and Roy Femenella, horn) and Michael Boriskin, piano. Here, all the instruments play expressive lines, interacting with and talking past each other.  It's vigorous, dynamic, complex and most fascinating – highly satisfying and most pleasurable.
George Perle was a noted writer and theorist, whose books on the Second Viennese School were world renowned. He was a faculty member in composition and theory at Julliard and at Queens College, among other universities. And, he was a remarkable composer of the first magnitude. George and Shirley, his wife, attended many concerts with me – George would attend, even though in his later years he was arthritic, and he was a kind and brilliant gentleman. I, for one, miss his personal presence, but the legacy of his music lives after him.
Voice Afire held a concert hosted by composer Ray Luedeke at Tenri Cultural Center (13th St. near 6th Av.) in New York, Friday, May 22, 2015, at 8 pm.  The program consisted of pieces by Mr.  Luedeke, by his mentor Vincent Persichetti, and by Daniel Godfrey. The performers included Milan Milisavljvevic, viola; Laura Gilbert, flute; Jared Egan, double bass; Caroline Stinson, cello; and, Jennifer Chu, piano. Robert Sutherland, chief librarian of the Metropolitan Opera, hosted a wine tasting of Chilean wines.  The artists in Voice Afire ranged in abilities from excellent to superb, and, when they performed together had fine ensemble.
I  arrived late, alas, and missed Raymond Luedeke, The Book of Questions for flute, viola, double bass, and narrator, with text by Pablo Neruda, which is in the form of a prelude, seven questions and coda. I caught Vincent Persichetti, Infanta Marina,for viola and piano. This piece is very beautiful and has sophisticated writing by the late Julliard professor and master composer. After intermission and wine tasting, I heard Daniel Godfrey, Dark and Quiet, which is a very rich and unusual solo writing for cello – nocturnal yet vigorous, poetic, colorful and flavorful – Godfrey's approach is not Bach's – and it is intense and lacks the soft dynamics that provide much of the contrast in Bach's unaccompanied cello pieces – but, it is both emotionally and intellectually stimulating – technically virtuosic as well as musically direct and appealing.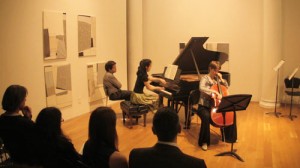 The music concluded with Ray Luedeke, If you forget me, for cello and piano on poems by Pablo Neruda.  The selections performed included 1. I shall begin to forget you; 2.  I shall be a tiger lying in wait; 3.  I shall grieve and gather strength; and, 4.  I shall travel on. This piece has lyrical, exciting dialogue – crisp counterpoint and precise harmonization. Luedeke is a traditional craftsman and the result is simply wonderful.  (Voice Afire tastefully joined their concert to pre-, intermission and post-concert wine tastings.)
Reviews by independent New York classical music critic Mark Greenfest
Category Sound | Tags:
---
Comments Off

on May 2015 Concert Reviews from Mark Greenfest
Sorry, comments are closed.