Comments Off

on More May 2015 Concert Reviews from Mark Greenfest
May 31, 2015 by Admin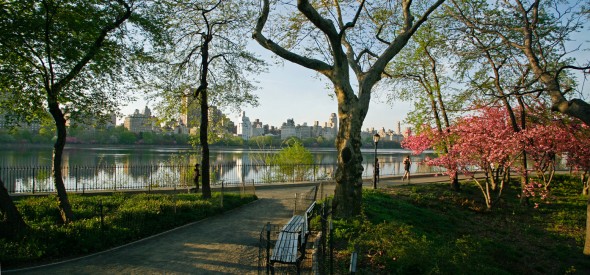 The New York Philharmonic presented a program on May 22, 2015 that included a piece by Jonathan Harvey (1939-2012), Tranquil Abiding (1998).  The other pieces on the program were by Johannes Brahms, Variations on a Theme by Haydn, Op. 56A (1873) and Piano Concerto No. 1 in D Minor, Op. 15 (1858). Susan Malkki conducted the orchestra and Kiril Gerstein was the piano soloist for the Brahms concerto.
Tranquil Abiding, which the Riverside Symphony had premiered at Alice Tully Hall in New York in 1998, is a very peaceful work that slowly builds in color, dramatic tension, and lyrical figuration. Harvey, who was an English Buddhist, based this 14-minute one movement piece on single "slow-breathing" rhythm. This has an "inhalation" on a higher note followed by an "exhalation" on a lower one. "There are melodic fragments above it,"  Harvey wrote, "one uses only one pitch; others, three, five, eight, and 15 pitches." The piece is both exciting and relaxing, and is very beautiful and pleasurable.
Susanne Malkki, the Finnish conductor, has a conducting style that is exact with her flowing baton and hand gestures and balletic with her body language.  I enjoyed her leadership of this great orchestra, the New York Philharmonic.
Kirill Gerstein, the piano soloist in the Brahms piano concerto, is an excellent pianist – he has world-class technique – control of dynamics, the pedal, and so on – artistically, he knows exactly what he is doing and he makes fine choices.
8 Strings and & a Whistle, a chamber ensemble consisting of Suzanne Gilchrest, flute; Ina Litera, violin; and, (her spouse), Matthew Goeke, cello, performed at Spectrum  (121 Ludlow Street, near Delancy, in New York, NY), with Beth Levin, piano, on Sunday, May 25, 2015 at 3 pm. The program consisted of pieces by Peri Mauer (of New York), Octavio Vazquez (of Barcelona, New York, and Nazareth College near Rochester, NY), Frederich Chopin (of Poland and France), and Scott Brickman (of the University of Maine at Kent).  All the living composers were present (i.e., all but Chopin).
Peri Mauer, Thought's Torsion (2014) (7 minutes) is thoughtfully based on a linear chromatic progression – twisting or spiraling; this piece is richly colorful and emotionally deep.  Lyrical and chromatic elements alternate.  This piece is novel, very musical, and exciting. The performers made music with passionate intensity. (Ms. Mauer notes that "all organic and inorganic objects have their own signature torsion fields. By shaking physical objects, by vibrating them, by altering them, they generate measurable torsion waves, static as well as dynamic thoughts and connections in the realm of time ans space.") Ms. Mauer is a renowned professional cellist, conductor and composer; her masters in composition is from Manhattan School of Music, which she attended with the performers. Ms. Mauer has recently composed and had commissioned a lot of high-quality pieces. The New York Music Daily/Lucid Culture called her an "irrepressibly tuneful composer."  (October 2014.)
Octavio Vazquez, Trio for flute, viola and cello (2003) is in three movements – adagio molto, scherzo, and adagio molto – allegro.  Written at a "particularly emotionally charged time, marked by a series of personal losses,"  the trio is "very demanding technically" and  the music "can be angular and harsh at times, while other passages call for a deep sense of loss, inner search or even despondency."  This piece opens up very introspectively, if not nocturnally, in which the trio members dance around and serenade each other.  The scherzo, in contrast, is more acerbic, like a piece of Shostakovich's, but with a folk melody dancing and a hornpipe-like sound. Mr. Vazquez, who is a celebrity is Barcelona and Catelan Spain, is a virtuosic professional pianist as well as a gifted composer.  He had taught at Turtle Bay Music School and then at the Special Music School in New York (the latter being a public school at the Kaufmann Music Center for gifted musical youngsters).  Now, he is a full-time faculty member of Nazareth College in Rochester, NY.
Frederic Chopin, Sonata in B flat minor, Op. 35, (I.  Grave, III. Marche Funebre), performed by Beth Levin, pianist, was a remarkable performance of this masterpiece.  Very rarely does one see the Chopin performed as well as Beth Levin did. A child prodigy grown up, Ms. Levin performs passionately, accurately, and with such fire as may make the keys ignite. (Very few pianists, living or dead, could do this.)
The program concluded with Scott Brickman, Ninety Six Strings and Two Whistles (2014). This music is rich in musical ideas – it's modern and atonal in many passages so it's not easy to digest. Nevertheless, it's got a quixotic freshness I find attractive.  The piece has a good feel and flow (even with the interruptions) and I liked it.
I enjoyed the entire program –  I have known Ms. Mauer and Mr. Vazquez for years and they are extraordinarily talented composers, and Chopin is at the pinnacle of Romantic piano music.  This was a most pleasant and enjoyable Sunday afternoon.
Reviews by independent New York classical music critic Mark Greenfest
Category Sound | Tags:
---
Comments Off

on More May 2015 Concert Reviews from Mark Greenfest
Sorry, comments are closed.