Comments Off

on "The President's Own" United States Marine Band, October 10, 2016, Dennis Fitzgerald Performing Arts Center/Flagler Auditorium, Palm Coast, Florida
October 22, 2016 by Admin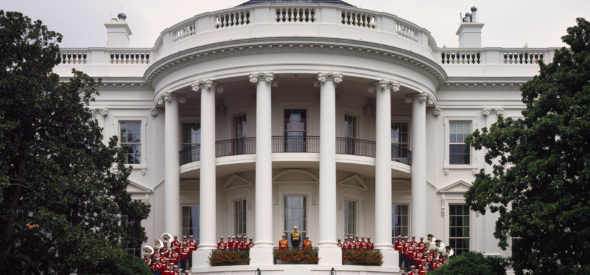 A review by Dana Paul Perna
On October 7, 2016, Hurricane Matthew swept through the State of Florida before continuing onward through Georgia and the Carolinas over the next few days, particularly the shore-based Eastern portions of all states mentioned. For many, this event has changed lives forever, to the point that many may never recover from such tragedy and loss. There will be further comment upon this in the conclusion of this discourse, however, the sun did return and, for a majority of people, life has continued on as it must following such a time of crisis and chaos. Nevertheless, while Entertainment at a time like this is greatly needed, it did, indeed, arrive.
Continuing on with their tour, on the evening of October 10th, "The President's Own" United States Marine Band performed their as-scheduled concert at Dennis Fitzgerald Performing Arts Center/Flagler Auditorium, Flagler Palm Coast High School in Palm Coast, Florida. For those of you who know your music history, "The President's Own" United States Marine Band was established by an Act of Congress in 1798, and grew in international stature during the tenure of its most distinguished music director, John Philip Sousa, whose contributions (plural, yes, there are that many!) this renowned ensemble continues to celebrate, champion and foster. Under the batons of their current Director, Lieutenant Colonel Jason K. Fettig, and Assistant Director Captain Ryan J, Nowlin, respectively, with introductory remarks about the selections, and introductions spoken by this concert's moderator, Gunnery Sergeant Sara Sheffield, there were a few titles that were presented in addition to those that appeared in the actual printed program. (The reason for the moderator was due to the fact that the programs did not include program notes.)
After the band tuned, they performed their introductory music without a conductor, who appeared after being formally introduced by Gunnery Sgt. Sheffield. Once mounted on the podium, Lieutenant Colonel Jason K. Fettig proceeded to lead everyone in Our Nation's "National Anthem" for which we rose and sang along. Appropriate as that was, from that point of a formal word or two of greeting, it was explained that the overall theme of the concert was that all the pieces derived from some sort of story; be they from true events, or fictional ones. The first of its programmed selections was presented next, namely March – The Southerner by Russell Alexander, a former euphoniumnist with the Barnum and Bailey Circus Band, that was written during the Golden Age of American Marches. This was followed by Overture to Colas Breugnon by Kabalevsky in the famous Donald Hunsberger transcription. (Hunsberger was a former member of the Marine Band's staff arrangers, later becoming the distinguished director of the Eastman Wind Ensemble from 1965 to 2001.)
The two selections that followed continued the Marine's commitment to perform works by contemporary composers. The first of them was Eloi, Eloi, a 2015 work by the Oregon-based composer Kevin Walczyk. Scored for band, it featured some extended passages for flute and harp (yes, harp – you read that correctly!); a very lyrical piece that derives its title from the Bible, specifically "My God, my God, why have you forsaken me?" (Mark 15:34). This was followed by Ascension, a 2013 work by the Welsh composer Tom Davoren. This title featured two soloists from among the forces, Gunnery Sargent Amy McCabe, trumpet, and Staff Sargent Hiram Diaz, euphonium. Both soloists were outstanding, and the band performed the accompaniment with ease and finesse, as well as fire as per the dictates of Davoren's score. Deviating from the printed program, this was followed by Libertango by Astor Piazzolla, in an arrangement by Staff Sargent Scott Ninmer that featured the same soloists, demonstrating yet another dimension of their collective artistry.
The first half came to a close with a selection of music from Star Wars: The Force Awakens by John Williams. While Mr. Williams has written directly for this very ensemble, these selections were, instead, transcribed for band by Paul Lavender. The strains of this music seemed as familiar as a Sousa march, and just as at home with the band as this music would be as performed by any top symphony orchestra. (In his younger years, Mr. Williams was also a Military staff arranger and conductor, but for the United States Air Force Band.) Just as the applause was subsiding at the conclusion of the Star Wars… music, the band dove into Semper Fidelis by John Philip Sousa, the official march of the United States Marine Corps, bringing the first half to a stirring close.
During intermission, it dawned on me that the Marine's first half would have amounted to a full concert for most university, college, community, or school bands. Since this performance was being performed by "The President's Own" United States Marine Band that meant that there was still a second half yet to come. We were, after all  encountering what has been called "The Best Band in the Land" – a name and reputation underscored repeatedly by this performance. To best illustrate my point, "The President's Own" United States Marine Band represents to the Band World what the Berlin Philharmonic Orchestra represents to the Orchestral one. (Please, keep this fact in mind dear readers:  the members of the Marine Band are Marines, which means they can be deployed at a moment's notice, thereby putting their instruments down in order to pick up whichever weaponry they may be required to use to accomplish their assigned duties.)
Upon returning for the second half, the band resumed by performing two chestnuts from the band literature, both in transcriptions that remain as masterfully scored as their orchestral originals do. For a portion of the second half, Captain Ryan J. Nowlin ascended the podium to lead the forces in a vigorously rousing interpretation of American Salute by Morton Gould, in its signature transcription by Philip Lang; the very same version Gould himself conducted whenever he appeared to guest conduct bands during his lifetime. This was followed by one of the more famous passages penned by Richard Wagner for his opera Lohengrin, his lyrically dramatic Elsa's Procession to the Cathedral in its brilliant band transcription (one of the best ever written!) by the legendary Lucien Caillet. So well written is Caillet's transcription that one doubts if Wagner, or even Sousa, for that matter, could have done any better; it stands as a masterpiece on its own merit. Renowned for their legato playing, Wagner's expansive lines were expressed without exception by the Marines, leading to the gleamingly burnished brass harmonies with which this music resoundingly concludes.
For the two selections which followed, this concert's narrator, Gunnery Sergeant Sara Sheffield proved a most admirable singer as she lent her mezzo-soprano vocals to a pair of songs about London, specifically A Nightingale Sang in Berkeley Square by Sherwin and Maschwitz, in an arrangement by Captain Nowlin, and A Foggy Day (in London Town) by the Gershwins, in an arrangement by Staff Sergeant Scott Ninmer. Both arrangements were top notch, GySgt Sheffield was a delight, which led to an encore, that being Amazing Grace with GySgt Sheffield singing to an arrangement by Captain Nowlin. Many among the audience sang along with her, and they were not discouraged in doing so.
After the considerable and well deserved applause subsided, Director Fettig returned to the podium to conduct the closing selections on the program, the first of which being Frank Bencriscutto's transcription of "Profanation"; the second movement of the Symphony No. 1 'Jeremiah'  by Leonard Bernstein. Tossed off as comfortably as if it had been performed by the New York Philharmonic, the Band followed Bernstein's opus by performing our nation's official national march, namely The Stars and Stripes Forever by, of course, John Philip Sousa. Who could ask for better than to hear the Marine's flute/piccolo section all performing on piccolo, standing while playing the most famous signature strains ever written for that instrument to perfection? Well, then, for the final strain, they were matched by the trumpet and trombone sections standing to play that quintessential melody that can't fail to bring you to your feet. Usually the closing work on many a concert, Sousa's march was not the end since the Marines had one more piece of Patriotic fervor to perform, the famous medley called A Salute to the Armed Forces of the United States of America that was arranged by the late Thomas Knox (a former Marine.) This compilation of the various themes associated with all the different branches of America's Armed Forces was joined by many singing along. Veterans were asked to stand when their branch's theme was played, which Veterans present for this concert did, standing proudly exactly as instructed. Once the applause had concluded, one more piece brought the concert to a close. We were encouraged to sing along, which most of the audience did. What song could possibly close such a concert of this nature? God Bless America by Irving Berlin.
POSTSCRIPT
The message to support our troops is always an essential one with any of our Nation's Military Bands. Given the events of the past week, this message was not lost on this audience due to the fact that members of the National Guard were deployed all over the State, specifically in Flagler Beach where an entire lane of State Road A1A completely collapsed due to the pounding waves of the Hurricane Matthew driven Atlantic Ocean. Many remained without power, while still others remained in shelters, unable to return to their homes because it would prove too dangerous, if not fatal, to do so. While I enjoyed this concert for innumerable reasons, my mind could not remove itself from the fact that some 900 people, a majority of that total from Haiti, had died due to Hurricane Matthew's aftermath, let alone those whose lives have been forever altered by it. "The President's Own" United States Marine Band could have just cancelled their performance, but they didn't. That should represent the hope it will take to return this region of the world to its former greatness, allowing us to move forward with our lives.
Nevertheless, help is desperately needed, so if any of you can, please, contact the Red Cross, The Salvation Army, or other service providers as soon as possible. It will be greatly appreciated.
Category Sound | Tags:
---
Comments Off

on "The President's Own" United States Marine Band, October 10, 2016, Dennis Fitzgerald Performing Arts Center/Flagler Auditorium, Palm Coast, Florida
Sorry, comments are closed.