Comments Off

on New York Composers Circle: A Concert of New Music on February 21 at St. Peter's Church
March 4, 2017 by Admin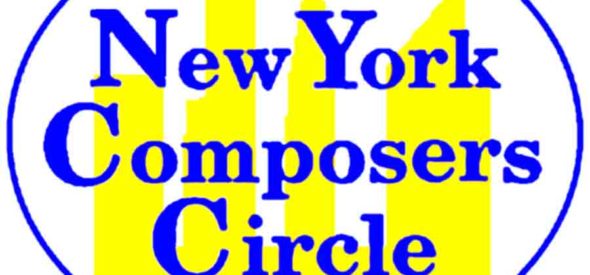 New York Composers Circle: A Concert of New Music
February 21, 2017 7:00PM at Saint Peter's Church, NYC
Review by Jacob Elkin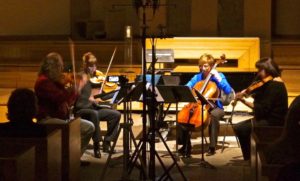 The New York Composers Circle is an illustrious collective of artists with vision and perspective. Last Tuesday's concert highlighted some of their member's string writing, exquisitely performed by the Klang Quartet (at left). Held in the beautiful Saint Peter's Church, the evening provided a variety of fresh outlooks on a standard instrumentation.
David See's Argument Rag began the concert with a playful take on the ragtime style, expertly played by the composer on piano and violist Kim Foster. Debra Kaye's The Impassioned Nightingale for string quartet quickly took the audience to an entirely different sound world, conjuring poetic imagery through melody. The sound of gently flowing water in the venue gave extra sonic meaning to Kevin McCarter's Ripples, a fluid piece which hinted at late minimalist influence. Finally, in a complex, jazz influenced style, Dary Mizelle's Quintet for Strings took the audience thoughtfully into a brief intermission.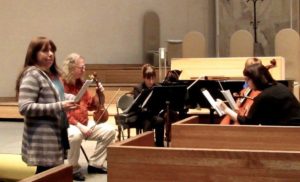 The collage of styles continued into the second half beginning with Carl Kanter's Piano Trio. Kanter's modern melodic style refreshed the palette while maintaining an intriguing intellectual continuity. Craig Slon's Sonata for Violin and Piano aptly followed with a modal harmonic language which fit the ecclesiastic serenity of the venue. The Klang Quartet passionately performed Shadow Lake by Peri Mauer (above with the quartet) evoking the dark peace and violence of an isolated force of nature. Against all odds, the concert concluded with A Roll of the Dice for string quartet and bongos, bringing a latin jazz feel to the cultured refinement of the quartet. While one never knows what sound landscape they may be taken to, when it comes to The New York Composers Circle, it is sure to be an exciting journey.
This concert was part of the Composers Now Festival 2017.
Visit New York Composers Circle at http://newyorkcomposerscircle.org/
Jacob Elkin is a New York based freelance composer and trombonist. He is a prolific solo and chamber performer and an advocate for new music.
---
Comments Off

on New York Composers Circle: A Concert of New Music on February 21 at St. Peter's Church
Sorry, comments are closed.