Comments Off

on Concert and CD Reviews by Dana Paul Perna
March 24, 2022 by Admin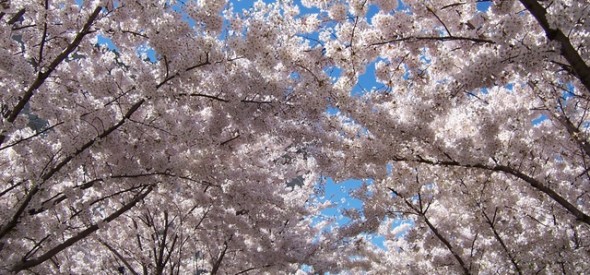 The American Sirens
December 17, 2021 @ 7:00 PM at the Flagler-Palm Coast Auditorium
Palm Coast, Florida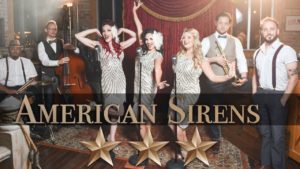 While the world had resumed its lock-down status once more, this did not interrupt, nor preclude a concert by The American Sirens that occurred on 17 December 2021 at the Flagler-Palm Coast Auditorium. Presented as it was, The American Sirens are a throw-back to another time of Mid-(20th) Century Modernism as presented Post-Modernistically within the realm of Digitalism during this Omicronic period of TikTokery.
First, allow me to set the stage before Rachel, Alejandra, and Morgan stepped onto it. On the back wall was projected "The American Sirens", while, backstage, an active vaporizer that, coupled with some back-lighting, cast a nostalgically smoky atmosphere over the concert. The remainder of the stage consisted of three monitors (for the singers), three microphone stands that held one microphone per each, and, yes, there were loud speakers for amplification, but they were in-the-house, as was the Disco-Ball that made a couple of deliciously luminescent appearances. When our trio of singers appeared, they were wearing matching gowns, and shoes, stepped to their mike, and the music – and they – began. Their accompanying tracks were all pre-recorded; in other words, while there were big band (mainly) backgrounds over which they performed, there weren't any actual instruments, nor musicians playing them.
To be honest, I have never reviewed a concert quite like this before. I had to dispel my pre-conceptions a bit, concentrating on the performance of this Orlando-based threesome whether someone was accompanying them "live," or via memorex (some of you will understand the reference to which I am referring.) Additionally, it is difficult to arrive at certain adjectives since they will seem to slight the performers, and their performance, appearing as if negative when they are not meant to be. To state that some level of "camp" and "cheekiness" existed within their presentation, some of the songs required it, otherwise this would have become dry as dust as opposed to the driest of martinis. Yes, there was a bit of choreography that befit the style of the period their material alludes to. If the Andrew Sisters come to mind, they were mentioned as being one of the influences for this trio existing in the first place; their music is arranged in that "vintage" style.
Now that I have presented some of the background for those among you who were not present, YES, all three ladies can certainly sing; their syncopations tight, and their harmonies on point. There was nothing mediocre here. Most of the songs were up-tempo (e.g. "Orange Colored Sky," "Sway," "Diamonds are a Girls' Best Friend," "Boogie Woogie Bugle Boy"….), and, given what the world has been through over these past two years, that was desperately needed, yet "Over the Rainbow" was among the ballads stylishly presented, along with an "Armed Forces Medley", which proved a most welcome, and rewarding surprise. While much of their repertory is culled from great American Standards, they presented some newer entries as arranged within that "vintage" style. One that I thought to myself "No, this will never work" was "Roar" – you know, the monster hit by Katy Perry. Yeah, that one. Work it miraculously did, too!
Like some in the audience, we were expecting the concert to run its course, and conclude. After they completed their last number on the FIRST HALF, they informed us that they would be back after an "intermission." Once back on stage, the concert resumed with an all "Holiday Songs" theme; this time their matching gowns and shoes being seasonal red. Without me going into details, you know the songs of the variety of whence I write that included "The Man With The Bag" (the song Kay Starr made popular), "Jingle Bell Rock",' Snow' from "White Christmas" by Irving Berlin, "Frosty the Snowman" among others……and, yes, there WAS an ENCORE – yep, you guessed it – "Santa Claus is Coming to Town."
In conclusion, it was a most enjoyable evening's worth of warmly welcomed entertainment by three talented performers who got together, as was stated, quote:  "Just to do something." Glad that "something" is now "The American Sirens."  Should they be performing near where you are, please, bring young people with you to expose them to this excellent form of vocal entertainment before it completely vanishes from existence.
Dana Paul Perna
The Art of Agony
Australian music for two pianists
Viney-Grinberg Duo – Liam Viney and Anna Grinberg, pianists
Music by Brumby, Davidson, Denson, Ford, Grainger, Hamilton, Hindson, Neal 
NAXOS 8.579075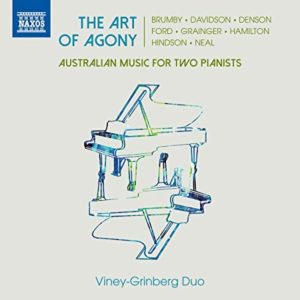 What to make of a release with a title that, on the surface, appears to be as off-putting as "The Art of Agony"? This does not fully express what is contained within this interestingly intriguing presentation of music by Australian composers, names that may not be as widely known as Grainger, but deserve recognition nonetheless. Recorded at various times during 2019 in Queensland, and released on Naxos, this diverse collection includes 8 premiere recordings. It is doubtful that one will hear them represented much better than by the Viney-Grinberg Duo as they appear on this release.
The Viney-Grinberg Duo is comprised of pianists Liam Viney (who also supplied the booklet's notes) and Anna Grinberg, and, while much of this release represents solely them on piano (piano duet = four hands at one piano), or pianos (two pianos/four hands), there are selections requiring interaction between them and pre-recorded electronic accompaniment, recorded spoken words, or overdubbing, respectively.
This album's title derives from a quote by Percy Grainger that Robert Davidson extracted from an interview Grainger gave in the 1950's, thereby making tracks 1 and 3 on this release to create a "frame" around him, opening with 'Horkstow Grange' from "Lincolnshire Posy" (track 1), followed by "The Art of Agony" (from 2012) by Robert Davidson (track 2 – in its premiere recording) in which Grainger's interview is used as it becomes superimposed by Davidson's original music, before returning to Grainger's 'The Lost Lady Found' (track 3) from "Lincolnshire Posy" to close out this triptych.
Following this, the program continues with the premiere recording of the 2012/13 opus "On Reflection" by Andrew Ford that was composed for the Viney-Grinberg Duo. Louise Denson's "Mill Life" appears next; its title relating to an art-event in Northern New South Wales that occurred in 2018. As explained in the notes, the Piano Mill is a purpose-built structure housing 16 pre-loved upright pianos, which inspired an idea that it is, in fact, a 'music factory'. For this, its premiere recording, Viney and Grinberg created this studio version by using as many of the pianos as they could access throughout the University of Queensland School of Music to generate the fascinating audible-quilt "Mill Life" requires.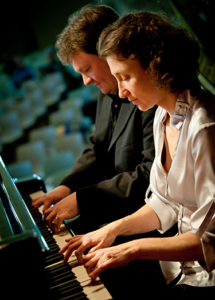 Works that follow Denson's feature Viney-Grinberg Duo in their more usual form since no other sound sources adjoin them, all in their premiere recordings. In order, these are: "Three Easy Piano Duets" by Colin Brumby; two works by Gordon Hamilton, the first titled "Shorter/Longer" (from 2015), followed by his "Lullaby for Liam and Anna's Kids" (from 2014); topped off by "Etude I" (from 2016) by Kate Neal, of which I would be curious to hear some of the other "etudes" she may have written past this first one.
To close out this collection of Australian gems, comes the premiere recording of "Visible Weapon" by Matthew Hindson. Commissioned by Liam Viney and Anna Grinberg to whom it is dedicated, this tour-de-force was composed in 2013 with the idea of confronting notions of violence in our society, corresponding to this culture of violence-without-consequences. The bravura piano parts link in with the pre-recorded parts, as well as occasional improvisation, providing the perfect opus with which to conclude this disc.
For the Viney-Grinberg Duo, this release was clearly a labor of love; a love that they managed to transfer onto this most worthwhile effort for an international audience to explore, examine, and enjoy. For those seeking music that will more-than-likely appear new to them, this is a most rewarding find by first-rate performers who have devoted themselves to expanding the repertory of piano duets, and two pianos/four hands; efforts for which they require applause, praise, and tons of gratitude.
Dana Paul Perna
---
Comments Off

on Concert and CD Reviews by Dana Paul Perna
Sorry, comments are closed.