Comments Off

on Quintet of the Americas Festive Sounds and Brilliant New Music by Composer Peri Mauer – A Review by Christopher Kaufman
December 20, 2022 by Admin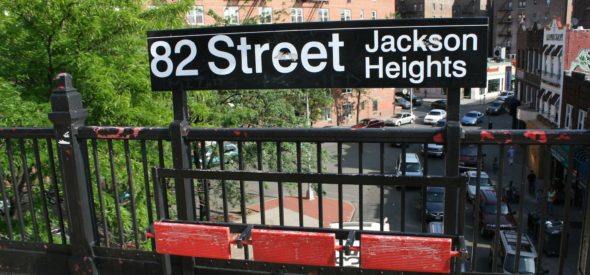 Queens Public Library in Jackson Heights
Kim O'Hare Bonacorsa, flute; Matt Sullivan, oboe and english horn; David Valbuena, clarinet, Eflat clarinet and bass clarinet; Barbara Oldham, horn; Alex Davis, bassoon.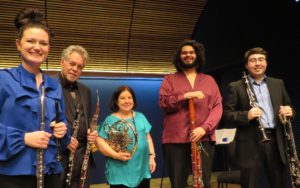 Yesterday, December 17, 2022, I had the pleasure of hearing Quintet of the Americas perform an afternoon concert at the Queens Public Library, titled Festive Sounds. The event featured a wide variety of music, much of it focused on festivity, and a brilliant new work by composer Peri Mauer.
I've seen the Quintet perform , some years ago, in august concert halls, but there was something perfect about this setting. Perhaps it's just the fact that this group of musical souls makes any place feel welcoming – while delivering highly professional performances.
Quintet members took turns announcing each piece. Each intro was concise, friendly and informative. As part of their presentations, they talk about the instruments of the woodwind quintet, thus informing those newer to bass clarinets and angled horns, while thoroughly entertaining us 'old hands'.
At one point, Matt Sullivan's oboe gurgled a bit.  Afterwards, he used it as a 'teaching moment' and showed how an oboist sometimes must deal with water traveling back up the horn and out of the keys.
The compliment of Quintet of the Americas has transformed over the years, but 'grizzled vets', hornist and 'show runner' Barbara Oldham and oboist Matt Sullivan, have been there from the outset.  They started the group over 40 years ago, I look forward to the next 40!  With the newer players,  Kim (flute), David (clarinet) and Alex (bassoon), listed in full below, The Quintet makes up a fortunate combination of energies.  They each have a bright, highly intelligent and fun personality as well as being brilliant artists.
That leaves the programming.  As a concert presenter myself, I found the combination of pieces quite masterful. Sounds and styles were always changing, like a kaleidoscope of woodwind quintet music.  Quintet of the Americas has a focus on Latin American composers and we, the listeners, were treated to a wide variety of music including tangos, dances, and festive music including Puerto Rican Christmas songs and Hannukah inspired pieces, a number from A Charlie Brown Christmas, and a highly accomplished new work from composer Peri Mauer (below).
These pieces demonstrated the tremendous range the Quintet possesses. I heard rhythmic tightness, impressive intonation, range of expression from modern to latin jazz, masterful chamber music interplay, cohesion versus solo, and on.  This group is like a fine actor.  They could take the most bland commercial tune (no sleight to commercial composers) and make it sound like Beethoven.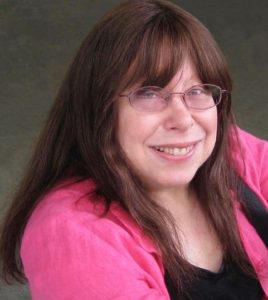 I save the best for last!  The concert featured a premier from accomplished composer Peri Mauer, who was present to introduce her work, Caprice for Wind Quintet, which was commissioned for this occasion.
In her introduction, Peri spoke about how, when she leaves her home, whereas things are more still nearby, she experiences gusts of sudden wind, perhaps because of proximity to the Hudson. She said this was the inspiration.
Her music expressed this in a beautiful way.  The stillness was represented by slowly shifting harmonies reminiscent of neoclassic Stravinsky (my fave) and the wind gusts in melodic solos first in the flute, as I remember, then others.
It is important to note that the musical elements had integrity, by that I mean that, while nicely expressing the inspiration, the musical elements were rewarding to experience in themselves.  Her 'Caprice' was excellent in terms of pacing; stillness, activity, melodies adding up together to create stronger 'gusts', earlier music returning at the right time – all were perfect in terms of form and storytelling. I inspire everyone to investigate more of her music, I know I will.
Brilliant piece! Topping off an afternoon of live music presented by talented and friendly people.  I didn't want to be anywhere else.
Christopher Kaufman is an accomplished composer of music for the classical concert stage as well an author, teacher, performer and presenter. He has a large number of works for a wide variety of medium and his work has been performed by world-class musicians far and wide. As founder/director of CHIRON Performing Arts he presented the work of hundreds of artists of all disciplines.
---
Comments Off

on Quintet of the Americas Festive Sounds and Brilliant New Music by Composer Peri Mauer – A Review by Christopher Kaufman
Sorry, comments are closed.