Comments Off

on Painters of Argentina, Part 2 – Xul Solar
May 13, 2012 by Admin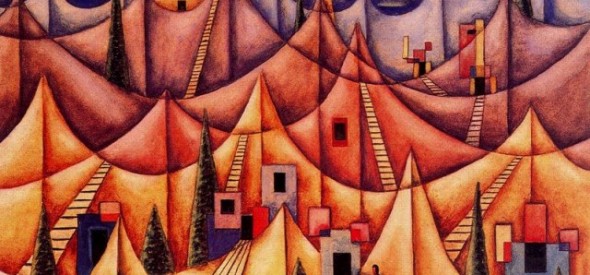 Xul Solar was the adopted name of Oscar Agustín Alejandro Schulz Solari. He was an Argentine painter, sculptor, writer, and inventor of imaginary languages. He was also the inventor of fantastical and imaginary worlds that he vividly portrayed in a wide variety of styles, ranging from the deeply serious to cartoonish.
Wikipedia describes his work thusly, "His visual style seems equidistant between Wassily Kandinsky and Paul Klee on the one hand and Marc Chagall on the other." There's also more than enough of his own lovely imagination and nervous energy to keep things lively and fascinating.
I find his work remarkable, and was very happy to see some of it at the Museo Nacional de Bellas Artes in Buenos Aires.
Here's a lovely introductory video about his painting:
Much more about him at
http://en.wikipedia.org/wiki/Xul_Solar
.
Category Sight | Tags:
---
Comments Off

on Painters of Argentina, Part 2 – Xul Solar
Sorry, comments are closed.