Comments Off

on Painters of Argentina, Part 1 – Raul Conti
May 13, 2012 by Admin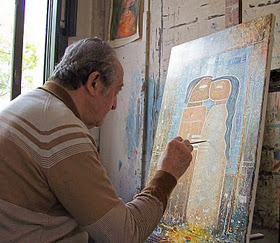 I love the paintings of Raul Conti and have had the privilege of visiting both his New York and Buenos Aires studios.
His work is not only colorful, luminous and beautiful, but it also has a feel of elemental connectivity to something much larger, like say, the universe.
There is a timelessness and lyricism to his painting that speaks volumes about connections across distance and cultures. He is an Argentinean artist, and there are often clues in his work that identify him as such, but his visual vocabulary says things that transcend the boundaries of that, or any other country.
He also happens to be a lovely, warm man, so for me this deepens the experience of his work even further.
In short, I like what I see. I think you will too.
Here's a musical image he created for one of his daughter Mirian's CDs:
…and an image she used on her webpage:
Learn much more about this wonderful artist at http://www.raulconti.com/english/indexEng.html.
Category Sight | Tags:
---
Comments Off

on Painters of Argentina, Part 1 – Raul Conti
Sorry, comments are closed.