Comments Off

on Giant Steps Two Ways
June 2, 2012 by Admin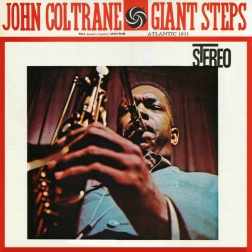 One of the most important jazz recordings of the 20th century was John Coltrane's Giant Steps. The LP collection was recorded in 1959 and released in early 1960. It had an immediate impact and included several instant classics, including Naima, Cousin Mary and the tune Giant Steps. In 2003, the album was ranked number 102 on Rolling Stone magazine's list of the 500 greatest albums of all time. In 2004, it was one of fifty recordings chosen that year by the Library of Congress to be added to the National Recording Registry. It is still a vitally important recording.
The tune Giant Steps was the most important of the recordings on the LP and set of a bit of a revolution in jazz thinking. Here is a marvelous video of the piece, with animated sheet music:
and now, here's big band leader Maria Schneider's contemporary take on the piece:
Helpful hint – the Schneider version actually ends at about 7:40, so save yourself an extra three or four minutes, there.
Category Sound | Tags:
---
Comments Off

on Giant Steps Two Ways
Sorry, comments are closed.