Comments Off

on Literature at Century's End – Jay McInerney's Brightness Falls and The Good Life
November 3, 2013 by Admin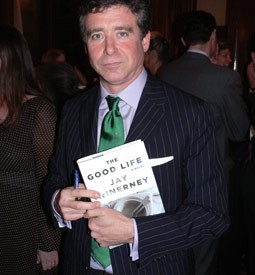 If you believe that no good deed goes unpunished, consider that Jay McInerney's modern masterpiece, The Good Life, sold less that 15,000 copies. This is, to me, almost unbelievable, given the strength of the storytelling and superb depth of humanity in the characters that I really shouldn't care about.
I had read and enjoyed his Bright Lights, Big City – a clever take on life in the fringes of the upper echelons living in 1980s Manhattan. No great emotional demand of the reader – just a good tale, cleverly written with some good touches of schadenfreude and better-him-than-me humor and even some pathos. Good movie material (the soundtrack of which featured a great Donald Fagen tune – Centuries End – http://www.youtube.com/watch?v=RKNMaArursQ), and more than enough sales to set up high expectations for the author.
Then, I read Brightness Falls, partly for the great title, partly for the author's skill. It's about a couple named Russell and Corrine Calloway who meet in college, and work their way past the fringes and into the tightly limited and lucrative universe of 1990s literary/financial/upwardly mobile/upper East Side Manhattan. I shouldn't care about these people – not my type. Too many busted relationships, too much money, too little commitment to anything of value. However, I did grow to care about them, despite some of the less attractive aspects of their lives, especially as some of the characters evolved and deepened. This is McInerney's skill, and his gift. He creates dimensional, faceted, developing characters you come to see as very human, and that you care about.
Then, I moved on to Brightness Falls' sequel, The Good Life. Same characters,
except it's a few years later, and the story takes place immediately before, during, and after the events of September 11, 2001. It is, I think, an even finer book as it continues to develop these people as the flawed things they are, takes them beyond the flaws to near middle age and grows them into ever more finely tuned human beings. And it only sold about 15,000 copies….
This equivalent of a literary good deed did not go unpunished. However, it did go largely unsold.
Get these books and read them.
I've seen a fair amount of criticism of both books, much of it in the "What the hell happened to Jay McInerney?" vein, much of it based on the "promise" of Bright Lights and his perceived failure thereafter…. I'll tell you what happened – he wrote Brightness Falls and The Good Life – two damn good books that together tell a wonderful story – a story I shouldn't ever have cared about, but did – and still do.
Category Word | Tags:
---
Comments Off

on Literature at Century's End – Jay McInerney's Brightness Falls and The Good Life
Sorry, comments are closed.