Comments Off

on C4 Choral Composer/Conductor Collective Presents Heritage – First Concerts of 2013-14 Season
November 24, 2013 by Admin


by Independent New York Concert Reviewer Mark Greenfest
photos by Keith Goldstein

Last night, Thursday, November 21, 2013, I was fortunate to attend the C4 – The Choral Composer/Conductor Collective – program Heritage, an evening of contemporary choral music, exploring folk traditions and influences, with special guest artists Ensemble Dance, directed by Pilar Castro-Kiltz. This program, at the Church of the Transfiguration, New York, NY (29th St. and 5th Ave.), the little church around the corner is Repeated Sat., Nov. 23, 8pm, at the Mark Morris Dance Center in Brooklyn, NY, near BAM (which itself is hosting the second program of the 21st Century Liederband at the same time, which I also commend.)
The C4 ensemble has matured into one of the most productive composers' collaboratives around. The choral pieces are remarkably well-written, no matter what style or genre. Pieces include those of members and others, written during the past 25 years. The dance element augmented the program with its visual and visceral contribution.
Ester Magi (b. 1922) (Estonia), Siin mu roomumma, conducted by Karen Siegel, opened the program, "fair is the land I love," set in the lilting rhythms of the Estonian folk song tradition. Karen Siegel (b. 1980), Sherei Shira, followed, "songs of song," four folksongs "in alteration and layered on top of each other, usually either fragmented or in rhythmic variation from their original form. At one point the same tune is heard in a different meter in each voice part. The rhythmic and textural complexity changes throughout, becoming a structural component in and of itself." This piece maintains a most lucid transparency and a wonderful, sensuous, prayerful feeling throughout, and is exquisitely well-crafted (by old and modern standards, it's a master's piece or masterpiece), performed in 8-part voices. Stephen Stucky (b.1949), Luljaze, Jezuniu from Cradle Songs, is a delightful piece by this world-renowned composer. Judith Bingham (b. 1952), A Bird Is Singing, from a Belarus folk song, and with three soloists, including a whistler (and two lovers), is lovely (and was influenced by Chagall's fantasy of bride and groom floating over a village). This piece is joined by the dance troupe, choreographed in a stylized folk-dance manner. C.A. Pinto Fonseca (1933-2006), Muie Rendera, sung in Portugese, a stirring and poignant piece, led to intermission.
Jonathan David (b. 1965), Konnyek, Almek es Kovek (Tears, Apples and Stones), Vocalise for Somrja, followed; originally written for a gallery housed in a former synagogue in an ethnic Hungarian city in Samorin, Slovenia; David took on this commission with a Jewish high holiday melody, slightly altered, as a cantus firmus; the structure is that of "an elaborated isorhythmic motet, Jewish wine in a Gentile bottle, so to speak. The overall texture speaks of the early Renaissance…thought the harmonies and ever present glissandi would have seemed rather alien to 15th-century ears!" It is set for female voices. The piece expresses a sense of rootlessness of the home that has been lost of the Jewish community in that city which perished in the Holocaust. Ethan Sperry (b. 1971), arranged Ramkali (an Indian Raga), for male voices. The piece has a traditional slow introduction and a fast body and is sung on a symmetrical scale.
Brent Michael Davids (b. 1959) (Mohican), The Un-Covered Wagon, took an American imperialist hymn, Faith of Our Father, one half-step in tuning from a tonal Mohican background to create a new way of hearing that hymn: "The end of the work calls for three different Indian singing styles to be sung simultaneously." (Davids makes a statement to reconsider the intelligent Native American tradition of keeping good familial relationships with the earth, and to "finally chuck out that out-dated chuck wagon called progress. Life is for sharing, not controlling.") Bettina Sheppard (b. 1962), Caerphilly, a Welsh town near Cardiff (and her family's hometown) portrays the struggles between the traditional Druidic faith and Christianity, with a vibrant setting of four traditional Welsh folksongs, and a "conflict between the traditional men's choir and earthy, playful quality of the women's choir." The choirs are "layered in different tonal and rhythmic structures, as well as separate textual material." Joseph Rubinstein (b. 1986), How She Went To Ireland, takes a poem by Thomas Hardy, about Dora, who may or may not have boarded a ship for a wintry sea-voyage to Ireland. Either way – in actuality or in imagination – the voyage is "misguided;" Rubinstein uses "musical material that seems to change and evolve on its surface, but remains in the same thick harmonies for the majority of the piece…. thick and heavy voicings to evoke the 'drift and darkness' that Hardy so vividly describes. The 'Irish' element of the poem made its way into the music through a very slow compound meter [the composer] imagined sounding like a glacial Irish jig."
Emma Lou Diemer (b. 1927) arranged She'll Be Comin' Round the Mountain, which folk tune had its origins in the "Negro spirtual When the Chariot Comes;" "[t]his modern twist takes the traditional melody and adds and underlay of harmonies not commonly associated with the tune. From there it catapulted through a series of an ear bending key changes until settling into an exultant hallelujah, bringing back the original theme of the piece." (It was premiered by the Dale Warland Singers.) The dancers' procession and recession augments this. And, there was a surprise encore that was delightful……
About C4: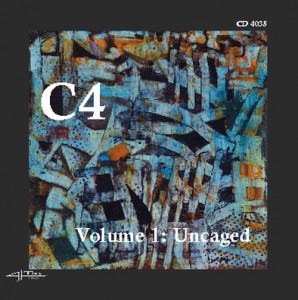 C4: The Choral Composer/Conductor Collective exists to enrich artists and audiences alike through passionate advocacy of new choral works: performing pieces written within the last 25 years; premiering and commissioning new choral work; and mentoring emerging singers, composers, and conductors of today's choral music. C4's adventurous programming fills an important niche in the cultural life of New York, and the ensemble has proven its commitment to presenting high caliber music in a welcoming atmosphere. Their first CD release, Volume 1: Uncaged (http://www.c4ensemble.org/c4-uncaged-release.html), is on the 4Tay label. Visit them at http://www.c4ensemble.org/. Join their Facebook page at https://www.facebook.com/pages/C4-The-Choral-ComposerConductor-Collective/19242567121.
This program was made possible with public funds from the New York State Council on the Arts, with the support of Governor Andrew Cuomo and the New York State Legislature. Additional support comes from the New York City Department of Cultural Affairs and The Cary New Music Foundation, administered by New Music USA. C4 is a member of the New York Choral Consortium.
Category Sound | Tags:
---
Comments Off

on C4 Choral Composer/Conductor Collective Presents Heritage – First Concerts of 2013-14 Season
Sorry, comments are closed.