Comments Off

on December 2013 Reviews from Mark Greenfest – American Modern Ensemble (AME) Winter Music (NYC, Dec. 3, 2013) and Divorce Music (CD, 2012)
December 15, 2013 by Admin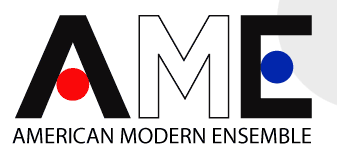 By independent New York concert reviewer Mark Greenfest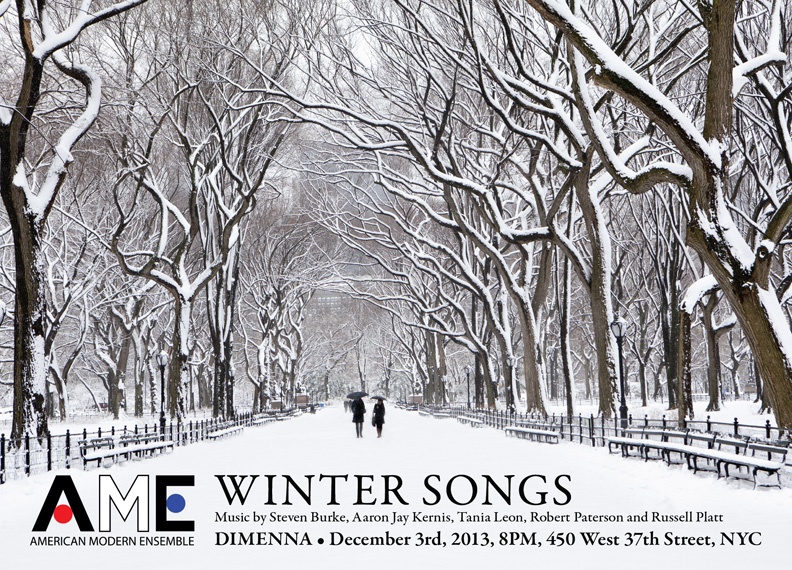 American Modern Ensemble (AME) held ts fantastic Winter Songs concert at the DiMenna Center for Classical Music (Baryshnikov Center, W. 37th St., between 9th and 10th Aves.), in New York, NY (NYC) on December 3, 2013 at 8pm. This program featured the New York debut of Aaron Kernis' piece that was the runner up for the 2012 Pulitzer Prize award, a wintery instrumental music, with strong yet delicate piano lines, that caught the flavor of Schubert's Winterreise updated to a frosted Central Park…along with a series of new vocal pieces by Tania Leon, Steven Burke, Russell Platt and others that had strong vocal lines set in modern compositions…absolutely lovely…one of the finest concert programs of the season – that is, this year.
The pieces performed included Aaron Jay Kernis's (1960-) Pieces of Winter Sky (2012) (NY Premiere), a runner-up for the Pulitzer Prize (Aaron had been the youngest recipient for a prior work), conducted by Robert Paterson, with Amelia Lukas, flutes; Benjamin Fingland, clarinet; Matt Ward, percussion; Blair McMillen, piano; Robin Zeh, violin and viola; and Arash Amini, cello.  All of these performers have received national and international recognition, as have Stephen Gosling, piano; Jesse Blumberg, baritone; Nancy Allen Lundy, soprano; John Matthew Myers, tenor; and, David Neal, bass-baritone, who performed on other vocal pieces, that included Robert Paterson's (1970-), CAPTCHA (2013 – World premiere) (performed by Blumberg, baritone and McMillen, piano); Russell Platt's (1965-), Two Whitman Panels (from Noon to Starry Night:  A Walt Whitman Cantata (2006) (Blumberg and McMillen); Tania Leon's (1943-), (internationally renowned composer/conductor), Turning (2000), (Lundy, soprano; Amini, cello; Gosling, piano, based on poetry by four women: Sarah White, Lucille Clifton, Janice Mirikitani, and Judith Ortiz Cafer); Steven Burke's (1967-) (former Prix de Rome recipient), The Snow Man (2007 – poem by Wallace Stevens) (Myers, tenor; Zeh, violin, McMillen, piano); and Robert Paterson's Winter Songs (2008), (Myers, baritone, with the AME ensemble, McMillen, piano).
The Paterson pieces appear on the American Modern Recordings (AMR) debut album Winter Songs (CD, 2013), available at http://www.americanmodernrecordings.com/.  (Soon, distribution may be by Naxos.) The program notes are instructive. Kernis' pieces "takes its sonic inspiration from the still, lingering, , misty gray winter sky – hovering, immobile"…. Schubert's Winterreise is absorbed into it, "aching, unyielding song cycle" … "echoes from the distant past"…, and, in its 18 sections, including lyrical and percussive sections, such as fragments of bird song (influenced by Central Park), are alternatively rich or austere. The music is very sophisticated and most fascinating.  The vocals, comprising the balance of the program, all had one thing in common: the lyrical, clear vocal line stands out  so that one can hear and understand the text, while the musical settings vary, like different forms of poetry. The hospitality for this holiday season concert included Tree Vodka; and, CD recordings were made available from AME and from its sister, the Lumiere String Quartet, with arrangements by Robert Paterson performed by Victoria Paterson, violin, and her ensemble.
*  *  *  *
The recent release of the Lumiere String Quartet on Lumiere Records, Divorce Music (2012) has string arrangements by Robert Paterson for the string quartet led by his spouse, violinist Victoria Paterson. We can hear arrangements of Beethoven – who was used to having his advances spurned – Ode To Sorrow, the fraternal twin of his ode to joy; Pachelbel, Canon in D(ivorce); Mendelssohn, Midsummer Nightmare (overture) and 50 Ways to Leave Your Lover – 57 minutes of music with 16 pieces in all, in different genres. The players are Encho Todorov, violin, Jonathan Dinklage, viola, and the renowned Dave Eggar, cello, joining Victoria Paterson, violin on this CD, which is available at http://www.lumiererecords.com/recording-divorce-music.php. Its music, in different genres, ranges from tounge-in-cheek poignant to side-splittingly funny.
Category Sound | Tags:
---
Comments Off

on December 2013 Reviews from Mark Greenfest – American Modern Ensemble (AME) Winter Music (NYC, Dec. 3, 2013) and Divorce Music (CD, 2012)
Sorry, comments are closed.