Comments Off

on More New York City Concert Reviews from Mark Greenfest
July 11, 2014 by Admin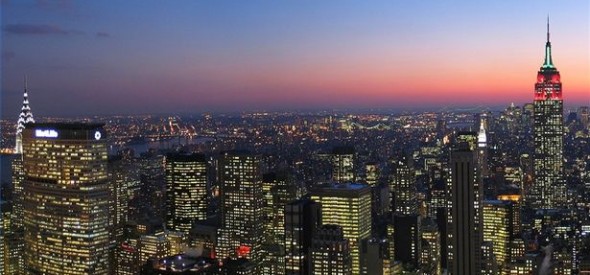 by Mark Greenfest, Independent Concert Reviewer
The Ensemble for the Romantic Century presented The Trial of Oscar Wilde at Symphony Space in the Nimoy Thalia theater, June 19-21, 2014. This program, written by James Melo and directed by Donald T. Sanders, took music by Satie, Faure, Franck, Chauson, Vaughan Williams and Elgar, and used it to tell the story of Oscar Wilde and his trial for immoral conduct (code for homosexuality). Susie Park was the violin soloist, Daria Rabotkina, piano, the Amphion String Quartet (Katie Hyun, violin, David Southorn, violin, Wei-Yang Andy Lin, viola, and Mihai Marica, cello) and the Green Carnation Singers (John Bell, piano, Brian J. Gay, Andrew Howard, Trevor James, and Matt Magrath) performed together with actors Michael Halling (Wilde) and Robert Ian Mackenzie (Marquis of Queensbury). These pieces were invariably well-researched and informative and had excellent performances that are excellent. The Ensemle is to be applauded for its historically accurate and dramatic story-telling. They're online at http://romanticcentury.org/.
The Locrian Chamber Players performed at the Riverside Church, Thursday, May 29, 2014 at 8 pm. The Locrian's mission is to give a second hearing to music written during the past decade; their concerts are entirely free (although there is a donation basket; and, there is a wine and soda reception after.) On this date, I arrived late and missed Edmund Jollife, Turn On, Tune In and Drop Out (2013, World Premiere).  I caught Ashley Wang, Antares Falling (2012, New York Premiere), with Diva Goodfriend-Koven, piccolo, and Jonathan Faiman, piano. With a gently meandering, glassine piano line, and a melodious (Debussy Syrinx-like) piccolo line that sometimes ascends to the stratosphere, this piece presents a colorful musical landscape. Next, George Crumb, Sun and Shadow (2009, New York premiere), a cycle of five poems by Federico Garcia Lorca, with Jacqueline Horner-Kwaitek, mezzo-soprano, and Jonathan Faiman, amplified piano. Although George Crumb is legendary – a major innovator and Pulitzer-winner –  this was the first hearing in New York for this piece.  Poetic, lyrical mezzo-soprano line interacts with the entirely separate and metaphoric piano line, which is post-Cage and idiosyncratic – it's a delightful cycle. After intermission, we heard Nils Vigland, Capriccio (2011, World Premiere), with Diva oodfriend-Koven, flute/piccolo, John Ferari, glockenspiel, Greg Hesselink, cello, and Elaine Comparone, harpsichord. Dr. Vigland retired as chairman of composition at the Manhattan School of Music several years ago. The musical lines of this piece are vigorous and angular, with a spun momentum. The plucked harpsichord and the cello contrast with the higher-pitched glockenspiel and the flute/piccolo. The work has a fascinating inner drama, although it's entirely abstract. Then, we heard Harrison Birtwistle, Lied (2006), for cello and piano.  It's a gentle but dramatic lied, with satisfying melody. Last, we heard Justin Merritt, A Gause of Misted Silver (2004), with Calvin Wiersma and Curtis Macomber, violins, Daniel Panner, viola, Greg Hesselink, cello, and Anna Reinersman, harp. This music is very lyrical and nicely balanced. I find the Locrian concerts very pleasurable – the fascinating music, the amiable reception, and the lovely view from the ninth floor balcony all contribute to a most enjoyable experience.Their website is at http://locrian.org/.
The American Symphony Orchestra presented a program called Forged From Fire, at Carnegie Hall, May 30, 2014, at 8 pm, with pieces written during the period between the World Wars. I would like to compliment conductor Leon Botstein on his programming. The pieces were Max Reger, Eine vatelandische Ouverture (A Patriotic Overture) Ernest Bloch, Israel, Symphony for Orchestra, with Denis Sedov, bass (singer), Charles Ives, Orchestral Set No. 2, with Blair McMillen, piano – an excellent performance, an Karol Syzmanowsi, Symphony No. 3 (The Song of the Night), with Corey Bix, tenor, and The Collegiate Chorale Singers, directed by James Bagwell. (This concert got some major press coverage, including the New York Times, and I am keeping my remarks succinct.) This was a most enjoyable and informative program of major works by German, Swiss-Jewish, American and Polish master composers. Visit the orchestra at http://americansymphony.org/.
Max Lifchitz conducted the North/South Chamber Orchestra at the season finale concert of North/South Consonance, Inc., Tuesday, June 17, 2014 at 8 pm at Christ & St. Stephen's Church.  Katherine Hoover, South: Zephyr (2013, World Premiere) has a lovely melodic flute line set against the rhythmic string orchestra background (ostinato and harmonies). Lisa Hansen gave a splendid flute performance. Anna Viesmane, Concerto for Viola d'amore (2013, U.S. Premiere) has shimmering strings – akin to Part, with a drone and a hint of the colors of the aurora enveloping the viola d'amore, performed by Edmundo Ramirez. Victor Kioulaphides, Summer Concerto (2013, World Premiere), has a very singerly violin – closely akin to Samuel Barber's soaring melodies with a theatrical element, which Kioulaphides attributes to the influence of Nino Rota:  very beautiful and well-integrated. Alla Pavlova, Concertino (2012, U.S. Premiere), the piano starts with a Romantic melody, and the violin soars with another; lyrical and very focused and forceful melody, with the strings providing support and augmentation. This piece has very articulate and passionate tonal writing. Last, Max Lifchitz, Forget Me Not (2014, World Premiere), with soprano Carol Wilson, with a very smart and colorful setting of the poetry of Lillian Curtis (c. 1872), in its varied moods, including a humorous one (II, The Potato). The orchestration is lively and tonal. Soprano Carol Wilson has a beautiful delivery.  he entire program, which also featured performances by Mioi Takeda, violin and Helen Lin, piano, was most enjoyable and beautifully written. Visit them at http://www.northsouthmusic.org/.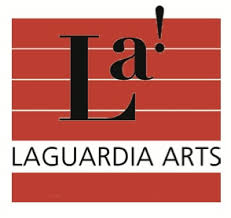 LaGuardia Arts, the high school successor to Music and Art, produced a Spring Musicale II on Wednesday, June 11, 2014, at the large concert hall, with a percussion ensemble, junior band, brass ensemble, and opera workshop/pit orchestra. The program was surprisingly good – some of the high school performers have the ability for major careers if they dedicate themselves to their craft.  The centerpiece of the program was a commissioned work for the band by composer Peri Mauer, called Red Sky, conducted by Dr. Richard Titone. Ms. Mauer orchestrated her prior work for solo trumpet of that name and revised it for a full ensemble. It was technically challenging, but the young musicians rose to the occasion after diligent rehearsals. According to Ms. Mauer's notes, it is inspired by the "vibrant and peaceful beauty of the summer sky over Lake George, viewed as a continuous shift of various shades of red enlivened by changing cloud formations throughout the day.  The journey of the red sky is reflected on the lake and manifest here in this composer"s music composition."  It's in two movements – Awakenings, in which Ye Huang, clarinet, and Hao Wang and Brandon Papaleo, trombones, were the soloists, and In the Brilliance of the Afternoon Sun. I find it an exciting and invigorating piece that is excellently well-written. The piece got deserved and enthusiastic applause from the audience. Their site is at http://laguardiahs.org/.
The Collegiate Chorale, directed by James Bagwell and conducted by Ted Sperling, produced a program called battle hymns by composer David Lang on the Intrepid Sea, Air & Space Museum, moored in New York alongside the Hudson River, on May  15, 2014, with members of the Veterans Artist Program and the Manhattan Girls Chorus singing. Words and music were by David Lang, after Stephen Foster, Sullivan Ballou, and Abraham Lincoln, performed in about 50 minutes.  It's an oratorio for adult and young voices, with a nice mix between them, using Lang's signature post-minimalist technique.  The hall on the aircraft carrier Intrepid is an interesting locale for this fascinating a cappella piece. Visit the Chorale at http://collegiatechorale.org/.
Philip Nuzzo conducted the Metro Chamber Orchestra in the American premiere of All Quiet on the Western Front (2002) by composer Nancy Van de Vate, who wrote the libretto based on the German novel by Eric Maria Remarque, in a one-night performance at Roulette Theater in Brooklyn, NY, on Saturday, May 24, 2014. (The New York Times published a review.) Singers included Christopher Lucier as Paul Baumer, Stanley Lacy, Jesse Malgieri, Bryan Murray, John Horton Murray, Mackenzie Gotcher, Scott Lindroth, Marques Hollie, Hannah Stone, Ava Waing, Briana Hunter, and Martha Tone.  The concertmaster was Una Tone, and Lynn Bechtold was principal second violin. Patty Schmittt was the first horn. This novel is a masterpiece and is considered one of the landmarks of anti-war literature: it captures the intense spirit of the young soldiers and the arbitrariness and waste of modern warfare.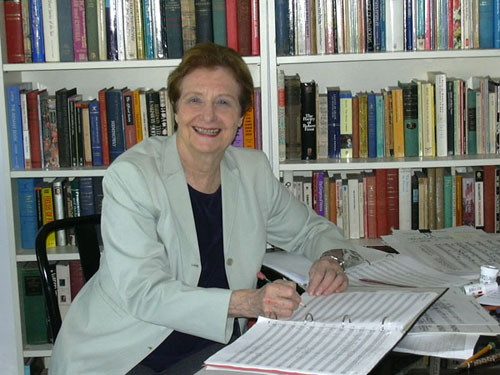 Nancy Van de Vate (http://www.nancy-vandevate.at/) has composed more than 130 works including several operas; born in Plainfield, NJ, and in her early 80's, she lives in Vienna, Austria.  Ms. Van de Vate writes gorgeous, tonal music, with sophisticated chromatic accents, and she writes very well for singers – in range and with natural contours so that speech is always understood. The piece is a dramatic tour de force and is absolutely masterful. The orchestra, which had only a few rehearsals, performed with polish and panache. The singers, without exception, gave excellent performances. Several of the singers, including the lead Christopher Lucier, brought a depth of acting insight and interpretation to their roles. Hopefully, this production will receive more American, Canadian, British or other English-language productions, or the Metro Chamber Orchestra (http://themetrochamberorchestra.org/) gets a producer to underwrite it for a longer run here in the United States. This is an outstanding opera, tastefully written, thought-provoking and exciting.
Category Sound | Tags:
---
Comments Off

on More New York City Concert Reviews from Mark Greenfest
Sorry, comments are closed.