Comments Off

on More Great Short Films by Joris Ivens
October 6, 2014 by Admin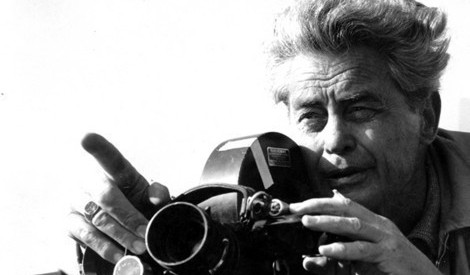 A number of years ago, I purchased a videotape collection of short films from Holland and Belgium, among which were three films by Joris Ivens, The Bridge, Rain and New Earth. The first two can be seen in a previous post at http://soundwordsight.com/?p=1219.
New Earth, at least the version on the videotape, was a lovely and inspiring film about the transformation of large tracts of the Zuiderzee from inland sea to farmland, made possible by the brilliant engineering and determination of the Dutch people. Through the wonders of (then) modern technology and shear hard work, the dike was completed and many hectares of land reclaimed. In fact, some of the last images in the video version were the closing of the gap and the final victory of the Dutch people over the intractable element – the sea.
But wait, there's more! That video only told half the story. A full version on YouTube reveals that the second half of the film is the story of the remarkable wheat harvests brought forth from this land and how they happened to coincide with the Great Depression and a massive need for this food. It seems, however, that those who knew best decided that this excess of grain was depressing world markets to the point that the only solution was to destroy it. Don't give it to starving people who couldn't afford food for lack of work – burn it or dump it into the ocean so as to keep the commodity prices acceptable to those who knew and invested best. The viewer is left with the distinct impression that this was not an acceptable solution to Mr. Ivens, as it really shouldn't be to any decent human being.
Watch this film with two distinct faces (and Kurt Weill-type music by Hans Eissler) below.
Now, if you prefer your short films more pastoral, and in keeping with the spirit of
The Bridge
or
Rain
, here's Ivens'
La Seine a recontré Paris
, a truly lovely meditation on this great and beautiful city from an aquatic point of view.
Finally, one of Iven's pure travelogues from places little known, in this case Valparaiso, Chile, with a special focus on its remarkable topography.
Much more about Joris Ivens at
http://ivens.nl/en/
.
Category Sight | Tags:
---
Comments Off

on More Great Short Films by Joris Ivens
Sorry, comments are closed.