Comments Off

on an infinite number of curves – Katabasis
October 3, 2014 by Admin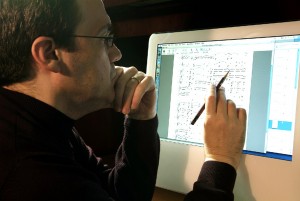 from composer Lawrence Dillon:
Katabasis
For reasons I can't begin to fathom (though others have), humanity has had a long fascination with journeys into the depths, beneath the surface, in search of meaning or beauty.  From the myth of Orpheus to the dreamlike creations of Haruki Murakami, we keep revisiting this notion of katabasis, a descent into darkness that somehow illuminates.
I'm human (though I'm open to arguments otherwise), so I'm as prone to human fascinations as anyone.  I've just completed a double concerto for cello and double bass that serves as a variation on this recurrent theme.  The soloists lead the orchestra into its depths, probing layers of sound in a journey through varying textures and densities.  As is the tradition in this genre, Katabasis has an episodic form, like a series of questions in search of an answer.
Katabasis was commissioned by a consortium of four orchestras for Low and Lower, which will premiere it with the Winston Salem Symphony under the direction of Robert Moody on October 12th and 14th.
Lawrence Dillon, a recent recipient of a North Carolina Arts Council Fellowship, is Composer in Residence at the University of North Carolina School of the Arts. He has had commissions and performances by the Emerson String Quartet, the Boise Philharmonic, the Salt Lake City Symphony, the Daedalus String Quartet, the University of Utah Philharmonia and the Idyllwild (CA) Symphony Orchestra. He has won awards from ASCAP, the Juilliard School, the Ravinia Festival, the International Horn Society, the American Music Center, CRS and many other organizations.
Naxos has issued Lawrence Dillon Violin Music (Catalogue No: 8.559644), featuring seven chamber works performed by violinist Danielle Belen, 2008 Grand Prize Winner of the Sphinx Competition. His other recent, critically-acclaimed CD release, Insects and Paper Airplanes, is on the Bridge label. His music is published by American Composers Alliance – http://composers.com/ and his website is at http://www.lawrencedillon.com/.
Category Sound | Tags:
---
Comments Off

on an infinite number of curves – Katabasis
Sorry, comments are closed.