Comments Off

on Mid-Winter 2015 NYC Concert Reviews by Mark Greenfest
January 23, 2015 by Admin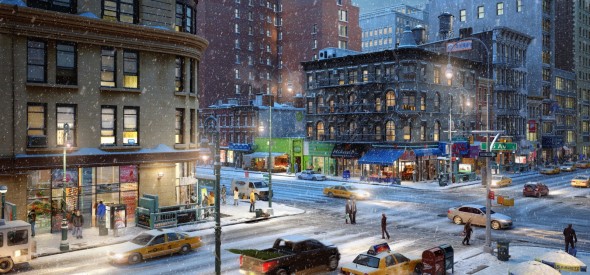 By freelance New York concert reviewer Mark Greenfest
While most of the annual after-Christmas Trinity Wall Street Twelfth Night Festival is early music, such as renaissance and baroque (promoted by Gotham Early Music Scene (GEMS)), there was a modern program, too, performed on January 5, 2015, to a nearly sold-out house at Trinity Church in New York, NY. Roomful of Teeth, the vocal octet, performed the Partita for 8 Voices by its alto, Caroline Shaw, who won the 2013 Pulitzer Prize for Music. (Ms. Shaw, who was 29 when she wrote the piece, is the youngest person by a decade to win the award, and one of a handful of women to be so recognized.) The score's inscription reads, "Partita is a simple piece. Born of a love of surface and structure, of the human voice, of dancing and tired ligaments, of music, and of our basic desire to draw a line from one point to one another."  The piece follows a baroque structure, but the traditional framework soon is "stretched and broken" by means of "speech, whispers, sighs, murmurs, wordless melodies and novel vocal effects" (Pulitzer jury citation). It's formal structure might be an allemande, sarabande, curante and passacaglia, but the piece explores contemporary extended vocal techniques in a range of free choices that baroque composers, steeped in period practice and symbolism, would not engage in.  It's inventive and delightful.
Other pieces joined it after intermission:  Brad Wells' Render; Rinde Eckert's Cesca's View, Brad Wells' Otherwise, Eric Dudley's Suonare and, Judd Greenstein's AEIOU.  Dashon Burton got a chance to express the full dynamics of his bass-baritone vocal line in Otherwise; Esteli Gomez, soprano, got a chance to shine in the splendid Cesca's View, by the legendary vocalist Rinde Eckert. Judd Greenstein's AEIOU is a "text" based upon the five vowel sounds, simply delightful, and playfully exploratory and innovative.
The eight vocalists – sopranos Martha Cluver and Esteli Gomez, altos Caroline Shaw and Virginia Warnken, tenor Eric Dudley, bass-baritone Dashon Burton, bass Cameron Beauchamp – under the artistic direction of Brad Wells – demonstrate technical mastery and ebullient joy in performance. These hand-picked young musicians handle contemporary and early music techniques wonderfully well, and this was a most memorable and enjoyable program.
Visit Roomful of Teeth at http://www.roomfulofteeth.org/.
The Green Mountain Project, led by Jolle Greenleaf, soprano and artistic director and Scott Metcalfe, conductor and music director, performed one of the great landmarks of music, Claudio Monteverdi's Vespers of 1610, January 10, 2015, at St. Jean Baptiste Church, in a visually beautiful and acoustically pleasing setting. Monteverdi wrote the piece when he auditioned for the post of music director at the Vatican in Rome; instead, he was hired by St. Mark's in Venice. The music incorporates plainchant, polyphony, traditional techniques, and Monteverdi's own, significant innovations. It is still a measuring stick against which music can be compared, hundreds of years later. The Green Mountain Project includes singers such as sopranos Jolle Greenleaf, Molly Quinn; altos Luthien Brackett; tenors Jason McStoots, Brian Giebler, Aaron Sheehan, Sumner Thompson; baritones Jesse Blumberg, Mischa Bouvier; and basses Steven Hrycelak and Jonathan Woody. I name each of the vocalists individually because most, if not all, have solo careers and are technically proficient and have fine ensemble. Likewise, the instrumentalists are excellent:  Scott Metcalfe, Ingrid Matthews, Dongmyung Ahn, Daniel Elyar, Emily Walhout, Anne Trout, Alexandra Opsahl, Kiri Tollaksen, Greg Ingles, Mack Ramsey, Erik Schmalz, Hank Heijink, Daniel Swenberg and Jeffrey Grossman.  They have been performing together for several years now and they bring a radiance and excitement to artistically excellent music making. Visit them at http://www.tenetnyc.com/projects/green-mountain-project.
The New York Philharmonic presented a program, conducted by its music director, Alan Gilbert, with soloist Anthony McGill, clarinet, in Avery Fisher Hall in New York, January 8, 9, 10 and 13, 2015.  The program included audience favorites Maurice Ravel, Valses nobles et sentimentales (1911/12) and Petr I. Tchaikovsky, Selections from Swan Lake, Op. 20 (1875-76), with a rarity, Carl Nielsen's Concerto for Clarinet and Orchestra, Op. 57 (1928), with Mr. McGill. The Nielsen piece is structurally very solid and requires exceptional technique, but is not flashy. It's actually an excellent piece.  Mr. McGill, who is now the principal clarinet, is a remarkable player, whom I remember from his student days at Julliard – he can play anything written for his instrument and excel. Conductor Alan Gilbert has the showmanship of Leonard Bernstein, with remarkable accuracy and craft.  The orchestra thrives under his direction; the audience rises in standing ovations.  It is a pleasure to be watching the renaissance of this stellar orchestra under his leadership.
The Philharmonic, again led by its conductor and music director, Alan Gilbert, performed a very exciting Requiem by Guissepe Verdi, January 15-17, 2015, at its home at Avery Fisher Hall. Alan Gilbert's conducts with his whole body engaged, like Bernstein – a hand gesture here, a body gesture there – accurate and totally animated.  The orchestra's performance was splendid, with a full range of dynamics.  The orchestra blasted with energy during some of the choral passages, and handled the delicate soloist passages with suitable restraint. The soloists were excellent. Angela Meade, soprano, has a most powerful voice with beautiful tone. The mezzo, Lilli Paasikivi, has a warm and engaging tone, strong interpretive insights and a Finnish accent. Eric Owens, bass-baritone, is an extraordinarily gifted singer – he has one of the strongest projections of any operatic singer, a warm and rich voice, and uncanny interpretative skill. The young tenor, a substitute borrowed from the Atlanta Symphony, Russell Thomas, shows great promise; although he does not have the projection of the more mature singers, he shows significant interpretative skills. The New York Choral Artists, directed by Joseph Flummenfelt, showed excellent ensemble and ability to harmonize and are very skilled and adapt at adjusting their dynamics.
Verdi wrote this Requiem as a memorial to the author Alessandro Manzoni, who, like Verdi, was active in the Italian independence movement (Risorgimento), with several passages written previously as a memorial tribute to Verdi's friend and mentor, Rossini, the great bel canto composer.  Like Bach's Mass – one of the pinnacles of Catholic litgurical music, written by a Protestant – this requiem was written by an agnostic.  The piece has an operatic flavor and a power that is incomparable. I was pleasantly surprised how well the piece sounded in Avery Fisher Hall, the powerful movements like the Dies Irae with full trumpets in the balcony, to the quiet and reflective moments.  The Philharmonic is very much on a roll; and, the Verdi Requiem, unquestionably a masterpiece. They're online at http://nyphil.org/.
Category Sound | Tags:
---
Comments Off

on Mid-Winter 2015 NYC Concert Reviews by Mark Greenfest
Sorry, comments are closed.