Comments Off

on Artek at Manhattan's Immanuel Lutheran Church – A Review by Mark Greenfest
January 9, 2015 by Admin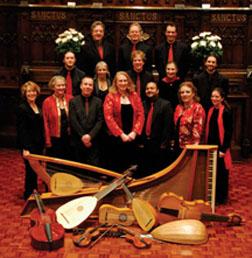 Artek presented an all-Haydn program, titled Music for a Prince; The Esterhazy Orchestra on Friday, January 3, 2015 at 8 pm, at Immanuel Lutheran Church in New York, NY. The concert was conducted by its Music Director, Gwendolyn Toth, who founded Artek in 1986, 29 years ago. Violinist Cynthia Freivogel, the concertmaster, and soprano Sara Chalfy were the billed soloists.
The pieces performed included these works by Franz Joseph Haydn (1732-1809):  Symphony No. 6,  Le Matin (1761); Concerto in F Major for violin and harpsichord (1766); Symphony No. 49, La Passione (1768); and selections from his opera Armida (1784).
Papa Haydn, friend and mentor of Mozart, and teacher of Beethoven, is regarded as the leading figure in the classical period, with major innovations in symphonic music and the string quartets.  As court composer and conductor of the princely Esterhazy family orchestra in Hungary, in a rural area near the Austrian border, Haydn observed that he was cut off from the world. There was no one to confuse or torment him, and he was forced to become original.
The earlier pieces were lovely and lyrical; the latter pieces, dynamic and exciting.  Artek introduced a Grabner- style harpsichord that night, of German design, that was large and exciting. The orchestra, under the strong and skilled leadership of Dr. Toth, who conducted sans baton, was excellent. Frankly, I find them as good as the leading European period-instrument orchestras, with most highly skilled performers and tight ensemble.
Dr. Toth really understands this music.  Ms. Freivogel gave a superb performance as solo violinist.  Soprano Sarah Chalfy has a beautiful, rich and resonant voice and gave an extraordinary performance.  In short, the Artek orchestra was wonderful.  The performance was nearly sold out, and most of the audience were seniors. I find Artek performances to be consistently enjoyable and I loved this Haydn program.
Visit Artek at http://www.artekearlymusic.org/.
Category Sound | Tags:
---
Comments Off

on Artek at Manhattan's Immanuel Lutheran Church – A Review by Mark Greenfest
Sorry, comments are closed.