Comments Off

on The Winners of the Ibla Grand Prize International Music Competition – Weill Recital Hall at Carnegie Hall, May 13, 2015
June 7, 2015 by Admin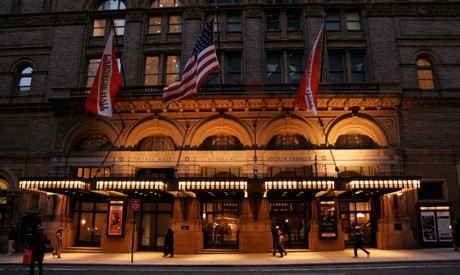 The Winners of the Ibla Grand Prize International Music Competition
Weill Recital Hall at Carnegie Hall, May 13, 2015
If you're looking for surprises in the all-too-frequently unsurprising world of classical music, you can't do better than the Ibla Grand Prize. Dr. Salvatore Moltisanti, this marvelous competition and their annual New York international showcase presentations of musical talent at the highest level have kept us surprised and delighted for many years.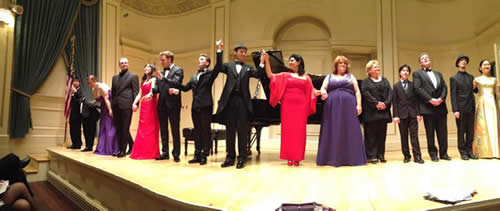 The first surprise is the magical and beautiful Sicilian Baroque city of Ragusa-Ibla, from which the competition gets its name.
Second is the astonishingly high level of talent of the musicians from around the world who gather there each summer to show how good they are by performing a variety of music in many different styles.
Third is the amazing range of performers that have performed there over the years – literally from accordionists to whistlers, with saxophone quartets, electronic music composers, singers of every description, string and wind players, lots of pianists and many, many others along the way.
Fourth is the modus operandi of the core competition not being against other musicians, but rather judged against the highest professional standards.
And on May, 13, 2015, Ibla Grand Prize brought even more surprises to Weill Recital Hall at Carnegie Hall.
This year's concert opened with a unique surprise, the actual blessing of the evening by the soon-to-be-ordained George Gallaro of Piana degli Albanesi.
Leading off musically was Japanese pianist Audrey Yamamoto, a lovely young lady in a reddish gown who presented attractive and expressive Schumann/Liszt Widmung. She displayed nice dynamics with elegant phrasing and a real sense of how to build the music up and back down.
Next up was French soprano Elsa Roux Chamoux, performing selections from Carmen in a decidedly Carmenesque red gown. She has a strong, big, accurate and well-supported voice that was quite characteristic and right for the role. (I might suggest that she develop a bit more stage business for her characterization besides the fan.) Her piano accompanist was the always wonderful Anna Rutkowska-Schock, equally Carmen-like in her red gown.
Ms. Rutkowska-Schock returned for a solo piano piece by Sicilian composer Pietro Floridia (1860-1932). This is lovely and charming music, nicely ornamented, with a dancing melody that was performed beautifully by the redoubtable Ms. Rutkowska-Schock. Dr. Moltisanti has been an advocate of Floridia's music for many years, I think with good cause.
Italian jazz pianist Giuseppe Blanco was next. Duke Ellington's Caravan made a surprise stop at Weill Hall, creating a jazz club atmosphere. Blanco's big interpretation featured some cool, jazzy touches and elements of boogie-woogie, with Bud Powell, Art Tatum and Oscar Peterson along for the ride—a fun way to get to the watering hole. The audience dug it.
Then came the Italian guitar duo of Alessandro Blanco and Giuiseppe Sinacori. They are a good looking and well-coordinated pair that offered a finely played, but rather unsurprising, too-straightforward arrangement of Rossini's Barbiere di Siviglia. I'm not sure a guitar duo is the right medium for this music, but these two skilled players presented a good performance nonetheless.
Next up was another surprise, a young male soprano. I didn't catch his name, so will leave it out in deference to what may well be a developing career. He performed Babbino Caro, swooping uncomfortably into some notes, blasting others unnecessarily and generally missing the musical point. I'm sorry to say that this was a strange, mannered presentation that did not show him to any good advantage.
Pianist Cho-Hyun Park from South Korea (winner of The Modica Award) was next, with more challenging music, this time the last movement of Prokofiev's Piano Sonata No. 7. This was a sensible, motoric performance, nicely reasoned and solidly played, with a real pulse. Nice audience reaction.
Following Ms. Park was Italian soprano Francesca Adamo, with accompanist Donatella Sollima. They first performed A la Jardinara by Sicilian composer Eliodoro Sollima. The song, with lyrics in Sicilian, is lovely and darkly colored, with a nice piano part and a sense that all is not well in the garden. The second selection, Carlos Antonio Gomes' Mamma dice, was a sort of musical argument. Spanish flavored, it was expressively sung and acted, and displayed Ms. Adamo's good sense of shaping and line. Ms. Sollima was fine throughout.
The surprise level went back up a bit with Dutch Lame Sonore (known locally as Singing Saw) virtuoso Annette Scholten. Her musical hardware produces a lovely sound, at times almost human, with fine intonation and excellent control of vibrato. The Rachmaninov Vocalise was a logical and compelling choice, with virtuosic playing and lovely piano accompaniment by Nanke Flach. Fine audience reaction—no surprise.
Following this was the youngest performer of the evening, Italian cellist Luca Giovannini, performing Saint-Saens Concerto No. 1 with the reliably marvelous Anna Rutkowska-Schock. The music makes and immediate statement of "I'm Here!!" Mr. Giovannini doesn't have a big sound, but he does have solid technique for all the runs and lyrical playing in the movement. He is a committed player whose musicality will be refined with experience and living with the music for many years to come. As always, impeccable accompaniment by Anna R.-S. Several of the previous performers seated near me really like this performance.
Then came one of the highlights of the evening, Polish accordion whiz Rafal Luc. Quite honestly, he played the hell out of Interieur by Frank Angelis, and the instrument. This young man is a great virtuoso from the Polish tradition of accordion virtuosos. He has a huge dynamic range that creates a fascinating tension onstage; it pushes his performances into the territory of Daniel Binelli or Astor Piazzolla. The surprise here is that his artistry keeps finding a new level to go to. Amazing.
This was followed by Italian pianist Fabiana Basini, who brought lots of flying fingers and notes with her—in other words, Liszt. She could have been a bit more careful in the early pages, and at times her playing was a bit too ethereal. It was better in Venezia e Napoli's middle section—much more solid, focused and Lisztian. Overall, she could use a bit more thunder, or at least an occasional bolt of lightning, and bit more shaping and consistency. Good tools that need to be a bit better organized.
I'm surprised to find myself saying that I was bit disappointed in Italian violinist Andrea Timpanaro. He had too many adventures in intonation, unclean lines, and muddy phrases to recommend this performance. He made some very unattractive fiddle sounds in the Nino Rota Improvviso in Re minor he presented. It's never good to judge someone on one hearing, so I would welcome the opportunity to hear him again to perhaps redress this performance imbalance.
I need to mention that throughout the evening, Dr. Moltisanti was an exceptionally genial, informative and eloquent host. It once more confirmed my belief in his genius as a musician, teacher and advocate for musicians from around the world.
Finally, to end things, Japanese pianist Miwa Hoyano, performing Ravel's La Valse. I like her Valse. She pays attention to detail and doesn't overplay the piece as do so many others. Hers is a softer, prettier waltz—brightly rather than darkly nostalgic. A really nice (and to me thoroughly valid) interpretation and performance. Great playing and terrific audience reaction.
As always, this was a strong showing of the talent that finds its way to Ragusa-Ibla.
And, of course, this being an Ibla Grand Prize event, one more surprise—Ibla Board member and New York Gala Chair Steve Madsen and a very cool rock band performing a Rolling Stones rave-up, lamenting their inability to obtain Satisfaction.
…Meanwhile, around the world, performers were preparing for the Ibla Grand Prize 2015….
Vist Ibla Grand Prize at http://www.ibla.org/.

Jeffrey James
Editor, International Composer
http://www.jamesarts.com/internationalcomposer/
Editor, SoundWordSight.com
Category Sound | Tags:
---
Comments Off

on The Winners of the Ibla Grand Prize International Music Competition – Weill Recital Hall at Carnegie Hall, May 13, 2015
Sorry, comments are closed.