Comments Off

on 2 Centennials, 2 New Classical Operas
July 9, 2015 by Admin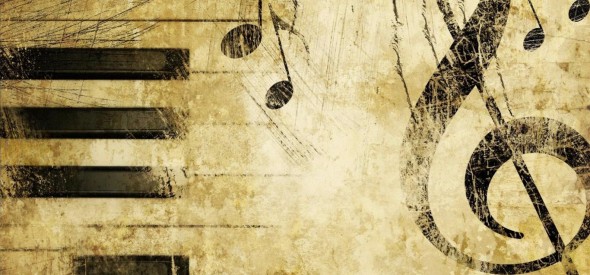 by Leonard J. Lehrman
July 9, 2015 is the 100th birthday of one of America's most skilled and prolific composers, David Diamond, who died just 26 days short of his 90th birthday.  A close friend of Emma Goldman in his youth, and even closer friend of Marc Blitzstein and Leonard Bernstein later on, he studied (on Maurice Ravel's personal recommendation) with Nadia Boulanger and later Roger Sessions, and was the teacher (at Juilliard) of Francis Thorne, Lowell Lieberman, Charles Strouse, Philip Lasser, and numerous others. Diamond stated many times that he himself considered his most important body of work to be his symphonies (many of them recorded by Gerard Schwartz), his string quartets (recorded by the Potomac Quartet on four Albany Troy CDs), and his close to 100 songs. 

I first met David Diamond in January 1974.  I had completed Idiots First http://ljlehrman.artists-in-residence.com/IdiotsFirst.html, an opera begun but left unfinished by Marc Blitzstein (1905-1964), and Jo Davis, Blitzstein's sister, wanted Leonard Bernstein's opinion on it.  Helen Coates, Bernstein's secretary, said he was too busy writing The Dybbuk to see me.  So Jo said, "Call David Diamond."  David saw me right away:  I played and sang through the score for him, and he told me I had done "a beautiful job," saying: "I'm going to call Lenny!"  He did, and Helen Coates then called me to say "Mr. Bernstein is taking a breather and wants to see you."  With Bernstein's (and Copland's) approval, the work went on to enjoy four productions and several awards, to date.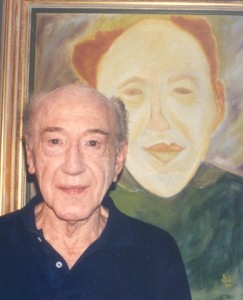 Two decades later, I contacted David again, having learned that he had known Emma Goldman.  Helene Williams (who played her in my E.G.: A Musical Portrait of Emma Goldman – http://ljlehrman.artists-in-residence.com/EG.html), in 49 productions in 5 countries) and I recorded an interview with him; and he gave us a tour of all Emma's haunts in his native Rochester, posing before a portrait he said Paul Klee had painted of him. (It turned out later to be a self-portrait, inspired by Klee. It is now hanging at the American Academy of Arts and Letters and can be seen at right.)  Watching Helene perform on videotape, we vividly remember him remarking: "How did you know Emma moved like that!?"

We then asked him if he had written songs of his own that Helene might sing.  "Hundreds!" was his response. And he sent us whatever we could not ourselves find in libraries and music stores.  Together with him, we narrowed the selection down to 25, coached them with him at Juilliard, and then recorded them, on the only CD to date devoted entirely to his songs, in time for his 80th birthday.  It finally did come out, on Albany Records, shortly after what would have been his 90th.

The official website devoted to his work, daviddiamond.org, includes links to 18 symphonic recordings and 24 of chamber music, including our "David Diamond Jubilee," which he listened to just weeks before his death, telling us that he "liked it very much."  There are many recordings of his work posted on YouTube, but only one song, Sister Jane, sung by Helene this past February, at http://youtu.be/OBlU4x2nOVQ.
Another composer, also originally from Rochester, whose centennial was celebrated just last month, on June 2, 2015, also befriended Marc Blitzstein and had a hand in seeing his unfinished work completed. Robert M. Palmer, Given Professor of Composition at Cornell, managed to live one month and a day past his 95th birthday. He was one of the finest composers and most caring, conscientious teachers any of us has ever known.  Elie Siegmeister, who got to know him through their both having set the text of Wallace Stevens's poem Abraham Lincoln Walks at Midnight, recommended a number of students to him, including Herbert A. Deutsch, Jack Gallagher, Daniel Dorff, and me.  Bob took pride in being able to understand and to imitate the style(s) in which his students were writing, in order to show them alternatives they might plausibly consider, and directions in which they might go, of which they might not have thought themselves.  He was particularly helpful to me in suggesting asymmetries in some phrases of my first original opera, Karla (http://ljlehrman.artists-in-in-residence.com/Karla.html).  And he was extraordinarily helpful and encouraging to me in my completion of the opera Sacco and Vanzetti, (http://ljlehrman.artists-in-in-residence.com/SaccoAndVanzetti.html) begun by Marc Blitzstein (1905-1964), parts of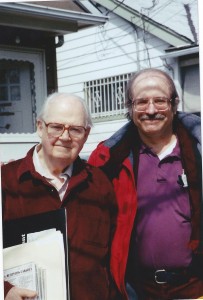 which he had played with Blitzstein himself in Rome in 1961.  In 1999, Bob came to Long Island to hear me play his solo piano piece, Transitions, at a concert honoring my 50th birthday, featuring music by my teachers, my students, and myself (posted at http://youtu.be/7ic6cXevCbI). The next day he came to the house (photo at right), listened to my playing and singing of my completion of Act I of Sacco, and wrote to the Blitzstein Estate, persuading them to offer me a contract to complete Acts II and III.
When the work was premiered at the White Barn Theatre in Westport, CT, Aug. 17-19, 2001, he took the bus all the way from Ithaca to hear it and to participate in a symposium on the work.  (His speech is posted on YouTube at http://www.youtube.com/watch?v=uGSCldyrsgE.)  When a critic in Opera News attacked the opera without even having seen it, Bob wrote one of the 5 letters to the Editor that were printed (out of 14 that were written) telling the magazine how ashamed they should be for having printed that diatribe.
In 2002, Bob was one of 6 composers invited to write music for my wedding to Helene Williams.  He left a message on our answering machine that he had overcome a years-long writer's block and had found a Jewish scale in which he was going to write our piece.  Alas, he experienced the first of a series of strokes just after that, and was not able to write the work.  Helene and I came up to Ithaca on our honeymoon and found him in the hospital, on a virtual hunger strike because of having been given the wrong medication.  Though he could not speak, we held his hand, told him we were there for him, and asked if he knew that.  He nodded.  After his medication was changed, on my father's recommendation, we were told that we had "turned him around."  For the next 7 years we made a point of visiting him every summer.  Helene sang his song Kaw River for the Society for New Music, and for him at the nursing home.  Last month we recorded it, in honor of his centennial,  posted on YouTube (at https://youtu.be/3_Lg1krdMa0). His many other pieces included oratorios, a piano concerto, and two marvelous piano quartets.
Palmer's successor on the Cornell faculty was a student of his (and Karel Husa's, and Witold Lutoslawski's), former American Music Center President and Pulitzer-Prize Winner Steven Stucky.  I had the pleasure of attending the NY premiere at Zankel Hall Dec. 4, 2014 of his opera, "The Classical Style: An Opera (of Sorts)," written with Jeremy Denk, inspired by musicologist Charles Rosen's book of that title. Robert Spano conducted a lively cast that included Jennifer Zetlan as Mozart, Dominic Armstrong as Haydn, Ashraf Sewailam as Beethoven, and Kim Josephson as both Rosen and the Wagnerian Tristan (half-diminished seventh) chord, who steals the show as he predicts the demise of classical tonality.  Other singers also play chords, exploiting virtually all the possible "walked into a bar" puns of tonic, dominant, and subdominant.  Palmer and Rosen (who died at 85 in 2012) would have loved it.
On a more serious note, Victoria Bond's opera Clara,  takes on the early Romantic period in music, seen at Symphony Space April 27, 2015, leaning on and enjoying excerpts from the works of Robert Schumann, his wife Clara (Wieck) (Schumann), and her ardent admirer Johannes Brahms. The libretto by Barbara Zinn Krieger attempts to shed a feminist light on the devoted wife and widow who was one of the great pianists of her day, a significant composer, and the mother of 8 children. Like the 1983 West German movie Spring Symphony, the focus is on her stormy relationship with her father, who worries about her future with a neurotic (and probably syphilitic) composer of questionable financial promise.  I loved that movie, with Nastassja Kinski as the adult Clara; the young Clara was played by Christina Preussler, who later starred in the title role of my 1975 opera Sima (http://ljlehrman.artists-in-in-residence.com/Sima.html) in its 1984 European premiere.  Bond's and Krieger's work struck me as often inspired, but not quite finished, trying to make up its mind whether it was a narrative or a musical portrait.  Several women composers in the audience shared my opinion, though they would probably not want to go on record saying so.  With the composer conducting, the Gramercy Trio played beautifully (especially the Schumann), accompanying singers Meredith Mecum and Benjamin Bloomfield, who had their work cut out for them as Robert and Clara.
Leonard J. Lehrman is an American composer who was born in 1949, and grew up in Roslyn, NY. Since 1999, he has resided in Valley Stream, NY. He has composed 220 works, including 10 operas and 6 musicals. He won the 2002 Sunrise/Sunset Competition of the Brookhaven Arts Council in 2002 for his setting of Abel Meeropol (Lewis Allan)'s poem "Conscience". Since 1973 he has worked for the Metropolitan Opera (Assistant Chorus Master 1977-78), Bel Canto Opera, After Dinner Opera, Aviva Players, the Metropolitan Philharmonic Chorus, the Jewish Music Theater of Berlin, the Jewish People's Philharmonic Chorus, the Workmen's Circle Chorus, the Oceanside Chorale, the Blaue Jungs/Hanseaten Deern German Chorus of East Meadow, and the Bronx Opera. His opera Hannah was reviewed in SoundWordSight – twice – at http://soundwordsight.com/?p=1327 by Mark Greenfest, and http://soundwordsight.com/?p=1384 by Dr. Jonathan Dzik. In February 2014 he became Organist/ChoirDirector/Composer-in-Residence of Christ Church Lutheran in Rosedale, NY. His works and performances are represented on recordings by Opus One, Premier, Capstone, Albany, and Original Cast Records. Visit him at http://ljlehrman.artists-in-residence.com/
---
Comments Off

on 2 Centennials, 2 New Classical Operas
Sorry, comments are closed.