Comments Off

on End-of-the-Year Roundup by Leonard J. Lehrman
December 31, 2015 by Admin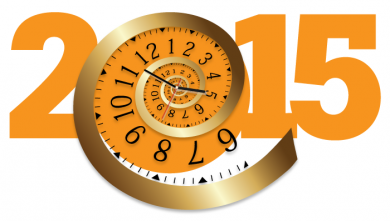 As 2015 winds down, I'd like to express my gratitude to soundwordsight, its webmaster and readers, for welcoming me as both reviewer and reviewee. The most recent issue of The New Music Connoisseur, which has been reviewing my work since 1993, and for whom I've been writing since 2001, includes (most of) my article on Politics & Opera, covering 3 Santa Fe Opera productions, York Theatre's Sheldon Harnick Festival, and various other doings around NY, from Bloch at Manhattan School to the Aviva Players at Opera America and Honegger at the Philharmonic. I have posted it here: http://ljlehrman.artists-in-residence.com/Politics&Opera.html. The editor gave me a choice in this issue of reviewing or being reviewed.  In my bio, he graciously provided a link – http://soundwordsight.com/?p=1384 – to Jonathan Dzik's review of my opera Hannah that appeared here. I have told the editor that in his next issue I'd prefer to be reviewed. Reviews that I write shall appear here, online.  With the death of its former webmaster, Mike Thurlow, the NMC website, a source of many online articles for so many years, has apparently been abandoned.
 –           –           –           –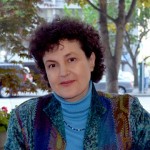 On December 1st, 2015 I was confronted with an impossibly difficult choice.  All on the same night, Mira J. Spektor's Aviva Players was presenting a number of works, including a new opera by my friend Alice Shields; New York Composers Collective was premiering a new John Eaton work at Citicorp; and the Mannes School downtown was presenting students in Russian music, including a 2010 anti-Peter wolf story called The Lion That Couldn't Roar, with music for clarinet, cello and piano by Margarita Zelënaia (above, left) and narration by Robert Sherman (below).  It was on
nights like this when I was a student at Harvard that I would let events "cancel each other out" and stay in to do homework or music composition.  But I chose the Mannes event, and was rewarded with a delightful performance to a rapt, receptive audience, of a series of charming pieces, especially the Sherman-Zelënaia, a fairy tale inspired by Bob's son Peter, who was there enjoying it, too. The chamber piece is not easy to play, and may not appeal to the youngest of audiences, but on this program of Medtner, Shchedrin, Tchaikovsky, Rachmaninoff and Prokofiev, it fit right in.
My wife Helene Williams & I hope we have as much success with the Russian program we're planning for next June, in Minsk, Moscow and Petersburg, of music by Adolphe, Blitzstein, Borzova, Dargomyzhsky, Lehrer, Lehrman, Pavlova, Pokras, Prokofiev, Rovner, Siegmeister, Siniakova, Slonimsky, and Voinova.  (Parma Records will be recording seven of my Russian songs and music of Joel Mandelbaum with the State Symphony Orchestra of St. Petersburg in July.)  Bob Sherman writes me he has another piece about a Teeny Tiny Violin with chamber orchestra, by Dina Pruzhansky, some of which he'll be playing on the radio Feb. 24.  (Listen for it!)  I do so hope he'll get around to doing my Reineke Fuchs some day…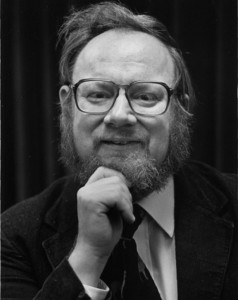 The following day, I learned that John Eaton had slipped on the wet pavement en route to his concert, and died of a concussion, hemorrhaging in the hospital. He had been a teacher and then a dear friend of mine for over 40 years. I shall never forget his bravura solo performance, just for me, of his Microtonal Fantasy for 2 pianos tuned a quarter tone apart. His 80th birthday concert, also a NYCC event, at Symphony Space's Leonard Nimoy Thalia on Oct. 23, had been a joy to attend, featuring songs ranging from his 11th year to his 79th, along with a Mass and an imaginatively colorful cantata in Spanish on the writings of a narcissitic medieval nun, adapted by his wife Nelda.  A memorial concert is planned for March, 2016.
At the Dec. 10 wake, held at the Eatons' home in North Bergen, NJ, John de Clef Pineiro read a poem, and I spoke briefly, recalling my first meeting John at Indiana in the fall of 1973.  We had showed each other our music, and his first opera reminded me a bit of Roger Sessions' Idyll of Theocritus.  "That may be no coincidence," he admitted. "I studied with Sessions!"  As for my music, he readily agreed to write me a letter of reference, using words like "craft," "skill," and "not a little elegance."  "Elegance" was indeed a word best suited to describe his own music, though he could get down and dirty in the jazziest of jazz as well.  A pioneer in electronic and microtonal music, he stopped at quarter tones, combining them in the most expressive ways imaginable, sometimes excruciatingly so, and often not easy on performers or listeners.  During the year I studied with him at Indiana, he, Nelda, tenor Michael Balaam, soprano Kathy Montgomery, and I spent 30 hours rehearsing 10 minutes of his opera Danton & Robespierre for a presentation at 8:00 in the morning before the opera committee of the school, which eventually did produce the work. One of his major operas, produced at Santa Fe, was based on Shakespeare's The Tempest, refashioned by Andrew Porter.  Reviews of it can be read here: http://slippedisc.com/2015/12/death-of-tempest-composer/ and http://ljlehrman.artists-in-residence.com/Tempests,MargaRichterBio.html.
After IU stopped being interested in his work, he moved to the University of Chicago, http://news.uchicago.edu/article/2015/12/09/john-eaton-composer-and-electronic-music-pioneer-1935-2015,  and thence, after retiring from teaching, to NY, where he invented the "pocket opera" concept of musicians performing both instrumental and vocal parts.  One of those works, his Pump Fiction of 2007, not mentioned in the NY Times obit, http://www.nytimes.com/2015/12/13/arts/music/john-eaton-composer-and-electronic-innovator-dies-at-80.html?_r=0, was based on his daughter Estela's libretto about her experience working in a penis pump plant, and is one of the funniest operas ever written.  (I also had the pleasure of setting one of her poems to music – performed here: http://www.youtube.com/watch?v=RhwrpsGrb2Q).
Which brings us to the late Seymour Barab's series of operatic skits, mostly on the subject of sex, In Questionable Taste, which we caught Dec. 3 during its 12-performance run at Theater for a New City.  The cast was delightful, especially baritone Ben Pologe, not listed in the production's advance credits, whom we'd not seen since he embodied the Judge in a 1988 Sweeney Todd production I'd conducted in the Bronx.  Also outstanding were, as usual, Darcy Dunn, along with Carolyn Lyell and James Parks.  Lissa Moira manipulated the actors skillfully, lamenting in an interview afterwards, that the Garden of Eden skit had to be done with body-stockings.  "In the old days, we are all nude in the ensemble," she recalled, "but not any more, with today's actors."
Inhibition and prudery were the subtextual, and rather unfair, accusations made by Tony Kushner against Brecht translators (esp. the unnamed but clearly implied Marc Blitzstein) in his verbal "centennial" tribute to 99-year-old Eric Bentley at Town Hall Dec. 7.  The occasion was a triumph for soprano Karyn Levitt, who has worked diligently to bring Bentley's Brecht translations to life, especially those settings he wrote to music of Hanns Eisler.  The trouble is, there are quite a few better translations of Brecht's works than Bentley's, especially Blitzstein's, which were toned down only at the last minute, and only provisionally, for the famous MGM recording of Threepenny Opera in the 1950s.  But with music written to Bentley's words (as opposed to the other way around), as was the case with Darius Milhaud's Mother Courage score, the British-American editor, playwright and would-be poet does get a chance to shine.  Full credit to Glen Roven and his Metamorphosis Chamber Orchestra who accompanied Levitt in this convincing score, performed complete for the first time anywhere.
The following evening, Dec. 8, I had the pleasure of attending a concert of vocal and instrumental music inspired by the Morgan Library's current exhibition Ernest Hemingway: Between Two Wars, given by the redoutable Cygnus Ensemble, seen at right.  Errollyn Wallen sang her own eclectic Moveable Feast, and Laura Kaminsky's sextet provided a pleasant musical travelogue of the author's peripatetic wanderings.  Also featured were arrangements of Cole Porter's Night and Day and operatic excerpts by George Antheil and Ezra Pound.  They might have included "Expatriate," a fragment I completed in Marc Blitzstein's No for an Answer: "I want to be an emigré –the Heming way, and walk and talk and look the way a hero looks In all those crazy ultra-modern books…That song was premiered in France in 1996, and can be viewed on YouTube in a 2000 performance here: https://youtu.be/pcObGlpfB9o.  I'm told it was also part of the San Francisco revival of the show in 2001, but since the archival video can only be viewed there I've never seen it!
On Dec. 16 we attended Evgeni Kissin's sold-out Stern Auditorium concert at Carnegie Hall, featuring four solo pieces by Jewish composers and the recitation of a baker's dozen I.L. Peretz poems in Yiddish (honoring the centennial of that writer's death).   The most substantial of the piano pieces was the first, Ernest Bloch's Sonata, which was also the widest-ranging in style, hinting at all the influences that composer absorbed and represented, from the Hebraic to the Hollywoodic. Virtually unknown but at least marginally impressive were the Sonata #2, opus 5 by Alexander Veprik and 5 of the 6 dances in a suite by Alexander Krein.  Mikhail Milner's Farn opsheyd ("Before Separating") was the unannounced encore. Also recited as an encore was Kissin's own poem in Yiddish, a variation on the Hillel mantra: "If I am not for myself, who will be for me?"  In Kissin's version, Abraham asks his father Terah: " If I am like the others, who will be like me?" Hillel goes on, however: "If I am only for myself, what am I? And if not now, when?"  We sing this at our Passover Seder every year.  Some time we'll record it.
To end 2015, let me add some final brief notes of grief, and one of hope.
This past month we lost not only John Eaton but three relatives of mine, each quite distinguished in his or her own way.  On Dec. 2nd, it was my father's second cousin Sandy Berger, 70, former President Clinton's National Security Advisor.
On Dec. 24th it was Semsa Yegin, 74, former wife of my mother's first cousin, and an award-winning translator into her native Turkish of Jack London, Howard Fast, Maxim Gorky, George Orwell, Thomas Pynchon, Sigmund Freud, Erich Fromm, and the memoir We Are Your Sons by the sons of Ethel & Julius Rosenberg, Michael & Robert Meeropol.
And on Dec. 28th I learned of the Nov. 28th death of our oldest living relative (yet), Cecelia Meyer, 104, in Greeley, Colorado, where she had been a Hebrew teacher and one of the founders of the Hebrew Progressive Club Sisterhood of Beth Israel Congregation. May they all rest in peace.
And on a note of hope, in memory of the victims of the 1911 Triangle Fire, the American Labor Museum of Haledon, NJ and the Puffin Cultural Forum in Teaneck, NJ, will present, on Sept. 4 & 11, 2016, respectively, The Triangle Fire, an opera on a libretto by Ellen Frankel, with music by me, featuring 12 soloists of the Metropolitan Philharmonic Chorus, conducted by the composer. The cast is headed by Benjamin Spierman (who, together with his wife Hannah, were the stars of Utopia Opera's Princess Ida, enjoyably viewed Dec. 12th), Bill Castleman, David Anchel, Thomas Smith, Alessandra Altieri, Perri Sussman, Charles Samuel Brown, and Jackie Bakewell.
Happy New Year.
Category Sound | Tags:
---
Comments Off

on End-of-the-Year Roundup by Leonard J. Lehrman
Sorry, comments are closed.