Comments Off

on Music From Good Shepherd – A Concert Review by Mark Greenfest
December 12, 2015 by Admin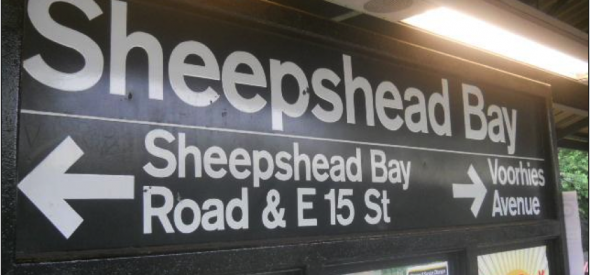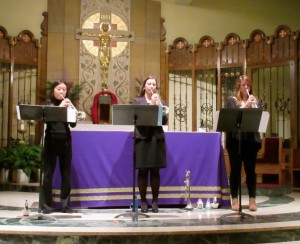 Music From Good Shepherd, a neighborhood series at a Catholic Church in the Sheepshead Bay section of Brooklyn, NY, presented a very attractive Trumpet Trio, Sunday, November 29, 2015 at 6 pm, in a free recital series. This trio is led by Kate Amrine (NYU adjunct instructor; master's student at Peabody), with Alexandria Smith (Master's student at Mannes), and Lynn Chao (Master's, MSM). All three perform well together with considerable elan and accuracy.
The program consisted of Benjamin Britten's lovely Fanfare for St. Edmundsbury, Giacinto Scelsi's Quattre Pezzi per Tromba Solo, David Lang's I Want to Live, Peri Mauer's Trumpet Trio (World Premiere), J.S. Bach's Cello Suite #1 (for trumpet), Jacob Elkin's Five Bagatelle's for Trumpet Trio, and Henri Tomasi's Suite.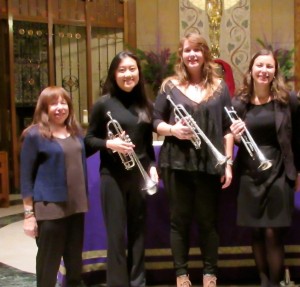 Mr. Elkins, who is a freelance trombonist and composer with a Master's from CUNY's Aaron Copland School, wrote a very attractive piece for the brass trio. Ms. Mauer (at right with the trio), who is a cellist, composer and conductor, with a Master's from M.S.M. and lots of experience in all three disciplines, writes very interesting music. Her pieces tend to have a clearly focused line, a persuasive emotional content, and sufficient complexity to be interesting, without being too dense or overwhelming. Her World Premiere piece for this appealing trio got a well-deserved standing ovation from the audience, who appreciated fresh and exciting music.
Review by independent New York classical music critic Mark Greenfest.
Category Sound | Tags:
---
Comments Off

on Music From Good Shepherd – A Concert Review by Mark Greenfest
Sorry, comments are closed.