Comments Off

on New York City 2016 Concert Reviews from Mark Greenfest – Special Composers Birthdays Edition
March 28, 2016 by Admin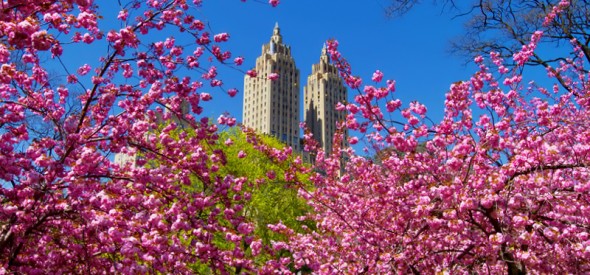 Daniel @ 80 – Birthday Concert #2
February 12, 2016 at the Cell Theatre (23rd St. between 8th and 9th Aves., NYC) at 7:30 p.m.
Chamber and orchestra works by Daniel Goode (at left), with the Momenta Quartet and Moran Katz, clarinet, and the Flexible Orchestra conducted by David Gilbert.
Clarinet Quintet  (2015)
Each instrument voices individually or as part of an ensemble, in turn, led by and responsive to the flute, with a delightful lyricism and variety of textures – legato, staccato, pizzicato and so on. Some of the passages remind me of Beethoven, others, of Stravinsky.  This piece is delicious, and the performances by extraordinary Momenta string quartet, who are always well-rehearsed, virtuosic and have tight ensemble, were joined and led by Moran Katz, who is one of the best young clarinet performers in the world, winning international rewards and making tasty music.
Daniel Goode, the composer, now 80, has achieved stature among other contemporary composers performers.  (There is no reason why wider audiences, along with radio stations and libraries that have a CD collection, should not have exposure to his enjoyable compositions.)
Tunnel Funnel (1988)
Each instrument enters seriatim in a minimalist wave forming counterpoint. There is a string quintet – the Momenta Quartet with a bass, flutes and trombones – comprising two different groups of brass voices, and piano and mallets – two different percussive voices.  The piece opens with a burst of energy, then, tunnels and funnels the energy.
Composer Daniel Goode (http://danielgoode.com/) has written detailed notes regarding this composition and its genesis, which I find to be an amiable and heartfelt work of this abstract and lengthy genre.  Each of the performers – virtuosic with their own instrument – melded their instrumental voices into an entertaining and colorful whole.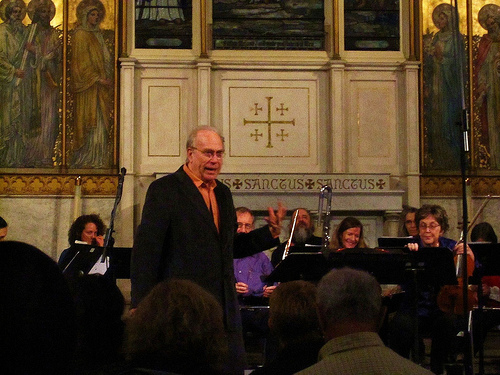 David Gilbert conducted the Flexible Orchestra  (a chamber orchestra augmented with multiple instruments that is minus more than a few individual ones). There is serious craft in this minimalist composition. (The specialization with the trombones at one point is a nice touch.) Within its confined soundworld and repetition (that are hallmarks of minimalism), the composer's voice and the performances are passionate.
I think, in the long run, that this passion counts for as much, if not more, than the structure of the piece, in terms of its being enjoyable (or not).
I liked the gentler, more lyrical, shorter, and more colorful clarinet quintet that was premiered that night, written last year (2015) better than the brilliant minimalist classic, Tunnel Funnel, perhaps because I am having health issues and I don't like massed sounds — I am almost sure that I would be captivated by it listening to a recording, but the structural sophistication and quality of sound is there.
Alvin Singleton 75th Birthday Celebration
Thursday, March 10, 2016 at 8 pm
Roulette, Brooklyn
The Alvin Singleton 75th Birthday Celebration, Thursday, March 10, 2016 at Roulette in Brooklyn was a resounding success.  There were seven pieces on the program, performed by the Momenta Quartet (led by Stephanie Griffin, viola), with Emilie-Anne Gendron and Alex Shiozak (substitue), violins, and Michael Haas, cello, Joseph Kubera, piano, and, in one piece, Ms. Griffin, viola, was joined by Meaghan Burke, cello, and by James Ilgenfritz, bass.  These are all outstanding musicians.
The first piece performed was Argoru IV (1970) for solo viola. (Argoru is a Ghanaian Twi language term meaning to play.)  While every microtic detail of this early piece is planned out with a stunning range of contrasts and technical innovations, the gesturally inflected flow continues brilliantly and with gusto – this piece is fresh,  has fascinating dynamics and keeps your attention (even in its softest passages).  Its dynamics include the very soft, which is delicious. Ms.Griffin's performance was virtuosic.
Be Natural (1974) followed, with three string musicians improvising, gesturally, around a a very long drone tone, which shifted among the instruments. (The piece is akin to In C.)  Ms. Griffin, Ms. Burke, and Mr. Ilgenfritz displayed excellent musicianship in this musical game, involving, among other things, contrasting dynamics of loud and soft and long and short notes.
Pianist Joseph Kubera gave a virtuosic and most powerful performance of three pieces, Argoru I (1970), In My Own Skin (2010) and Baked In the Cake (2011).  In all three piano pieces, there are a lot of arpeggiation, contrasts and two different voices competing and cooperating with each other in inventive games.  During the last piece, for instance, one voice dances while the other sings.  This is not like a Beethoven version –  it's definitely post-Cage, with gestural surprises.
After intermission, the Momenta Quartet (seen above), one of the premiere string quartets in the U.S., performed two pieces. The first, Somehow We Can (string quartet #3, 1994) was stunning. The program notes, by composer and former journalist Carmen Moore, observe the contrast between high energy and serious darkness – the quiet, reflective, lyrical passages are like the dark matter that holds the universe together.  This piece alternates between gorgeous and exciting passages, and, sometimes, it's both.  Modern music is rarely this mesmerizing nor this stimulating –  this is wonderful music.
The last piece, Secret Desire to Be Black (string quartet #2, 1988), if (neo)minimalist, because of repeated figures and polyrthythms, I can still hear the nocturnal music of the night sky and of Schonberg's Verklarte Nacht in the energetic, syncopated dialogue of this Kronos commission, as well as modern and jazz influences. The audience gave composer Alvin Singleton (http://www.alvinsingleton.com/) a well-deserved standing ovation for this evening's program.
Anthony Coleman Belated 60th Birthday Concert
Roulette, Brooklyn, February 25, 2016
(1)  A Fistful of Footfalls (2015) – Tilt Brass Sextet (three trumpets and three trombones)
This piece is in your face aggressive, with a series of brass fanfares, like the waves of a sea of metal (if there were such a thing).  It's also intense and musical.  (Near the end, a solo trombone and trumpet serenade each other for a few bars, which relieves the kick-ass intensity and provides some quiet contrast).
(2)  Metonymies of Pastness (2013) (4 sections) – Anthony Coleman, piano
Luscious tone clusters, many of them deteriorating echoes of aggressive strikes breaking down into iridescent decays, provide a fascinating modern piano solo, with astute musical contrasts and passionate intensity.
(3)  Flaubert/Sofa/Sentence (2012) (3 sections) – Sarah Hughes, alto sax; Coleman, piano, electric organ, Aaron Edgcomb, drums, percussion
Opening with solo gestures from each of the three instruments, the gestural vocabulary alternates between the gentle, poetic, and the brash, assertive, in a spontaneous sounding mixture of composed and improvisatory figures.  This piece is fresh and exciting.
(4)  Call 8  (2015) for trumpet, tenor sax (2), piano, viola (2) and bass
Opening with a resonant lyricism from the seven instruments – three brass, the piano, and three strings, this jazzical piece alternates in mood between the introspective and melodic and the funky and improvisatory. It's very flavorful, and like ice cream, it melts and morphs.
(5)  Essential Bareness (2015)  Alexandria Smith, trumpet; Coleman, piano.
The solo trumpet's brass call, which becomes gentler and more colorful, is matched by the poetic decays of the solo piano (post-Feldman).  (Coleman quotes Wallace Steven's poem in the program notes, Credences of Summer, which is prescient, but it is unlikely that the poem and the duo piece are closely related.)
(6)  Unbelievable Ponasanje (2016 premiere) – Coleman, piano; Tanya Kalmanovitch, viola; Ted Reichman, accordion
Balkan folk-melodies and other lyrical licks from the viola and accordion contrast with the impish modern piano, in a pleasurable, intriguing soundworld, cleverly balanced and emotionally satisfying. The piece is named after the Serbo-Croation word for behavior, and it ain't misbehaving but it has its share of puns and colorful gestures: delicious.
(7)  You  (2008).  [Title of new CD on New World.]
Opening with alto sax (Sarah Hughes), joined by viola (Tanya Kalmanovitch), and then by piano (Coleman) and accordian (Ted Reichman), this piece presents a very colorful and exciting soundworld, with prescient balances and peculiar, exotic and delicious harmonies.  It's the title piece on Coleman's new CD on the New World label, You,  and this classical/jazz piece is most pleasurable and well-crafted.
Visit the composer at http://necmusic.edu/faculty/anthony-coleman.
By independent New York concert reviewer Mark Greenfest.
Category Sound | Tags:
---
Comments Off

on New York City 2016 Concert Reviews from Mark Greenfest – Special Composers Birthdays Edition
Sorry, comments are closed.