Comments Off

on More New York Metro Area Spring 2016 Concert Reviews from Mark Greenfest
April 2, 2016 by Admin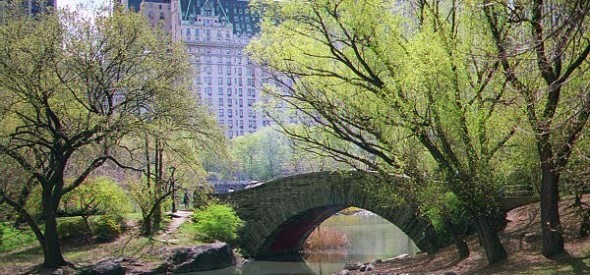 The South Shore Symphony, conducted by its Music Director Scott Jackson Wiley, gave an orchestral program at Molloy College's Madison Theatre in Rockville Centre (LI), NY, Saturday, February 27, 2016, titled The Music of Hector Berlioz.
The program opened with an overture that was an arrangement of Berlioz, called Bravo Berlioz, arranged by James Haynor, which is a clever selection of Berlioz' themes, for ten brass instruments and two percussion, much of which is from the concluding piece, Berlioz' masterpiece, Symphonie Fantastique, of which they gave a memorable performance after the intermission.
The second piece is rarely performed, although it is exquisite, Les Nuits d'ete, (six poems). Augusta Caso, mezzo-soprano, was the soloist.  Her voice is very clear and articulate and she has excellent French diction.  She emotes well – with sufficient gesture and facial expression – and has fine projection.  Her voice has a depth of maturity and color surprising in a young singer, and she gave a lovely performance of this Romantic song cycle.
Conductor Wiley is a most experience maestro, with a deft hand with his baton and free hand signaling entries and dynamics, and this Symphony gives very enjoyable performances.  Many of its performers teach music or or otherwise active making music.  For a regional community orchestra, it's music making is on a high-level and I commend it to residents of Long Island. Visit them at http://sssymphony.org/.
The American Symphony Orchestra (ASO – http://americansymphony.org/) presented a program at Carnegie Hall, Thursday, March 17, 2016, conducted by its music director, Dr. Leon Botstein, with a piano solo by Peter Serkin at 8 pm, (with a lecture by Dr. Botstein at 7 pm), with two pieces by Max Reger (1873-1916), who died in WWI in his 40s, and one by his protégé Adolph Busch (1891-1952).  Both were German; Reger, a virtuosic pianist, who was known for his colorful, scatological language as a teacher; Busch, a Christian refugee from the Nazis, who founded the Marlborough festival in Vermont. 
This was a fascinating and beautiful concert – although the Reger music was considered dense in its day, by contemporary standards and skilled performers, such as the excellent ASO, the music is lucid and gorgeous, and it deserves to be performed, because it is both beautiful and very pleasurable.  The night was titled Giant in the Shadows, as Reger's reputation was in purgatory. Hopefully, Dr. Botstein rescued it. Musicologist Byron Adams, professor at the University of California at Riverside, who wrote the program notes, commented, "Reger's contrapuntal mastery and exquisite voice leading, learned from [Hugo] Riemann, keep the iridescent vocabulary and rapid modulations flowing forward."  This poetic language is accurate as to Reger's mastery of musical craft. (Dr. Botstein's response to the last question at the pre-concert lecture ought to be preserved for posterity, as to musical heaven, hell and purgatory for composers' reputations.)
The program opened with Adolph Busch, Three Etudes for Orchestra, Op. 55 (1940), c. 23 minutes, which has very lyrical writing.  The piece starts with bird-like figuration of a few winds, singing and soaring, such as by the three flutes, with massed strings –  22 violins and 8 violas and cellos with 6 basses, providing a solo landscape; the brasswinds proceed in a dignified march. All of this has a Brahmsian flavor, traditional musical structures, and varied figuration  (just as Brahms varied and disguised Bach).  The piece has elements of Classicism and Romanticism in it; and, it definitely seems related to Bruckner, Strauss and Mahler in technique, soundworld, and flavor.  It's colorful, articulate, transparent and lush.  (I like it.)  Bush was known as a violinist and an expert in chamber music; this orchestral piece is a delightful rarity.
Next, the ASO presented a piece by his mentor, Max Reger, Piano Concerto in F Minor, Op.114 (1910), c. 44 minutes, with Peter Serkin as pianist.  This piece opens with a full-bodied Brahmsian sound, with waves of strings supporting woodwind and brass passages, varying in dynamics of softness and and of ferocity.  Then, the piano heroically strides on stage, first by itself, and, then, with an orchestral accompaniment, with legato, staccato, and arpeggiated passages, falling silent for colorful, lyrical winds, and, then, emerging solo again. Reger, a formidable pianist, follows in Brahms' and Schumann's path, with careful structuring, yet full Romantic passion at times, especially the piano part that is colossal. Peter Serkin, as a performer, is a giant at the piano, which thunders, then fades into gentle lyricism.
The final piece, after intermission, was Reger's Variations and Fugue on a Theme of J. A. Hiller, Op. 100 (1907), c. 41 minutes, which opens with voice leading from the flute, followed by responses from strings and winds – clean sectional writing, varying in timbre and dynamics.  This music is as Brahmsian as Brahms at his best, and Reger uses his palette of colors in the standard orchestral range with extreme skill and panache. The music is lyrical and lovely.  The theme is orchestrated in a leisurely andante, very gracious; eleven variations follow in varied tempi before the fugue at the finale.  The writing is articulate and often transparent.  Any good symphonic orchestra can try their hand at this piece (but it's a pleasure to hear a masterful one like the ASO perform it) – as it's a very beautiful and pleasurable composition that's clearly worth performing.  It has some of the cinematic theatricality of, say, Dukas' 'sorcerer's apprentice,' in a clean classical composition, with a lot of contrasting dynamics (including relaxing quietude) and Romantic fire.  Johann Adam (J. A.) Hiller (1728-1804) was the Leipzig conductor who advocated for the Singspiel, of which W. A. Mozart's Die Zauberflote is the exemplar. This piece's lyrical writing and joyful richness fits nicely in the Mozart-to-Cinema tradition and will appeal to anyone who enjoys Brahms or Bruckner.   The ASO, led by its Music Director Leon Botstein, gave outstanding performances of all three works.
American Composers Orchestra (http://www.americancomposers.org/)
Orchestra Underground:  Eastern Wind
Friday, April 1, 2016 at 7:30 PM
Carnegie Hall – Zankel Hall
George Manahan, Music Director and Conductor, Mehmet Ali Sanlikol, Vocals and Oud, Steven La Brie, Baritone, Neeraj Jain, Video Artist
(1)  Saad Haddad (b. 1992), Manarah  (2016; World Premiere, ACO / Jerome Foundation commission)
(2)  Gity Razaz (b. 1986), Metamorphosis of Narcissus (2011; rev. 2016)
(3)  Mehmet Ali Sanlikol (b. 1974), Harabat/The Intoxicated  (2016; World Premiere, ACO / Carnegie Hall commission)- with the composer as soloist, vocals and oud
(4)  Reena Esmail (b. 1983), Avartan for Orchestra and Video (2016; World Premiere, ACO commission) – with Neeraj Jain, video artist
(5)  Matthais Pintscher (b. 1971), Songs from Solomon's Garden (2009) – with Steven LaBrie, baritone
The American Composers Orchestra gave a memorable concert at Carnegie's Zankel Hall on April 1 with three World Premieres, one premiere of a revised piece, and one performance of a 2009 piece, all on Middle Eastern, Indian or Hebraic themes. Learn more about the composers at http://acosoundadvice.blogspot.com/.
(1)  Saad Haddad (b. 1992), Manarah (2016)
Opening with an antiphonal trumpet dialogue between two soloists in opposite balconies, this piece is very lively, somewhat chaotic, with some luscious lines woven into the instrumental performance and the electronics. There is a certain element of Renaissance flavor to the music – think Gabrieli's St. Mark's Venetian antiphons and trumpet calls, and also the makam Arabic or Turkish performance tradition.  The transparent quiet passages are beautiful.
(2)  Gity Razaz, Metamorphosis of Narcissus (2011, rev. 2016)
Opening with transparent orchestration, with some syncopated wind passages – sounding like jazz, but within Persian, Turkish and Arabic traditions, and with a spatialized electronic background that is, initially, nocturnal, this piece springs to life as a rich and colorful – fragrant – mélange of sounds, that is skillfully composed and sophisticated in its orchestration, with Western, Middle Eastern, and electronic influences. This music is luscious and very pleasurable.
The piece is in three sections, modeled on the transformations in the Greek Narcissus myth.
(3)  Mehmet Ali Sanlikol (b. 1974), Harabat /The Intoxicated (2016)
Opening with full, rich, yet transparent orchestration, this composer is capable of using a full Mahlerian palette with finesse and grace – very delicate and lyrical at times, robust at others – he writes with intoxicating clarity, with elements of the Turkish makam (modal) vocal tradition, jazz, and sophisticated Western orchestration.  The composer sings the Sufi poetry himself superlatively well, as well as performs on the ud excellently.  This is a splendid piece, technically extraordinary, and very moving.  Not only does the composer sing in a baritone voice, the poetic text in its original language, he figures it with sophisticated jazz gestures and modern sounds.
(4)  Reena Esmail, (b. 1983), Avartan for Orchestra and Video (2016)
Opening with transparent melodies from the strings and winds, with a plucked piano, the repeating rhythmic cycle, avartan in Hindustani – is well-grounded in Northern Indian musical tradition.  Each cycle "moves the music forward" and subtly transforms it as it blossoms.  This piece is luscious to the ear, musically elegant and highly satisfying. It's gorgeous music. Along with the music, there is a video by Neeraj Jain, video artist, which is a cycle of video images encountering persons in India for the first time outdoors, most smiling.  This music very pleasant and well done and does not distract from the brilliant and beautiful music.
(The delicate percussive licks are a nice touch.)
(5)  Matthais Pintscher (b. 1971), Songs from Solomon's Gardens (2009)
While in some respects akin to Bernstein's settings of the Hebrew biblical Song of Songs of King Solomon, Pintscher's orchestration and setting of this piece is unique and atmospheric, with many sophisticated microtonal gestures comprising an atmospheric soundscape, with a very focused and intense, coherent vocal line.  Pintscher, who is currently a professor of composition at Julliard, is internationally renowned.  (His program notes discusses the piece in detail.) Baritone soloist Steven La Brie, who sang from the Shir Shirim, that is, the Song of Songs, has an excellent, rich and resonant voice, fine projection and diction, and sang in Hebrew with appropriate nuances and emotional conviction. This work is brilliant, passionate, and very moving, that is both modernist and traditional.  It's a masterpiece.
George Manahan is one of the most respected conductors in the world, with an extensive background in operatic, classical and modern pieces.  He did an excellent job leading the extraordinary musicians of the American Composers Orchestra (ACO), many of whom are some of the top soloists on their instruments in the U.S.  and whom have been performing together for years.  The excellent level of performance, the balance and relative delicacy of the pieces, and the moving quality of the music and its beauty, made this a most memorable evening.
I don't keep count of which is the best piece I've listened to that night or that year – I find it to be a silly game, as each piece is different – in genres, period, style or whatever – and, I've never engaged in that.  Yet, just as there is no one who would say that Beethoven's Ninth Symphony is not an extraordinary piece of music in every respect, I must report that I and every audience member I saw – all vigorously applauding – thoroughly enjoyed this evening, and it might have been on my 'top ten' list if I ever kept such a thing. Thank you, ACO and bravo!
Category Sound | Tags:
---
Comments Off

on More New York Metro Area Spring 2016 Concert Reviews from Mark Greenfest
Sorry, comments are closed.