Comments Off

on Sergei Slonimsky's Opera King Lear
December 31, 2016 by Admin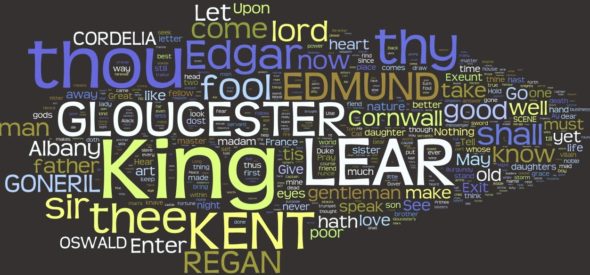 A Photo-Essay – text by Leonard J. Lehrman, with photographs by Helene Spierman.
This is a photo-essay, as promised last time, on the splendid production by the St. Petersburg Conservatory which we attended Oct. 28, 2016 at the Ermitage Theater, of Sergei Slonimsky's opera King Lear, on his own libretto based on Boris Pasternak's Russian translation of the Shakespeare play. (For photos of Slonimsky, taken July 4, 2016, see http://soundwordsight.com/?p=1932.)
As I worked on (and completed) a translation of the libretto back into English, I noted that the composer had added a comic character, an old man "resembling Leo Tolstoy," who criticizes Shakespeare, and the play, incessantly, as the real Leo Tolstoy actually did, fiercely. Without anyone saying so, it clearly reminds everyone of the years of withering criticism artists in Russia have had to endure from censors under the Tsar, Lenin, Stalin, Khrushchev, Brezhnev – all of whom Slonimsky, in an interview with me, July 4, 2016, said had become "cartoon characters for us today."
The work had special meaning for me, as King Lear was the most famous role of the greatest Jewish actor who ever lived, Solomon Mikhoels, who raised millions of dollars for Russian War Relief in America in 1943, beginning in Boston and New England, where my mother, Emily R. Lehrman (who had emigrated from Leningrad to Boston in 1935), was his interpreter. (See photo of Mikhoels as Lear at right.) Sergei Mikhailovich (Slonimsky) has been a friend since October 1971, the month I met him and both lectured and performed in his class in Leningrad, following the International Music Congress in Moscow, which I had attended with my teacher Elie Siegmeister (1909-1991), who had been close friends with Nicolas Slonimsky (1894-1995), editor of Baker's Dictionary of Musicians and the Lexicon of Musical Invective, and uncle of Sergei.
Basso Denis Sedov, born and raised in Leningrad, who made Aliyah to Israel in 1992, but has returned to his native city (now called St. Petersburg), auditioned for Slonimsky, who then said he wanted him and only him to sing the title role. This was the work's first staged production, though it was actually composed back in 2001. Not knowing in advance of the Sedov-Slonimsky connection, I had actually asked Denis to consider recording my music July 1-2 with the State Symphony Orchestra of St. Petersburg, but the record company (which will release the album Jan. 13, 2017) balked, and to my dying day I shall regret not having insisted on their hiring him, for he was and is magnificent. Also deserving of high praise were the director's stage pictures and all the singers, especially those in the roles of Regan, Gloucester and The Fool.
Principals in the cast:
Denis Sedov – King Lear
Ekaterina Dadaikina – Cordelia (his youngest daughter)
Alexandra Kabanova – Regan (his middle daughter)
Darya Rositskaya – Goneril (his oldest daughter)
Artyom Savchenko – Albany (Goneril's husband)
Sergei Tchepurko – Cornwall (Regan's husband)
Ilya Lavrinov – French king (Cordelia's betrothed)
Lev Elgardt – Gloucester
Mikhail Gavrilov – Edgar (his son)
Artyom Arutyunov – Edmund (his illegitimate son)
Anatoliy Furosenko – Fool
Ivan Alexandrov – Old Man resembling Leo Tolstoy
Alexei Vasilyev – Conductor
Artyom Vol'khovskiy – Stage Director
The plot should be familiar to anyone who knows the play. The photos show:
The proscenium curtain; in the foreground, our friend, soprano Elena Mindlina, who informed us of the production and introduced us to the director Artyom Vol'khovskiy, as well as to the head of the Slonimsky Foundation, Ivan Alexandrov (who played the Old Man resembling Tolstoy).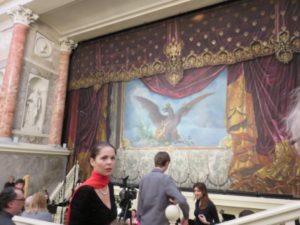 Lear's youngest daughter Cordelia says she wants nothing from him.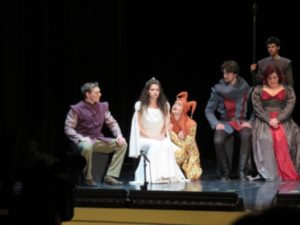 LEAR (angry): Nothing can come of nothing!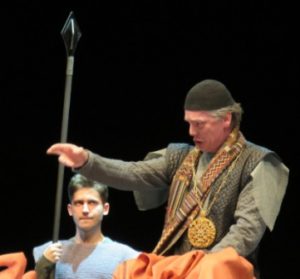 Lear entrusts his estate and his fate to his older daughters, Goneril and Regan, but they torment him.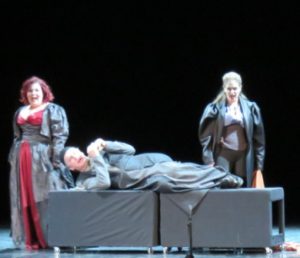 An Old Man resembling Tolstoy ruminates and complains.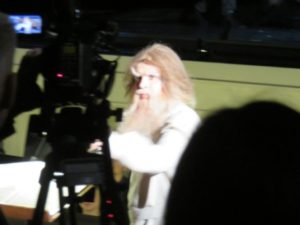 Lear belatedly recognizes that Cordelia was his only faithful child.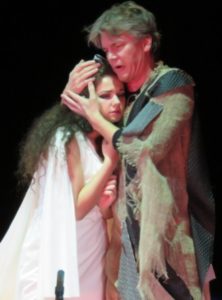 After she is murdered, he goes mad and dies.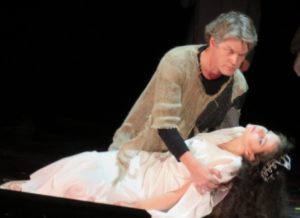 Party – Director Artyom Vol'khovsky & Ekaterina Dadaikina (Cordelia) in triumph at cast party.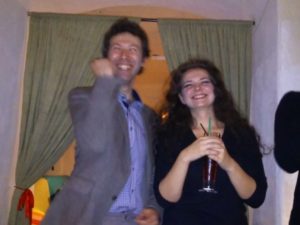 I do so hope this beautiful opera will enjoy a place in the international repertoire. Verdi had hoped to set this play to music, but never did. Aribert Reimann's opera, composed for Dietrich Fischer-Dieskau, in German, is very well written and searing in its impact, in a Wozzeckian way. Slonimsky's, by contrast, is a bit more accessible, melodically, but just as powerful dramatically, more along the lines of a modern-day Boris Godunov, and the work of a true musical master, probably the greatest and most respected composer living in Russia today. The Russian flavor of the music is tempered by Italian and English influences. The challenge in creating an English version was to find all the original references (transposed in their order), accommodate the cuts, and flesh out the sections where Pasternak freely embellished. The work now awaits a worthy company, in English. And I eagerly await the realization of director Artyom's stated interest in staging my operatic setting of Chekhov's farce Yubilei in the original Russian (see http://ljlehrman.artists-in-residence.com/BirthdayOfTheBank.html), as his "next project."
Update on November 4, 2018 – The full opera is now available for viewing on YouTube. Click on the links below to watch.
Leonard Lehrman's newest opera, The Triangle Fire, on a libretto by Ellen Frankel, will receive its NY premiere Sun. Mar. 5 2:30pm at the Long Beach (NY) Public Library; Sun. Mar. 12 3pm at Community Church in Manhattan; and Sat. Mar. 25 at New York University. Parma Records will release his newest CD, in collaboration with Joel Mandelbaum, on Jan. 13, 2017. For further info, please call 516-825-2939.
Category Sound | Tags:
---
Comments Off

on Sergei Slonimsky's Opera King Lear
Sorry, comments are closed.