Comments Off

on The Florida Orchestra in Concert
January 11, 2017 by Admin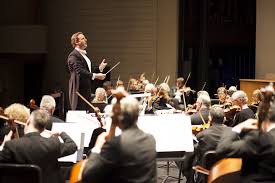 The Florida Orchestra at Peabody Auditorium, Daytona Beach, FL
Friday, January 6, 2017 at 7:00 pm
reviewed by Dana Paul Perna
Shortly after the start of the New Year, an announcement streamed over my computer stating that The Florida Orchestra was to perform in Daytona Beach within the week. For those of you know your geography, Florida is a large, vast state, with more than one orchestra from Southern-most tip to Northern-most border. Taking a moment to look up from whence they hail, this orchestra comes from the Tampa/St. Petersburg area of the Gulf Coast, and would, therefore, have had to head east to the Atlantic Coast in order to perform this program devoted to French music by Debussy, Lalo and Saint-Saens.
Head east, they did! On the evening of their performance, I ventured to "the Peabody" (as it is referred to here) to mark my first encounter with this orchestra, and its music director. Keeping an open mind, I sat back to simply watch, listen, and, one hopes, enjoy. That was the plan, and, I sense, the plan of a majority of the audience who attended, too.
The program began with Claude Debussy's The Engulfed Cathedral, in an orchestration by the British composer/orchestrator/arranger Colin Matthews. Among the most popular of all of Debussy's piano preludes, the scoring by Matthews does not resemble the more over-the-top orchestration that was written (and recorded) by Stokowski decades ago. While no less as powerful and pictorial as Stokowski's scoring, Matthews skillfully illuminates the contours of Debussy's work by way of understatement, and a refined sense of gossamer elegance that permits its large forces to be clearly heard through the entire orchestral palette he had chosen. The final result of the scoring Matthews prepared requires considerable skill simply to play from beginning to end – the dynamics, alone, proving one of its biggest challenges. Conductor Michael Francis understood all this, allowing the story to unfold as the musicians ebbed and flowed told through some of the most poetic music Debussy ever composed.
Next came the first of two extended works that would grace the concert on this evening; this one including the evening's soloist, the violinist Augustin Hadelich. Whenever I read that a violinist is set to be a soloist, I hold my breathe, not due to the instrument, but for whom is set to play upon it. The number of great players is hoped-for, yet rarely "delivered" upon, so I always hold my reservations, no matter how familiar the chosen work-with-which-to-feature-their-skills it may be. The featured work this time was Symphonie Espagnole, Op. 21 by Édouard Lalo, which was composed in 1875 for Pablo de Sarasate. In five movements, this showpiece remains brimming with excellent tunes, sparkling harmonies, intoxicating rhythms, fine orchestral colours, and plenty of room for any virtuoso to display their skills and musicianship. In terms of the orchestra's participation in this, they provided the perfect accompaniment for Hadelich, with Maestro Francis keeping everyone together while the music flowed at just the right tempi, style, and panache from movement to movement.
In terms of the soloist, I hold no reservations for this artist. Mr. Hadelich handled everything with ease and aplomb. There was nothing that was unclear, or unfocused in any way about his rather direct approach to Lalo's melodic masterpiece. His technique was clean and crisp; his tone, elegant, refined and warm; with a true sense of pitch even in the highest registers. His was a first rate performance that proved that this music remains as fresh, and as vibrant as ever. My only reservation, and I sense that the musicians and soloist may have felt this way, too, was that applause greeted them – or interrupted them! – after each and every movement had concluded. This was not entirely necessary as it impedes upon the performance much like a commercial chops up the drama of a television program. Nevertheless, following a standing ovation, Mr. Hadelich returned center-stage once more to render a lustrous solo encore for everyone by way of Caprice No. 9 by Niccolò Paganini.
Following intermission, the concert resumed with its closing work, Symphony No. 3 'Organ', in C minor, Op. 78 by Camille Saint-Saens, with organist Greg Zelek (playing on an electric organ – the Peabody does not have an organ, nor pipes) joining the orchestra in supplying that special ingredient. Among the showpieces of French symphonic literature, this ranks high upon that list, and was a personal favorite by Saint-Saens among his output. This performance certainly did not disappoint in any way. From beginning to end, Maestro Francis clearly conveyed its architecture through the dynamics, expression and tempi one has come to expect from this often performed warhorse. The orchestra performed with spectacular clarity and vibrancy, as well as the necessary lyricism required for that ethereal second movement. This proved the perfect showcase for this orchestra, allowing us to hear all of her sections (e.g. winds, brass, percussion, strings + ) to their fullest – and we did, too. The work's thunderous ending was carefully wrought – but, not overwrought as it is all too often performed as such – bringing this rewarding evening of music to a close. An enthusiastic standing ovation by the audience met the orchestra and Maestro Francis upon their performance's conclusion.
If this concert is any indication, this conductor seems to have woven magic with this orchestra; an orchestra which, in turn, appears to perform up to a very high standard of excellence.
Category Sound | Tags:
---
Comments Off

on The Florida Orchestra in Concert
Sorry, comments are closed.