Comments Off

on Announcing the Winners of the 7th Anita Cerquetti International Opera Competition in Montecosaro, Italy – April 2017
May 3, 2017 by Admin

The results of the 7th Concorso Lirico Internazionale "Anita Cerquetti", Anita Cerquetti International Opera Competition, held at the Teatro Le Loggie in Montecosaro, Italy, seen above, have been announced.
1st prize: Soprano Teresa Castillo (USA) – 1,000 euro + a concert at the 15th Annual Career Bridges Gala in New York City, May 9, 2017
2nd prize: Tenor Fanyong Du (China/USA) – 600 euro + concert with Orchestra del '700 Italiano – date tba
3rd prize: Tenor Jaemin Kim (South Korea) – 400 euro + a concert with the Sanremo Symphony Orchestra in San Remo, Italy, May 21, 2017
Promising Young Singer Award: Soprano Martina Paciotti (Italy) – a concert with the Sanremo Symphony Orchestra in San Remo, May 21, 2017
Audience Favorite Award: Martina Paciotti
Other performances will be arranged for the winners as well.
The Competition is open to Italian and citizens of other countries of both sexes, born after April 1, 1981, who on the date of the competition are at least 18 years old.
First prize winner, soprano Teresa Castillo was a recent participant at San Francisco Opera's prestigious Merola Opera Program and sang the role of #1 in Conrad Susa's Transformations. She is a winner of the Elaine Malbin Competition, and career grant recipient from Career Bridges New York. This Summer Ms. Castillo returns to Bel Canto at Caramoor and will sing on the Opening Night Gala Concert with acclaimed soprano Angela Meade and covering the role of Adele in Il pirata and singing the soprano solo in Rossini's Petite Messe Solennelle. In Winter 2018, she will make her debut with the Virginia Opera covering the roles of Lucia in Lucia di Lammermoor and Tytania in A Midsummer Night's Dream.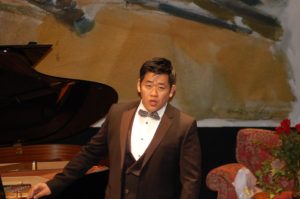 Second prize winner, lyric tenor Fanyong Du was born in Inner Mongol, China. He is currently in the Professional Studies Program at Manhattan School of Music in New York City and is also a career grant recipient from Career Bridges. He lived in Ukraine from 2003 to 2013 and received his Bachelors, Masters and Doctorate degrees from Odessa State Academy. Mr Du has frequently performed in Italy in masterclasses of the renowned baritone Renato Bruson and also performed in Giuseppe Sabbatini's masterclass in China. His operatic roles include Gaspar in La Favorita, Lensky in Eugene Onegin, Duca in Rigoletto, Rudolfo in La Boheme, and as soloist in Rossini's Stabat mater.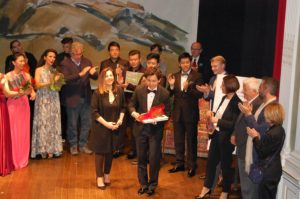 Third prize winner, tenor Jaemin Kim (accepting his award at left) was born in 1986 and studied from 2006 to 2012 at Chung-ang University, Seoul, South Korea and from 2014 to the present at Rossini Conservatorio in Pesaro, Italy. His performances have included a 2011 Chung-ang University Opera Il Campanello and a 2012 Suwon City Opera L'elisir d'amore. He has also been part of many concerts and other performances at Chung-ang University and in Italy, including a Masterclass with Jose Carreras, and several appearances with orchestra. He has also participated in many competitions in South Korea and Italy and has been recipient of several important awards.
Each contestant presented four opera arias of his or her choice, one of which was in a language other than Italian; for the not-Italian singers, at least one of the arias had to be in Italian.
In the Preliminary Round contestants performed two arias, one of the Contestant's choice and the other chosen by the Jury. In the Semi-Final Round, the contestants performed the two arias remaining. In the Final Round, presented as a public concert, the Jury decided one aria from the four arias submitted by singers. More about the competition at http://www.accademiacerquetti.it/en/ and https://www.facebook.com/Concorso-Lirico-Internazionale-Anita-Cerquetti-120325451367160/.
The 7th Concorso Lirico Internazionale "Anita Cerquetti" jury consisted of Jury President Ines Salazar, soprano Paola Antonucci, arts consultant Jeffrey James, agent Haejoon Park, baritone Gianpiero Ruggeri, agent Maurizio Scardovi and Competition Artistic Director Alfredo Sorichetti, Italian orchestra conductor.
The competition was presented in cooperation with The Anita Cerquetti Academy and Montecosaro Municipality, in collaboration with the "Gilfredo Cattolica" Music Association, with additional support from the Civitanova Marche Rotary Club, the Civitanova Marche Lions Club Host and the Civitanova Marche Lions Club Cluana, and Career Bridges of New York (http://careerbridges.org/).
Anita Cerquetti's rise to fame was dramatic. She stepped in for Maria Callas in Rome in 1958, but her fame was relatively short-lived. Cerquetti (13 April 1931 – 11 October 2014) was an Italian dramatic soprano who had a short career in the 1950s. She was born in Montecosaro, near Macerata, Italy. She originally studied violin and trained eight years with Luigi Mori. After a mere year of vocal study at the Conservatory of Perugia, she made her operatic debut in Spoleto in 1951 as Aida. She sang all over Italy, notably in Florence as Noraime in Les Abencérages under Carlo Maria Giulini in 1956 in the Italian version "Gli Abencerragi", and as Elvira in Ernani under Dimitri Mitropoulos in 1957. Her Teatro alla Scala debut was in 1958 as Abigaille in Nabucco. She also sang on RAI in a wide variety of roles, such as Elcia in Mosè in Egitto, Mathilde in Guglielmo Tell and Elena in I vespri siciliani. She made her U.S. debut at the Lyric Opera of Chicago in 1955, as Amelia in Un ballo in maschera opposite Jussi Björling, under Tullio Serafin.
---
Comments Off

on Announcing the Winners of the 7th Anita Cerquetti International Opera Competition in Montecosaro, Italy – April 2017
Sorry, comments are closed.