Comments Off

on New York Scandia Symphony in Concert – The Danish Golden Age – 200th Anniversary Concert of Niels W. Gade
May 14, 2017 by Admin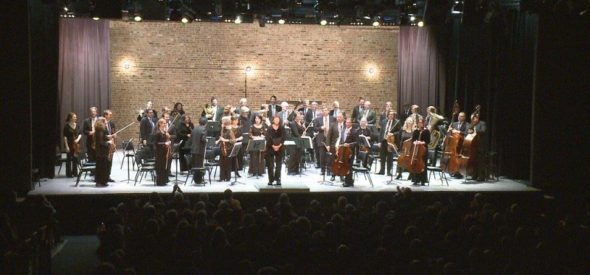 May 4, 2017
Peter Norton Symphony Space
2537 Broadway, New York NY
I don't think I've ever seen any of the works of the great Danish composer Niels Gade (1817-1890) on a program by an American orchestra, so it was especially gratifying to be asked to attend a full evening of his music performed by The New York Scandia Symphony and its Conductor and Music Director Dorrit Matson. As I've written before, they serve as a de facto New York branch office of the Danish, Swedish, Finnish and Norwegian Music Information Centers, and offer wonderfully well-performed programs of musical discovery and advocacy.
Their May 4 program, The Danish Golden Age – 200th Anniversary Concert of Niels W. Gade, at New York City's Symphony Space was another fine example of musical discovery and advocacy in action.
It opened with the overture Echoes of Ossian, inspired by a Danish poem about a magical bird. This was apparently Gade's first important work, winning a prize from the Copenhagen Musical Society. Scandia delivered a strong, solid performance, which grew in size of sound and confidence after a somewhat tentative start by the strings. I would have like to have heard a somewhat livelier tempo, as the structure went a little slack at times. However, strong brass, along with the great entertainment afforded by the concertmaster's often over-dramatic bowing, and an obvious commitment to the music redeemed the performance.
However, I can recommend their performance of Gade's Symphony No. 2 (Op. 10, written in 1843) without reservation. They seemed much more comfortable here, and launched into the first movement with great confidence, strong sound and solid tempos. There was a wonderfully motoric sense of forward motion throughout the movement.
The strong second movement has a ceremonial, dignified feel that the orchestra conveyed beautifully, highlighted once again by strong horns, with the strings adding greatly to the depth and beauty of the music-making.
The happy dances of the third movement were highlighted by some wonderful oboe playing. Conductor Matson created a brisk, sensible tempo that moved things along nicely, often suggesting a large, community-type dance event at a fair or festival. Very enjoyable and well-presented.
The finale was once more brought to life by strong, confident playing and ensemble, with fine balance and what seemed a summation of the group's performing virtues on display in the other three movements.
Dorrit Matson and the Scandia Symphony are to be strongly commended for bringing this wonderful work to a New York audience. This is music that deserves to be on more programs and to be heard by many more American ears. Once can only hope that this happens.
In recognition of this, Ms. Matson was presented before intermission with a special award by the American Scandinavian Society (Danish chapter) in recognition of her commitment to Danish culture.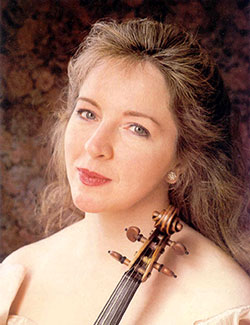 The second half of the program consisted of Gade's Violin Concerto, Op. 56 (written in 1880). Soloist Stephanie Chase launched confidently into this broad and immediately likeable piece. The soloist leads the orchestra along the way and has many opportunities to shine, both lyrically and in brief cadenzas.
There's a lot of notes in the busy first movement, but Chase imbued it with a singer's sensibility, a lovely sense of line and almost served as a co-leader of the ensemble.
This was also evident in the second movement. Lovely, sensitive, lyrical playing, again with the soloist leading the orchestra emotionally. The Romance featured especially fine interplay among the soloist, the orchestra and the conductor.
The soloist is more active and ornamental in the third movement. Chase handled this with technical ease and more than a little style. Orchestra support was fine and beautifully integrated with the violinist.
Altogether, this was a marvelous performance of a work that, again, should be heard more often. It is a very ingratiating, charming, rewarding work that was given vivid life by the wonderful soloist, conductor and orchestra.
American audiences could benefit from more hearings of the many treasures in the Scandinavian symphonic literature. Keep an eye on the New York Scandia Symphony.
Visit them at http://www.nyscandia.org/index.html.
Jeffrey James
May 13, 2017
Category Sound | Tags:
---
Comments Off

on New York Scandia Symphony in Concert – The Danish Golden Age – 200th Anniversary Concert of Niels W. Gade
Sorry, comments are closed.