Comments Off

on A Glimpse of Glimmerglass by Leonard Lehrman
August 12, 2017 by Admin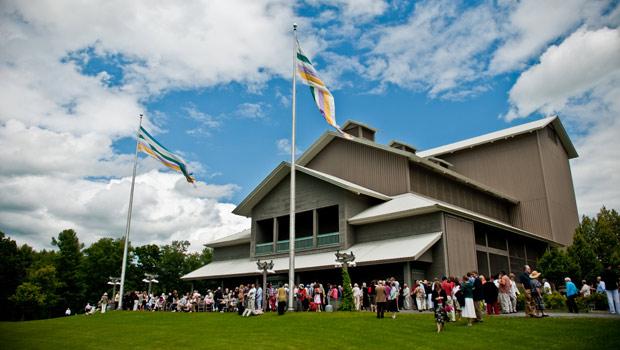 It has been 20 years since our last trip to Glimmerglass in Cooperstown, NY, to attend performances of Iphigenie en Tauride and Of Mice and Men. (See review at http://ljlehrman.artists-in- residence.com/articles/ aufbau40.html.) The place has grown considerably since then, with resident, guest and young artists all under the able direction of Francesca Zambello.
This year's season included 13 performances each of Oklahoma and Porgy and Bess, plus two of the NY State premiere of Derrick Wang's Scalia/Ginsburg and 8 of the U.S. premiere of Gaetano Donizetti's Siege of Calais.  We caught the last two of those productions on August 4, timed with our own annual visit to the Northeast Naturist Festival, at which we performed the night before with a program (see tinyurl.com/170803Playlist) featuring excerpts from Oklahoma and songs by Tom Lehrer and Lou & Peter Berryman, along with the premiere of my song, "The Hereafter" (see https://youtu.be/peZ9GWbJfzg), inspired by the Berrymans.
I'll save my review of Scalia/Ginsburg for my article in this Fall's New Music Connoisseur.  Justice Ginsburg will be attending the second performance August 13; the post-performance talkback with her that day will be streamed and should be well worth hearing, as was the opera, an amusing pastiche as well-researched and footnoted as any legal brief.
The Donizetti is a piece he wrote for Paris, though it never got there, shelved as it was after a moderately successful production in Naples.  The date of its composition, 1836, was one year after the death of Vincenzo Bellini, and the work is full of moments reminiscent of that composer's Norma and I Puritani, as well as Donizetti's own Lucia di Lammermoor.  Those are in fact the best moments in the score, which also has a lot of stock-sounding marching passages, but also some very moving choral music.  One of the most stirring of those passages ended with the words: "Siamo ancora Francesi!" – "We are still Frenchman!"
Unfortunately, the supertitles deliberately omitted most specific references to the French and the English they were fighting in 1347, striving for a production concept emphasizing the sad plight of war victims in general – director Zambello admitted she was thinking of Aleppo and other recent refugee tragedies, in Calais and elsewhere.  But the opera's story is very specific, and centers on an event memorialized in one of the most famous set of French sculptures ever created, Rodin's Burghers of Calais.
One can imagine that a production in France could be nearly as patriotically moving as the film Casablanca.  In the Q&A afterwards, Zambello said she knew of no French productions to date, though she had staged the opera before at Wexford, but without the interpolated Rondo at the end (a revision Donizetti included in the published score) for the English Queen, who successfully pleads for a pardon of the humiliated citizens. Conductor Joseph Colaneri was responsible both for this apt interpolation and for keeping the proceedings moving ahead at a constant clip.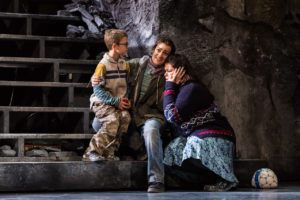 Outstanding, though, were the two female leads – the only Guest Artists in the production, all the others being Young Artists, except for one boy mime – Aleks Romano in the trouser role of the heroic Aurelio, who opens the opera (in this staging) rappelling down a wall, and Leah Crocetto as his loving wife Eleonora. Their joint fioritura passage work, replete with fast-moving thirds, was as vocally thrilling as nearly anything in the Donizetti or Bellini canon. (See 2 photos of them, from the Glimmerglass website.)
The idea of bringing the work to France, as Donizetti intended but never accomplished, would seem to be particularly appealing. Zambello mentioned that her production of Leonard Bernstein's Candide had toured France successfully, and two French companies were sending representatives to see the Donizetti, which runs through August 19 at Glimmerglass (https://glimmerglass.org/).
Next year being Bernstein's Centennial, the company will be presenting West Side Story and Trouble in Tahiti.  On his exact birthday, August 25, I was pleased to be able to tell Francesca, the International Opera Theater of Philadelphia plans to present the orchestral premiere of Bernstein's mentor Marc Blitzstein's magnum opus, the opera Sacco and Vanzetti, in my completion, in Italian, in Italy.  She asked to be kept informed, which we'll do, of course.
Leonard Lehrman is the composer of 229 works to date, including 11 operas, 7 musicals, and 256 individual vocal pieces.  His YouTube channel includes over 2700 videos, viewed over 280,000 times, to date.  Former Editor of Opera Today and Associate Editor of Opera Monthly, he has also written for Opera Journal, Aufbau, Jewish Currents, and The New Music Connoisseur, among other publications. His website is ljlehrman.artists-in- residence.com.
---
Comments Off

on A Glimpse of Glimmerglass by Leonard Lehrman
Sorry, comments are closed.