Comments Off

on Honoring the Upcoming Leonard Bernstein Centennial: A Review of His Complete Solo Works for Piano on New Bridge Records CD
August 24, 2017 by Admin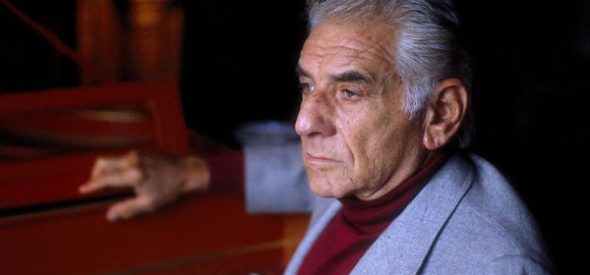 Honoring the Upcoming Leonard Bernstein Centennial: A Review of His Complete Solo Works for Piano on New Bridge Records CD
by Leonard Lehrman
The heirs of Leonard Bernstein (Aug. 25, 1918-Oct. 14, 1990) have announced an international 2-year celebration of the centennial of his birth, beginning with his 99th birthday this week.  Having enjoyed several intense meetings with him between December 1969 and October 1984, as well as correspondence (letters and telegrams) right up until a few weeks before his death, I was privileged to music-direct his 1952 opera Trouble in Tahiti (dedicated to Marc Blitzstein) in a number of productions, as well as the original version of his 1956 operetta Candide (in 1972) and excerpts and shorter works by (and about) him in many performances, and wrote my Cornell D.M.A. thesis essay on what many (including Blitzstein) have considered his finest instrumental work, the Serenade after Plato's Symposium; but only now have I  been invited for the first time to review a brand-new recording of his music: the Complete Solo Works for Piano, with pianist Andrew Cooperstock, on Bridge Records 9485A/B.  This is a 2-disc set, filled out with Bernstein's arrangement of his mentor Aaron Copland's El Salón Mexico and the "first complete recording" of his own 1960 Bridal Suite for four-hand piano (for lyricist Adolph Green and his bride, actress Phyllis Newman), with both parts played by Cooperstock via studio overdubbing. This last piece, a charming novelty, begins by juxtaposing a melody over the opening prelude of Bach's Well-Tempered Clavier, the way Gounod did with his Ave Maria; only this time the melody is Just in Time, for which Green (and Betty Comden) wrote the lyrics, with music by Jule Styne (for some reason uncredited here) in their 1956 musical, Bells Are Ringing.
All the other works have presumably been recorded before, but it is very good to have them here all together: the four sets of "Anniversaries" – Seven (1942-3), Four (1948), Five (1949-51), and Thirteen (1964-88) on Disc A; his 1980 Van Cliburn competition piece Touches; the early (1937-38) Sonata, Non Troppo Presto, and Music for the Dance #2 (#1 was presumably discarded?); and Four Sabras (early 1950s – the first of which became Candide's It Must Be So) – all on Disc B.
All the pieces are attractive and often charming, recalling the similar personal musical portraiture of Virgil Thomson (1896-1989), among others. The renditions are all faithful, clear, and nuanced – less exciting than might be achieved in live performance, but nonetheless quite acceptable and listenable. I hope I may be judged as kindly by critics as this recording deserves when my CD of the virtually complete solo piano music of Bernstein's mentor (and my principal link to him) Marc Blitzstein (which I recorded in his centennial year, 2005) is issued next year by a company that has expressed interest (funding permitting).
The new Bernstein recording has nearly 5 pages of program notes, including personal reminiscences by Craig Urquhart and Shirley (Gabis Rhoads) Perle, two of the pieces' 27 dedicatees whose first and last names are given (four Israeli "sabras" are given only first names).  But the others' names are just listed, with no notes as to who these people are (or were) and their importance to Bernstein.  So, in the interests of informing the public, let me add here what I know about some of them, hoping that the Leonard Bernstein Office will graciously, perhaps in a forthcoming newsletter(?), enlighten us regarding the others!
7:1 Aaron Copland (1900-1990) was of course the "dean" of American composers and Bernstein's principal mentor, along with Marc Blitzstein (1905-1964).
7:2 Shirley Bernstein, Leonard's younger sister, starred as the prostitute known as the Moll in his 1939 Harvard production of The Cradle Will Rock, using the pseudonym "Shirley Mann" – a deliberate pun on the Mann Act.  She later became a theatrical agent and expressed interest in helping promote Blitzstein's later works, but told me she found them too operatic for her taste.
7:3 Alfred Eisner was a roommate of Bernstein's who died of a brain tumor age 23.
7:4 Paul Bowles (1910-1999) was an underperformed composer best known for his novels.
7:5 Nathalie Koussevitsky (1880-1942) was the first wife (and required dedicatee of all commissions of the Koussevitsky Foundation – including Blitzstein's opera Regina) of Bernstein's conducting mentor –
7:6 Serge Koussevitsky (1874-1951).  I remember hearing Bernstein talk about him at a July 4, 1974 Tanglewood concert commemorating the centennial of his birth, muttering that he could feel  "Kouzy" and his spirit "all over the piace."
7:7 William Schuman (1910-1992) was a composer best known for becoming president of Juilliard and then Lincoln Center.
4:1  & 13:11 Felicia (Cohn) Montealegre (1922-1978) was the Chilean-American actress born in Costa Rica who became Bernstein's wife in 1951 and the mother of their three children: Jamie, Alexander and 13:6 Nina (who was named for the heroine in Blitzstein's Reuben Reuben).  Felicia can be credited at least in part for the prodigious Latin American influence in Bernstein's music, as well as for having invited the Emergency Civil Liberties Committee to raise money in their Park Avenue apartment for causes, including defense of the Black Panthers. This was later derided by Tom Wolfe et al as "radical chic," but among my contemporaries at Harvard, with whom I first met Bernstein, on Dec. 2, 1969, it was more a source of pride, which Bernstein, after initially feeling he had to be defensive, eventually acknowledged, at least to us, that he shared.  I met her twice, on Dec. 5, 1970 and Jan. 17, 1974.  She died in East Hampton.
4:2 Johnny Mehegan (1916-1984) was a jazz pianist and improviser, to whose book Bernstein contributed an introduction.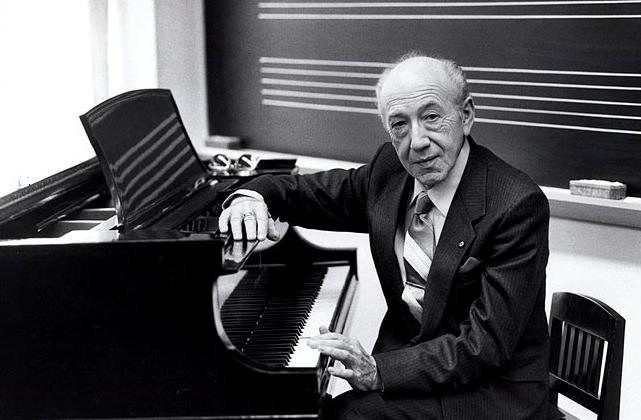 4:3 David Diamond (1915-2005) was a close friend of both Bernstein and Blitzstein, as well as the anarchist Emma Goldman (1869-1940).  I first met him in NY in January 1974, and then again several times there and his native Rochester.  He considered his most important compositions to be his symphonies (championed by Gerard Schwarz), his string quartets (championed by the Emersons) and his songs (recorded by Helene Williams and myself in 1995 and issued by Albany Records the year of his death).
4:4 & 13:7 Helen Coates was Bernstein's first significant piano teacher who later became his secretary.  In arranging to meet with him, I spoke with her on the phone several times and corresponded with her.  He introduced me to her in person at Tanglewood on July 4, 1974.
5:1 Elizabeth Rudolf  ?
The music from this and each of the other Five Anniversaries is recycled and developed in the 1954 Serenade after Plato's Symposium.  The first two appear in the movement "Aristophanes."  The jazzy third one appears in the lively finale, "Alcibiades."  The fourth (mm. 1-11 and 16-25, to be exact) is used almost verbatim  in the "Pausanias" movement. And the last one is hinted at in "Alcibiades" as well as the introductory bars to the song My House in Bernstein's incidental music score for Peter Pan (1950).
5:2 Lukas Foss (1922-2009), at left, was, like Bernstein, a multi-talented composer/conductor/pianist. I was lucky enough to have him as a teacher at Harvard, brought him into the Long Island Composers Alliance (where he eventually became an honorary member), did a 75th birthday concert for him with Constance Beavon in Southampton, and made the only recording of his 1951 Prelude. (See https://youtu.be/hNRhJ4tR0pQ.)
5:3 Elizabeth B. Ehrman ?
5:4 Sandy Gelhorn, adopted son of the journalist and writer Martha Gellhorn, wife of Ernest Hemingway.
5:5 Susanna Kyle (b. 1949), daughter of frequent Bernstein collaborator Betty Comden [Kyle] (1917-2006).  I've never met the daughter, but did have the pleasure of visiting her mother at her NY apartment, after making the first CD recording of excerpts from the musical she and Adolph Green wrote with Morton Gould, Billion Dollar Baby, which she autographed for us.
13:1 Shirley Gabis Rhoads Perle, the widow of composer George Perle (1915-2009) was a fellow student and friend, who explains in the liner notes that the pieces dedicated to her and the pianist (13:2) William Kapell (1922-1953) were actually originally dedicated to the pianist Anton Kuerti  (1938- ).
13:3 Stephen Sondheim (1930- ) was Bernstein's lyricist collaborator on West Side Story and has since become Broadway's premier lyricist and composer.  Tom Lehrer (1927- ), who went to summer camp with him, has called him the greatest writer of lyrics in the English language.  His parodies, including The Boy From for Mary Rodgers' The Mad Show and The Saga of Lenny (with apologies to Kurt Weill & Ira Gershwin) for Bernstein's 70th Birthday Celebration, are among the funniest ever written by anyone.
13:4 Craig Urquhart describes himself as a "contemporary new age instrumental piano soloist."  He has worked faithfully with Bernstein and the Bernstein Office for decades.
13:5 Leo Smit (1921-1999) was an American composer and pianist, a student of, among others, Isabella Vengerova, Bernstein's principal piano teacher.  In addition to his own works, including nearly 100 Emily Dickinson settings, he made arrangements of selections from West Side Story.
13:6 Nina Bernstein Simmons (1964- ) see under 4:1.
13:7 Helen Coates – see 4:4.
13:8 Goddard Lieberson (1911-1977) was President of Columbia Records, responsible for dozens of Bernstein recordings.
13:9 Jessica Fleischmann ?
13:10 Constance Hope (1908-1977) was a public relations specialist and artists' representative,  married to optics author Milton Lionel Berliner.
13:11 Felicia Montealgre – see 4:1
13:12 Aaron Stern is Founder and President of the Academy for the Love of Learning in Santa Fe, NM.  The piece written for him was later, inspired by musical entrepreneur Kazuko Inoue, put to words by Yoko Ono and Sean Ono Lennon and arranged for an ensemble of kotos, in which form it was sung under the title "Sean Song" at Riverside Church in August 1985 and again in August 1990. Bernstein sent a telegram ("I AM WITH YOU ALL IN SPIRIT – LB") for the latter occasion, which also featured the world premiere of my Requiem for Hiroshima with text by Lee Baxandall. Inoue refused to share the Bernstein music with us, but at a New Year's Eve memorial tribute to Bernstein at St. John the Divine later that year, my wife Helene Williams recognized the same music as having been used in his "Benediction."  This was confirmed by Charles Harmon (copyist for Bernstein, and also for The Marc Blitzstein Songbook, vol. 2, which I edited), who when he pointed out the similarity heard Bernstein whisper: "No one will know!"  But we did, and thus obtained the music, from which we transcribed the song and have performed it widely in our program, "Music & Memories of Leonard Bernstein," which had 15 performances on Long Island and in New Hampshire in 1991-2002 and will be revived April 29, 2018 at Great Neck Library, among other places, in celebration of the Bernstein Centennial.  Stern himself, whom we met at a lecture on Bernstein two years ago, received a handwritten copy of the original Anniversary on his birthday, Nov. 3, 1986, from Bernstein himself.  The following month, for the re-dedication of Carnegie Hall, an orchestrated version was played, which also found its way into Bernstein's last orchestral work, Jubilee Games, aka Concerto for Orchestra, for the 50th anniversary of the Israel Philharmonic.
13:13 Ellen Goetz (1930-1986) ?
Ordering information for Leonard Bernstein: Complete Solo Works for Piano can be found at https://bridgerecords.com/collections/catalog-all/products/9485.
Leonard Lehrman, a frequent contributor to The New Music Connoisseur and soundwordsight.com, plans to celebrate the actual date of Bernstein's centennial in Italy, at the orchestral premiere in Città delle Pieve Aug. 24-26 of Marc Blitzstein's magnum opus, the opera Sacco and Vanzetti, which he completed, wishing only that Leonard Bernstein, who premiered an aria from it on his April 19, 1964 Blitzstein Memorial Concert, could have lived to see it.
Category Sound | Tags:
---
Comments Off

on Honoring the Upcoming Leonard Bernstein Centennial: A Review of His Complete Solo Works for Piano on New Bridge Records CD
Sorry, comments are closed.