Comments Off

on Autumn Salon, Presented by Concrete Timbre in Association with Asian Women Composers Association. A Review by Josh Oxford
November 23, 2017 by Admin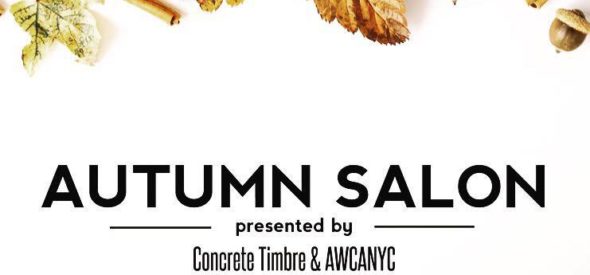 Autumn Salon
Saturday, November 4, 2017 at 5:00pm
Olli Studio Gallery
336 West 37th St., NYC
Presented by Concrete Timbre in Association with Asian Women Composers Association
Review by Josh Oxford
November 4, 2017 marked the Autumn Salon program which brings contemporary classical music outside the concert hall to myriad venues that normally wouldn't have music. Ana Paola Santillán Alcocer's The ANEMOI for solo flute depicts the four different Greek Gods of the wind. A variety of extended techniques are utilized to aid in the depiction of the intangible force of nature, along with overlapped nonachords and distinctive temporal semiotic units. In his Trio for flute, trumpet, and trombone, Tom Blatt creates some well orchestrated chords that make use of the beautiful blend created by these three instruments. There is an obvious sense of tonality that is absent in many newly composed pieces. Sunhee Cho's My Empire of Dirt is based on a painting of the same name by Kay Seohyung Lee. Introduction and Allegro by Jacob Elkin utilizes materials culled from his experiences with both video game music and avant-garde contemporary classical music. The bass trombone writing is particularly adventurous, with some incredibly high notes. The solo flute piece Yemei ha evel was written by Alona Epshtein, who was able to enjoy the performance from Israel. The piece is dedicated to her father and refers to the period of grieving that occurs after a person dies. The trio we 3 by Stephanie Greig musically depicts three travelers moving together. One can hear their distinctive personalities and differences, but they do eventually become one voice. Stella by Flourescent Light is a unique collaboration between Stephanie Greig and Robert Morton that combines music with video animation. Frank Stella's 1971 painting Double Concentric: Scramble is animated and reconstructed, and Stephanie's piece, a work song inspired by two bickering bluejays, matches the movie quite well! Jin Hee Han sheds light on some of the barbaric practices of the Japanese military in her trumpet and bass trombone duo To My Daughter. An aspect of traditional theater is referenced by moments where the performers speak directly into the bell of their instruments. In her trio Labrinthine, Jin Hee Han explores the chaotic moments in life with disjunct intervals and musical material developing in a canonic fashion. The trumpet writing is particularly demanding and requires a great deal
of finesse to execute the complex intervallic music. Peri Mauer's trio Planetesimal Migration concerns itself with an orbiting celestial conglomerate, formed by a process of perceived randomness in which cosmic dust grains collide and come together to form larger bodies due to gravitational force. They interact in a chaotic manner creating migration into new orbits. Particularly noteworthy, other than the use of piccolo, is the requirement of the trombonist to quickly switch to bass trombone, a feat that not every trombonist can accomplish! Trie by Claudia Jane Scroccaro is named after the data storage and retrieving process. A similar process is used in constructing the pitches of the piece. Event organizer Ann Warren contributed a duet for C Trumpet and trombone called Autumn Leaves. The title refers to using Crayola crayons to depict seasonal multi-hued foliage– not the jazz standard. Getting to digest the autumnal timbres is not an every day experience; this treat only happens once a year, and a sonic morsel of this rarity has a particularly stunning flavor. Thanks to Jacob Elkin, Kate Amrine, and Michelle Stockman for delightfully interpreting these fall fantasies. Every work on the program was excellently executed and well received by the enthusiastic audience, which filled the performance space.The concert was presented by Concrete Timbre in association with Asian Women Composers Association.
More about the music at http://concretetimbre.com/2017-autumn-salon.html.
Josh Oxford is a composer, arranger, and performer of myriad styles of music. He is the leader of The OXtet, a jazz fusion ensemble for which he composes all the music. He has performed throughout the country on piano, percussion, and Moog synthesizer. His music can be heard on Aaron Tindall's award-winning recording This Is My House and on The OXtet's debut CD.
Category Sound | Tags:
---
Comments Off

on Autumn Salon, Presented by Concrete Timbre in Association with Asian Women Composers Association. A Review by Josh Oxford
Sorry, comments are closed.