Comments Off

on Music of Youth and Age: Herbert Rothgarber, Michael Brown, Pygmalions, David Del Tredici, Stanley Drucker, Brahms & Bernstein by Leonard Lehrman
April 20, 2018 by Admin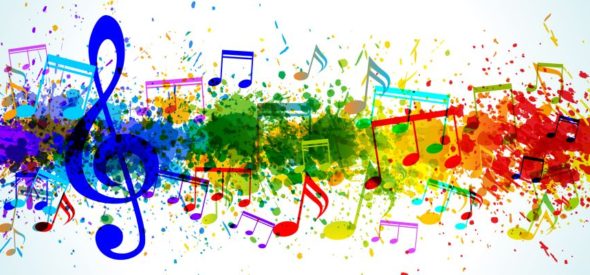 As a follow-up to the mention in http://soundwordsight.com/?p=2315 of the Nov. 5, 2017 concert honoring Herbert Rothgarber (seen at left), the venerable composer/pianist/teacher passed away, age 87, on Dec. 23, 2017. His family requested no obituary, preferring for him to be remembered as he had been featured in his local paper, at http://www.liherald.com/stories/freeport-music-legend-is-honored,97721.
But his prize student, Michael Brown, who shone in that November 5th concert, with a stunning performance of the bravura piano solo, Blare (see https://youtu.be/OAjWaw1OInI), has just released his first CD on First Hand Records (FHR 67, LC 18236), and touchingly dedicated it "to the memory of my first piano teacher, Herbert Rothgarber…His wisdom, gregarious spirit and boundless joy for music are with me all of the time."
It has indeed been a joy to witness Michael Brown's growth, from the 7-year-old who premiered my Invention in A-flat minor at a LICA student concert March 25, 1994, to the recital he gave of music by Long Island composers at Hewlett-Woodmere Library, May 22, 2016 , excerpts from which are posted here: https://www.youtube.com/playlist?list=PLmhHI8m9j-XvgL1F4-Mi_yfKnCBAR7q0j – including music by Rothgarber, myself (a piece I wrote for him on the musical letters of his name – see https://youtu.be/w8l1bZo2caI) and six other Long Island composers, including Brown himself.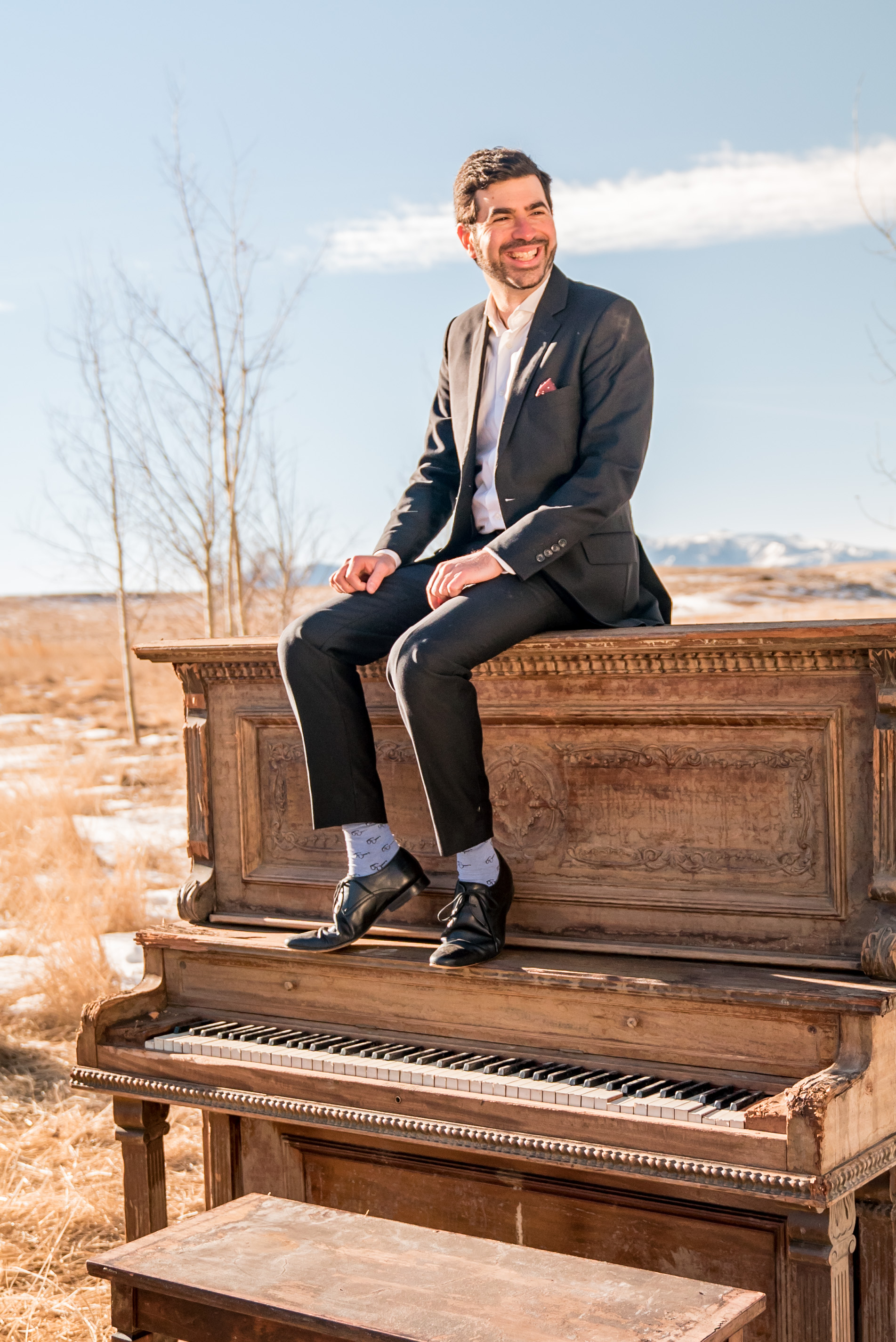 On April 18, 2018, the Baruch Performing Arts Center presented Michael Brown in concert, as part of the ongoing Leonard Bernstein Centennial Celebration (Aug. 25, 2017-Aug. 25, 2019). Back on Dec. 2, 2017, he had joined with conductor/pianist Michael Barrett in a day-long Bernstein Marathon at CUNY Graduate Center, playing the Candide Overture 3 times and also performing Bernstein's Van Cliburn Competition piece, Touches, which he reprised nicely on this recital. He also recorded the latter on his CD, sandwiched between weightier, lengthier works by Mendelssohn and Beethoven: #1-3 & 6 of the 6 Preludes & Fugues, op. 35 (1827); and the complete 1802 Eroica Variations, also op. 35. The two classics have more than their opus number in common: Beethoven's preceded a further working out of the theme in his Third ("Eroica") Symphony, while the first fugue of the Mendelssohn, in E minor, concludes splashily in E major, with a treatment of the quintessential Lutheran hymn, Ein feste Burg, which would be apotheosized three years later in his Fifth ("Reformation") Symphony.
Brown's recording has a fair amount of competition, particularly Rudolf Serkin's live performance of the First Prelude & Fugue in London, Feb. 3, 1975, which displays a bit more variety in tempi. But the younger pianist manages to bring both energy and impeccability to the work. Overall, I'd say Brown's playing tends more toward the French than the Germanic. (Ned Rorem famously said: "Everything is either French or German.") Brown's recital rendition of Copland's Sonata and El salon Mexico (arranged by Bernstein) was about the most delicate and unpercussive I've ever heard. His own 3 pieces on the CD, movements 2 & 3 from his 2013 Suite and the 2 ½-minute Thoughts (2015) total less than 7 minutes. More substantial and impressive were 3 other pieces of his I'd love to perform myself, that he performed on his concert: Constellations & Toccata, which he played on the LICA concert – posted here: https://youtu.be/lJSiF2BMozM; a Bernsteinian Anniversary-type miniature entitled 100 Chords for Bernstein, receiving its NY premiere at Baruch; and an encore, which he called a transcription, of Lonely Town from Bernstein's On the Town, which was really an etude, recalling in some of its sonorities the original Debussy piece that inspired the name of Betty Comden's character in that show: Claire de Lune. For an "age-restricted" dance interpretation of that piece, click on https://youtu.be/Wfm8bFjzJ0g for a pas de deux; https://youtu.be/4wN6sd9RaHk for a pas de trois. Enjoy them while you can, before YouTube takes them down!
Which brings us to the operas of Jean-Philippe Rameau, in particular his Les Indes Galantes, which can be seen in a spectacularly enjoyable production onstage in Bordeaux, France, that was once posted on YouTube but is apparently viewable complete now only at https://archive.org/details/LesIndesGalantesByRameau2014Etcohod and a few other places, like Vimeo, excerpted. The nudity of the pristine natives here is perfectly natural, and adorable, and would also have been appropriate in a production of the mature Rameau's opera-ballet Pigmalion (1748), along with the young Gaetano Donizetti's two-character Il Pigmalione (1816), as both involve the story of a sculptor who falls in love with his own nude sculpture creation. (See any number of depictions of the story in museums around the world.)
Unfortunately, the new New York City Opera (NYCO) production, which commendably put the two one-acts together on the same bill for the first time, shied away from the daring that the old City Opera director Frank Corsaro used to bring to productions like his Rasputin, with what he was proud to proclaim: "not a body-stocking in sight!" So… no nudity, and not a lot of sensuality either. But some beautiful singing, particularly from Polish tenor Piotr Buszewski in what was Donizetti's first opera (which he wrote at the age of 17, and seems to be receiving its US premiere here), lovely dancing and ensemble in the more mature Rameau work, and rigorously accurate orchestral playing throughout, energized by the excellent conducting of Gil Rose.
Gil Rose is the founder and conductor of the Boston Modern Orchestra Project (BMOP), and was also the music director of Opera Boston, whose general director Carol Charnow told me for years she wanted very much to produce my completion of Marc Blitzstein's Sacco and Vanzetti, if she could only find a theater that was large enough but not too large to fill; and then the company went under. (Efforts have also been made to interest Michael Capasso of the new NYCO, but he's tended to gravitate more to the Anton Coppola opera version of the story, where the protagonists' innocence is not asserted but "a mystery.")
One of BMOP's most successful recent recordings, conducted by Gil Rose, is a 2-CD set (BMOP-sound 1056) of Child Alice (1977-1981) by David Del Tredici (b. 1940), who attended the March 25, 2018 NYCO performance. Lavishly produced, with a 38-page booklet filled with drawings, photos and commentary, it stars soprano Courtenay Budd, taxed to the limit, with a Mahler-sized orchestra performing two Parts, each divided into three, totaling nearly 2 hours and 13 minutes in duration. Like Mahler, the styles range considerably from serioso to giocoso. No rock in this piece, but lots of whole-tone writing and motivic development of cells, sometimes netting quasi-mechanical or singsong results. Full disclosure: David was a much-loved counterpoint teacher of mine at Harvard, and no matter what tangents he tends to go off on, musically or personally, I've never found anything he says or does boring. (Repetitive sometimes, but not boring!) Even though, like my favorite composition teacher at Harvard, Earl Kim, he sometimes takes a rather long time to get to the point, once he gets there, it's pretty clear he couldn't have gotten there any other way….
The same could be said, in a way, of 88-year-old clarinetist Stanley Drucker, the longest -tenured member of the New York Philharmonic, who came out of retirement to speak about Leonard Bernstein and play on a program at Hofstra University on April 8, 2018 devoted to Bernstein and Brahms with the American Chamber Ensemble (ACE), founded by his wife Naomi and Blanche Abram, and now directed by Abrams's former student Marilyn Lehman, who did yeoman service by performing in every piece. (Bernstein and Brahms will always be associated with each other for me personally. The last time I saw the maestro was in Berlin, in October, 1984, following his conducting the Vienna Philharmonic and Krystian Zimmermann in Brahms' Piano Concerto #1. I asked him if he remembered me. "Should I?" was his initial response. When I then reminded him who I was, he jumped up and grabbed me in a bear hug crying: "Where have you been!?")
There were three by Brahms and four by Bernstein at the Hofstra concert. Violinist Eriko Sato opened with the former's Sonatensatz and a dazzingly-played Hungarian Dance #5, followed by his Trio for Clarinet, Cello (Chris Finckel) and Piano, op. 114. This is a piece I've known and loved listening to and performing since high school. In fact I even wrote a piece I called Brahms' Clarinet Trio #2, which was performed at the University of Vermont Summer Music Session in 1965, though not since, except with violin substituting for clarinet. (How I would love to hear the ACE do it!) Drucker's performance of the Brahms was ear-opening and amazing. Perfectly in time whenever called upon to be synchronic with either or both of the other musicians, whenever the clarinet played alone the rhythms were amazingly free, anticipating, and almost jazzily rocking. Drucker confessed later that he had been inspired by a 1937 recording of the piece by Reginald Kell, a solo clarinetist who was notorious for such originality that he could never have played (the way Drucker did) in an orchestra.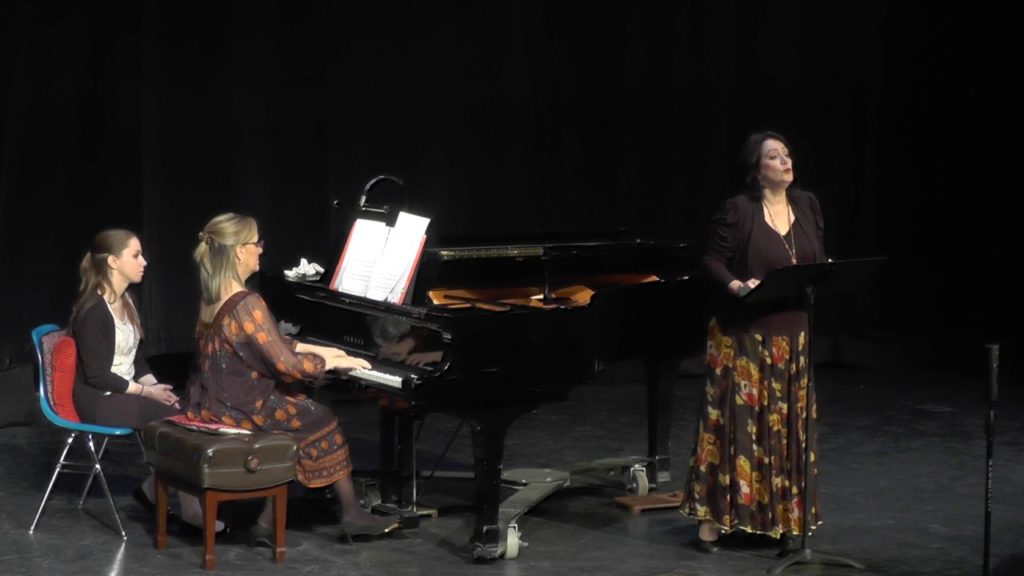 The second half of the program was devoted to Bernstein, and included his first published composition, the early 2-movement Sonata for Clarinet & Piano (which Drucker has recorded twice – once with Leonid Hambro, in a studio paid for by the composer); soprano Donna Balson (seen above) in his gorgeous song (with cello) from Peter Pan, Dream with Me (whose lyrics were rewritten by Marc Blitzstein); a women's chorus (the Nassau Symphonic Choir) and uncredited soprano soloist (Sabrina Raichoudhury) in Simple Song from Mass, conducted by Louise O'Hanlon; and the finale from Candide, with words rewritten ("Let's be man and wife," instead of "Come and be my wife") so they could be sung by Balson alone, rather than by the title character. (News is she's leaving and will be sorely missed by Hofstra, returning home to Australia, where she'll head a Young Artists program.) In this the chorus was joined by an octet of ringers and Connor Martin on percussion.
I'll be playing Percussion II myself, in the Sagamore Hill Band, performing music by J. Willard Roosevelt (at left) in honor of his centenary, this weekend. The first concert, originally scheduled for Sagamore Hill, has been moved because of the cold weather to Oyster Bay High School, Friday, April 20 at 7pm. The second will take place at Poquatuck Hall in Orient NY (where Willard lived most of his life and his widow still resides), Saturday, April 21 at 4pm. The final concert will feature Helene Williams and the Dakule Trio at the Oyster Bay-East Norwich Public Library, Sunday, April 22 at 2:30pm. It will be the library's first classical concert in 18 years, and will include music by Roosevelt, Berk, Tepper, Lehrman, Gilmore, and premieres by Joel Mandelbaum and Jennifer Tibbetts.
The following weekend begins our series of four Leonard Bernstein Centennial concerts with guest artist Caryn Hartglass: in Great Neck, Wantagh, Port Washington and Long Beach 4/29, 9/29, 10/5 & 11/25.
Please see http://ljlehrman.artists-in-residence.com/flyer2018.html.
---
Comments Off

on Music of Youth and Age: Herbert Rothgarber, Michael Brown, Pygmalions, David Del Tredici, Stanley Drucker, Brahms & Bernstein by Leonard Lehrman
Sorry, comments are closed.