Comments Off

on The Cecilia Chorus of New York Presents Dame Ethel Smyth's The Prison – A Review by Anastasia Khitruk
May 15, 2018 by Admin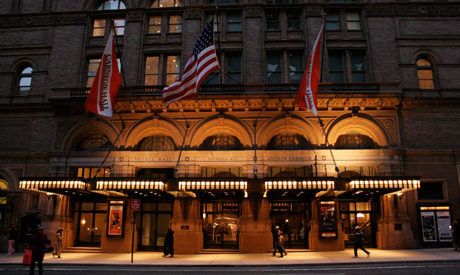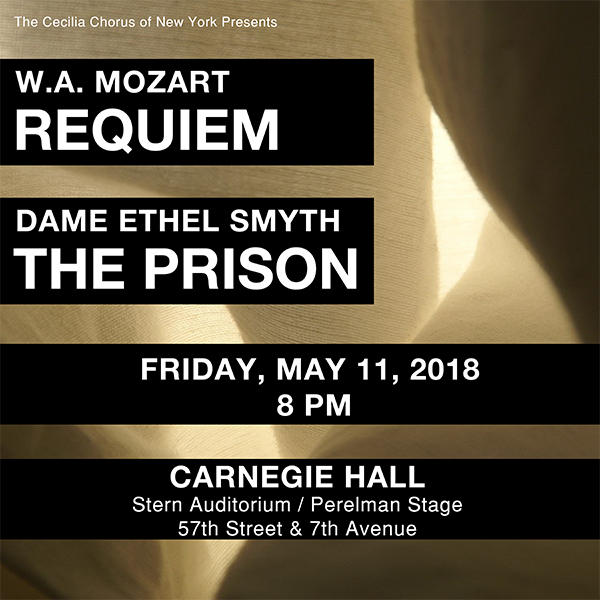 On May 11th, The Cecilia Chorus of New York, under the direction of Maestro Mark Shapiro, presented an unusual and fascinating programme at New York's Carnegie Hall.
The concert featured Dame Ethel Smyth's "The Prison" alongside Mozart's Requiem. This very seldom Smyth heard piece, for chorus, orchestra, and two soloists, is a fascinating experiment in form and content. Originally labeled a "symphony" by the composer-it is neither symphony or oratorio, but quite literally a "tone poem". The words, written by her closest,dearest, departed friend Henry Brewster, are not so much set to the music as used in an illustrative manner-woodwinds and harp are used to great effect and a baroque style tutti stands in for an organ to introduce part two, titled "The Deliverance".
Ethel Smyth was clearly a gifted and able composer, and although "The Prison" seems at times overwrought to ears accustomed to post-modern remove and minimalism, it's an important work worth study and admiration.
Maestro Shapiro led the musicians superbly through a most demanding program-eliciting a moving and energetic performance from soloists and orchestra alike. His love for the music and deep understanding of its demands was impressive, as was his courage in presenting a difficult and seldom played work alongside one of the greatest and best known choral masterpieces.
Also impressive was the vocal talent on display, particularly soprano Ms. Chelsea Shepherd, whose beautiful and ringing tone projected effortlessly.
One of today's most vibrant young violinists, Anastasia Khitruk has appeared as a soloist with orchestras and in recitals worldwide. Her talent was immediately recognized when she made her orchestral debut at the age of eight. Ms. Khitruk's playing is characterized by passion and intense musicality and she "radiates an inner force that galvanizes the performance and mesmerizes the listener."
Ms. Khitruk has given many performances as soloist with internationally acclaimed orchestras in Australia, Bulgaria, Brazil, France, Italy, Kazakhstan, Lithuania, Russia and throughout the U.S. She has also toured throughout France with the Seasons Orchestra (Russia) and collaborated with many of today's finest chamber players.
In addition to her concert career, Ms. Khitruk's commitment to developing young audiences is demonstrated by her work as President of the Manhattan Music Society, a non-profit foundation based in New York.
---
Comments Off

on The Cecilia Chorus of New York Presents Dame Ethel Smyth's The Prison – A Review by Anastasia Khitruk
Sorry, comments are closed.