Comments Off

on The Winners of the Ibla Grand Prize International Music Competition – Weill Recital Hall at Carnegie Hall, May 7, 2019
June 5, 2019 by Admin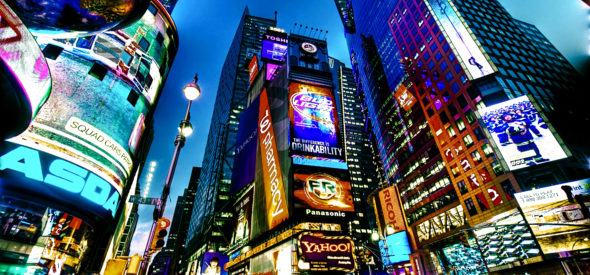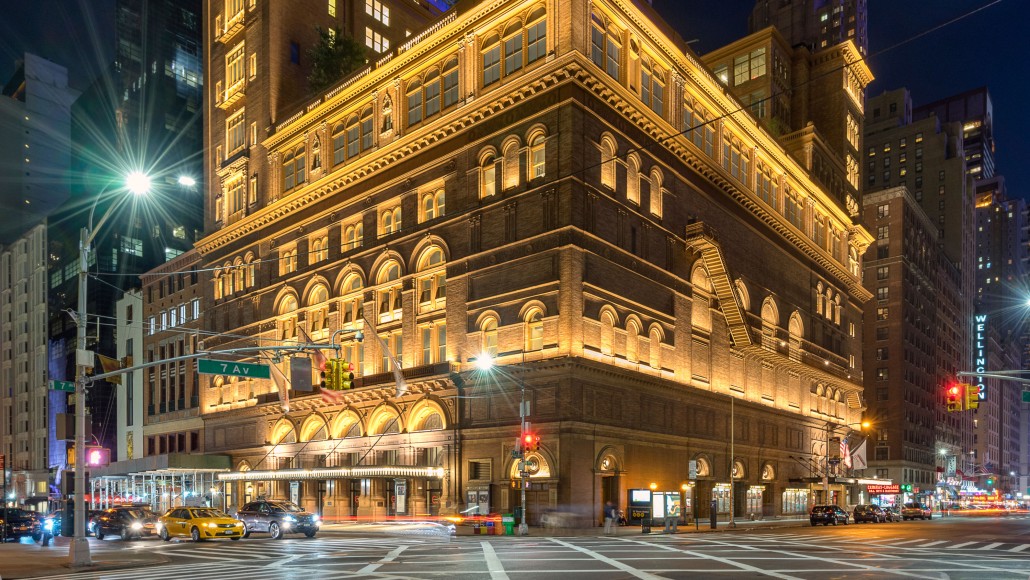 In today's music world, where the only constant is change, having the Ibla Grand Prize as a fixture on the international music scene is very reassuring.
This year's winners concert at Carnegie Hall's Weill Recital Hall was the competition's 28th. In continuing to present this event, and by continuing to bring competition winners to the world, Ibla Grand Prize has made itself indispensable.
For those not familiar with the scope of the Grand Prize's activities, it had sponsored 2019 concerts for 2018 winners in among other places, Tbilisi, Georgia; Bangkok, Thailand; Yangon, Myanmar; Phnom Penh, Cambodia; Kuala Lumpur, Malaysia; Yogyakarta, Indonesia; Bali; and Tokyo, Japan, as well as Radford University of Virginia; Little Rock, Arkansas; and New York University. Indispensable, indeed.
The May 7 program began emphatically with Chinese pianist Chenxing Huang performing Liszt's Hungarian Rhpasody No. 10. She handled the music, with its ornamentation and occasional borderline bombast, with style, some eloquence and even a little wit.
Next, a whistler, Japan's Mariko Kato, with piano accompanist Chenxing Huang. Quite the sound. Queen of the Night, of course – and generally nicely done. I was at the back of house, by choice, and could have used a bit more projection, especially as some of the lower notes almost disappeared. The performance was complete with dramatic, interpretational gestures and received a fine audience reaction.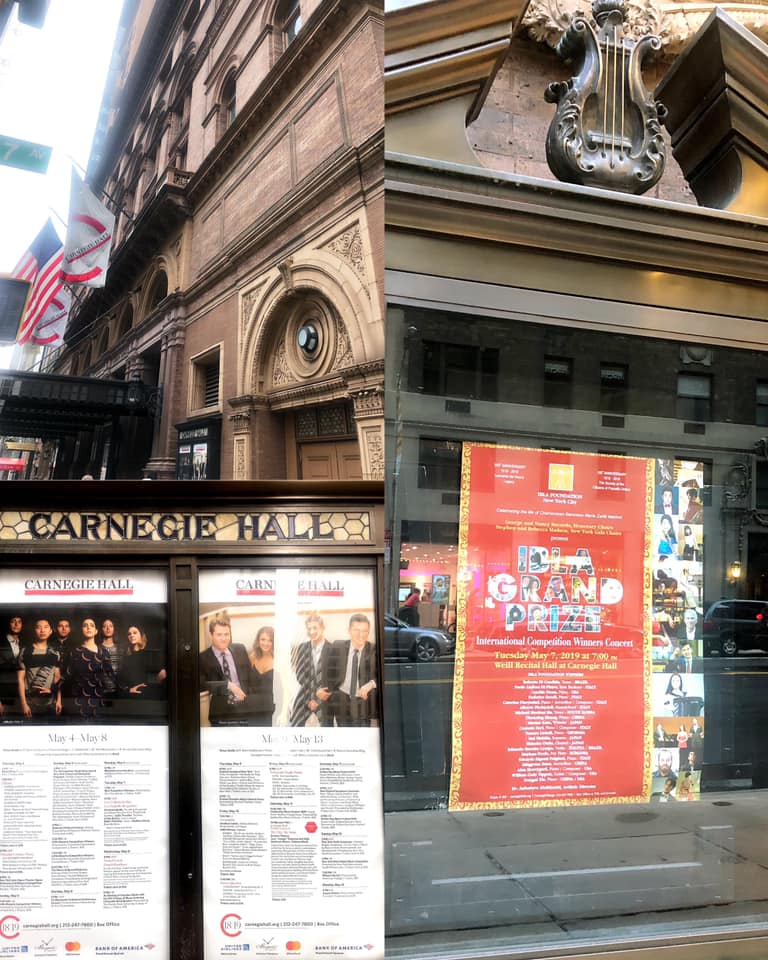 Then, the fascinating Italian singer/accordionist Caterina Fiorentini, who offered lovely, expressive playing and vocals. However, some sort of translation or synopsis of the subject matter would have helped and enhanced her presentation of one of her own compositions. She projects a terrific street performer kind of vibe (in the best sense of that term) and has real stage presence. I only wish I knew what she was singing about….(see Addendum for more about this).
Next up, following Ibla founder and director Dr. Salvatore Moltisanti's brief remarks on the language and nature of beauty, the Bolivian/Brazilian violinist Eduardo Paredes Crespo, with Dutch accompanist Lestari Scholtes. Another Carmen Fantasy – over-ornamented by composer Franz Waxman and not played with the utmost precision by Mr. Crespo. Maybe not the best choice for a New York presentation, as this type of showpiece requires true precision and a cleaner sound than was on display. However, fine accompaniment from Ms. Scholtes.
Then, another brief story from Dr. Moltisanti regarding the conception of the recently damaged Notre Dame Cathedral's rose window as a visual depiction of the beauty of music.
This was followed by the U.S.'s Anchie Donn and some solo piano. Scriabin's work frequently has a spare, almost monastic /early music feel to it, even though written in the 1890s. The performance was especially appropriate, coming after Dr. Moltisanti's remarks about Notre Dame. Strong playing, that gathered strength as the music progressed to its powerful climax.
After this, Moltisanti spoke about another connection to churches, specifically to the domes of the cathedrals in Florence and Venice. It needs to be noted that all of his remarks were rather brilliantly connected to Leonardo Da Vinci, and the 500th anniversary of his demise. All of his remarks between performers tied in with the music and made the concert presentation that much more vivid and meaningful.
Next, Mingyuan Ruan, a wonderful Chinese accordionist with a lively, clever piece by Ukraine's Anatoli Biloschizki. Ms. Ruan is a deft, accomplished player with good dynamic control – and her performance was rewarded by very good audience reaction.
South Korean tenor Michael Hyokun Ha, with Georgian piano accompanist Tamara Licheli, was next, with a fine, strong Giordano aria from Andrea Chenier. Nice vocal production, pretty at times, strong throughout his range – and the audience certainly seemed to like him.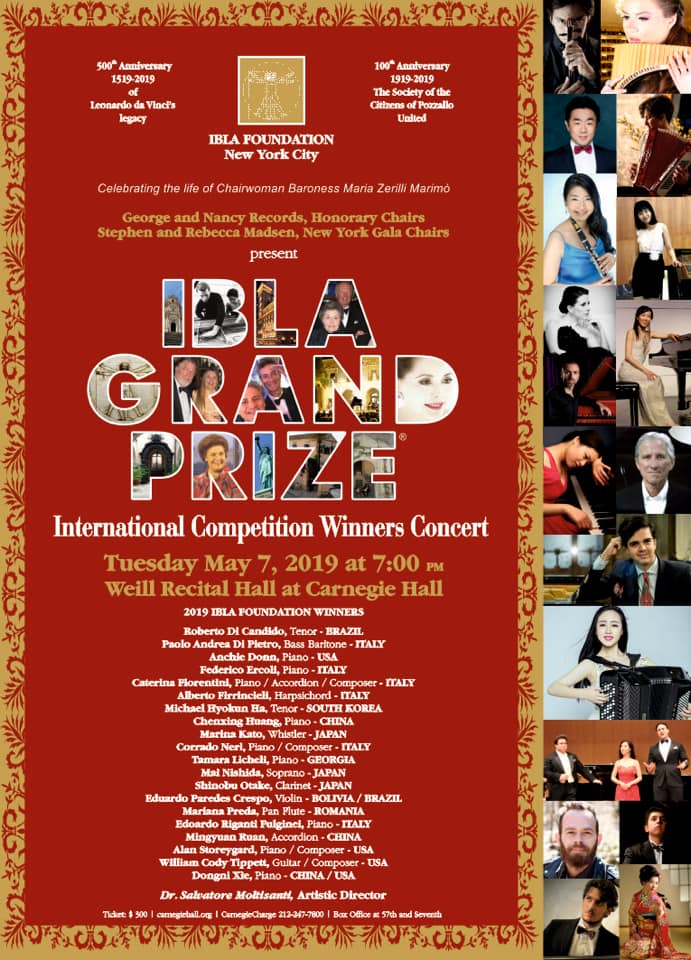 The came Italy's Federico Ercoli and the first movement of Beethoven's Symphony No. 1, as ornamented and amplified for solo piano by Franz Liszt. For once, Liszt generally left well-enough alone and Mr. Ercoli's presentation was straightforward, forthright and stylistically and pianistically strong. Lots of bravos.
And then, another connection to DaVinci, this time through the music of Frescobaldi, wonderfully performed by Italian harpsichordist Alberto Firrincieli. This is not easy music to make cohesive and convincing, but Mr. Firrincieli has the solid technique and sense of style to make it work very well indeed.
After this, China's Dongni Xie with Fazil Say's Paganini Jazz Variations on Capriccio No. 24. Good to hear this piece turned, if not on its head, then at least sideways, with a rhythmic and harmonic jazz piano spin. Wonderfully well played, with great wit, depth and real style.
Next up, Japanese clarinetist Shinobu Otake, accompanied in von Weber's Grand Duo Concertante by pianist Tamara Licheli. Lovely clarinet tone and ease of production – and wonderful coordination with Licheli. A true confluence of artistic equals.
The, 14-year-old Italian pianist Edoardo Riganti Fulginei, giving forth well-considered, mature Liszt, never letting it get out of control, which is easy to do with so many notes to keep track of. Lots of bravos from the hall. If he can handle Liszt this well at his age, he has a fine future.
After this, Romanian pan-flutist Mariana Preda and the marvelous Tamara Licheli presented music by Bartok. Did he wrote this originally for the instrument, or perhaps have it in mind when composing? I suspect not, but whether he did or didn't, Preda is a lovely player with a big sound and much style – paired beautifully with the wonderful, sensitive accompaniment of Licheli. Again, strong audience reaction.
And then, Ms. Licheli was joined by Japanese soprano Mai Nishida and Italian bass-baritone Paolo Andrea Di Pietro for a scene from La Traviata. Nishida and Di Pietro could use more focus and polish to their voices, although each had nice moments as soloists. However, the two together work well, and are better than the sum of their parts.
Ms. Licheli stayed onstage to present even more Liszt (Rhapsody No. 11), but in her expert hands, the music is eminently strong and sensible. This is Liszt presented with intelligence and musicality, and the audience recognized it as such.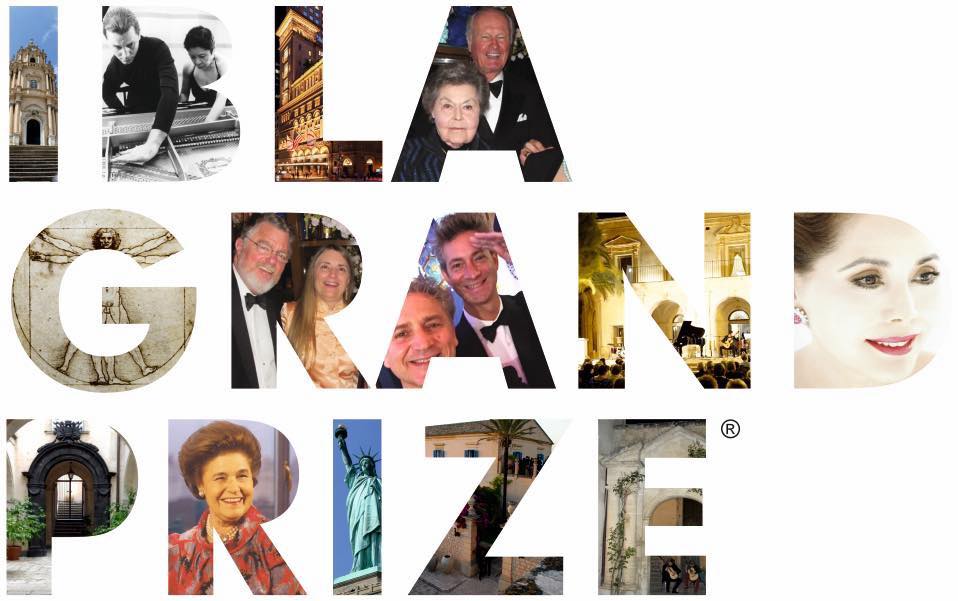 What is Ibla? Well, now it's a song, as well as place, the former courtesy of Little Rock, Arkansas-based pianist/composer (and longtime Ibla friend and supporter) Alan Storeygard. It was also a great reason to get the entire cast of performers to sing together – led by the pianism of Italy's Corrado Neri, and joined by guitarist William Cody Tippett and a fair number if audience members, in declaring that Ibla is Love.
Neri stayed onstage to present his vocal stylings, and led the audience participation inherent in the songs of Domenico Modugno, presented in fine voice, with humor and what certainly felt like authenticity. And a roar of approval went up from the crowd, much of it from standing concert-goers.
As we have come to expect, this 28th edition was a strong and striking show of the talent that finds its way to Ragusa-Ibla for this wonderful Grand Prize competition. Change may now be constant, but the Ibla Grand Prize endures.
Jeffrey James
Editor, International Composer
http://www.jamesarts.com/internationalcomposer/
Editor, SoundWordSight.com
June 2, 2019
Addendum:
I'm told that the words in Caterina Fiorentini's performance was a poem she wrote based on the story of Alcyone and Ceyx that portrays the love that triumphs over tragedy. This young couple was so much in love that neither the gods nor death could set them apart. Alcyone followed her husband to the other life and did so with her free will. This story is also considered the mythical transition from matriarchal to patriarchal society.
Here are the words in English:
And Alcyone flew over the sea
and storm calmed by animated piety
and looking in the wave he saw it, without wings,
broken hope from the kidnapped water …
And the East wind stopped its roar
and dumb, astonished he listened
the lost animal, like a miracle,
who resurrected in Alcyone
with her she flies back into the sky …
And Alcyone created his nest of light foam
and the clouds and the stars are watching
timeless and forever two Alcyones fly …
two Alcyones fly …
---
Comments Off

on The Winners of the Ibla Grand Prize International Music Competition – Weill Recital Hall at Carnegie Hall, May 7, 2019
Sorry, comments are closed.