Comments Off

on Beth Soll and Company – Dances of Passion and Peace
December 8, 2019 by Admin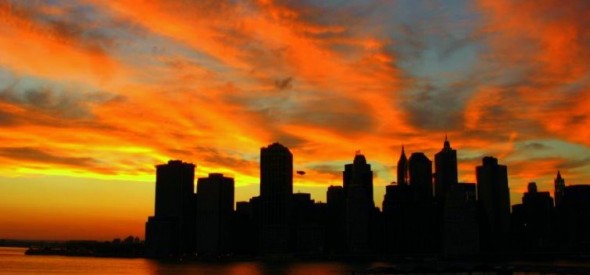 This event was presented on November 22, 2019 at New York City's Speyer Hall, University Settlement, located at 184 Eldridge Street on the Lower East Side, in cooperation with Dance Projects, Inc. and The Performance Project @ University Settlement.
First off, this is a lovely room, with plenty of space for the expansive movement of dancers, reciters and accompanying musicians, but a bit less comfortable for the audience, who needed to make some adjustments.
It also took a little while to get comfortable with the format of the evening, which did not always indicate clear demarcation between the selections, but once the performances' rhythms and formats became more obvious, the event seemed to be in just the right place.
Things began with love, in various modes of expression, then onto an unaccompanied song—I'm guessing in Catalan—which was lovely and quite evocative. Then there was a poetry-and-dance combination, with musical accompaniment in the fading light, whose movement seems to have been influenced by sign language and gestures we often associate with images from ancient Egypt.
Then, the first solo dance, the performer of which has a very fine sense of line and flow. The solo piano music was nicely eclectic, including everything from the barroom to the concert hall, imbued throughout with an enjoyable improvisational quality.
Next up, one of the highlights of the evening: A very effective, beautifully integrated choreographic and musical setting of Langston Hughes's poem Stars, recited by Beth Soll. Thomas Addison's music was marvelous, but would have sounded much better with a live performance, rather than the recording used. That said, I'd love to see this piece again.
Generations, the centerpiece of the show, followed. This was a much more abstract in its music (being by three different composers), movement and narrative. At times, the sounds of wind and water overcame the music, then faded out, leaving the three dancers (one of whom was Beth Soll) to their individual movements and rhythmic breathing – until a burst of ultra-rhythmic rock music that lead to what appeared to be a death scene…but wait! There's more! More trio dancing to music for flute, bass and percussion.
I found this piece ultimately disjointed, with lots of ideas, but little to bind everything together. The performance was in the right place physically, but I felt it needed less distance from the audience to make it more comfortable in the viewing.
The poetry, music and movement of Old Heat was much more cohesive – languid movement with effective costuming and lovely music by Wendy Griffiths, well sung by Eliana Berrean.
A Wild Dance was just that, opening with a rugby scrum quickly moving into some athletic and visually attractive teamwork and individual expression. Wendy Griffith's music was fittingly wild at times and almost lyrical at others. A sort of Hinduistic poetic coda by Rumi was not out of place.
Then, appropriately enough, A Quiet Dance, with the same four performers from A Wild Dance, but this time with a tranquil – or at least less hectic – core, with rainstick accompaniment. Dynamic and lovely group movement, but each of the four was also given effective individual ideas to present, ending with a chant into darkness.
The final piece was another Catalan (?) song, beautifully performed by Ms. Berrean, providing a lovely and effective ending to a largely lovely and effective performance.
Visit Beth Soll & Company at http://bethsollandcompany.org/.
James Grant
December 2019
Category Sight, Sound, Word | Tags:
---
Comments Off

on Beth Soll and Company – Dances of Passion and Peace
Sorry, comments are closed.