Comments Off

on An Interview with Pianist Rosa Antonelli
January 9, 2020 by Admin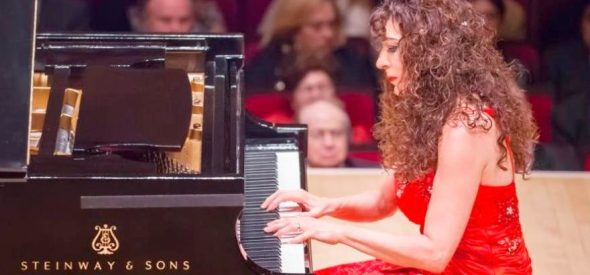 Feature article by Ken Meltzer, reprinted from Fanfare magazine, issue 43:3 Jan/Feb 2020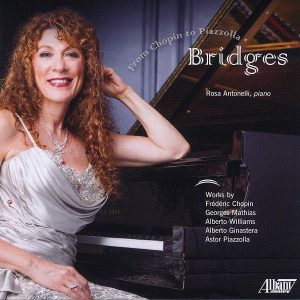 In Bridges, a new CD on the Albany label, pianist Rosa Antonelli traces a direct lineage from the great 19th-century pianist and composer, Frédéric Chopin, to the 20th century bandoneón virtuoso and father of the Nuevo Tango, Astor Piazzolla. I spoke with Rosa Antonelli about the recording, and the many kinds of bridges it contemplates.
The title of your new recital on the Albany label is Bridges. In the introductory comments to the recording, you note that several types of bridges are represented, both by the composers and repertoire you chose, and by your own life and career.
Yes—there are so many "bridges" in this recording—musical, historical, geographical, and even deeply personal!
The idea began at my most recent Carnegie Hall recital, when, after a program of Spanish and Latin American piano music, I played the Chopin C?-Minor Nocturne, op. posth., as an encore. Afterward, the President of Albany Records came backstage and said: "When you played Chopin, I heard Piazzolla—it is all Romantic!" And then I realized—Piazzolla was a student of Ginastera, who was a student of Alberto Williams, who was in turn a student of Georges Mathias, who was himself a student and friend of Chopin—that there was a bridge of influence running unbroken from Chopin himself all the way to Piazzolla! And not just a paper influence, but a real one that can be heard in the music itself.
And look at the lives of these composers: Chopin, the young Polish pianist and composer whose heart led him to Paris; Mathias, born in Paris to parents who had immigrated from Germany and Poland; Williams, Argentine to the core, but whose defining musical studies were in Paris; Ginastera, whose parents were from Catalonia and Italy and who spent two years studying in the United States, especially with Aaron Copland; and Piazzolla—born in Argentina to Italian immigrants, he spent his childhood from age four to 15 in New York, and it was in New York that he learned to play the music of Argentina and the bandoneón—all of these composers, in their own lives, were bridges between countries and cultures.
And this is something that I feel deeply, because it is my own story as well. My own parents came to Argentina from Italy. I was born in Argentina and today I live in New York, where, in New York and around the world, I try with my playing to make a sort of bridge to the rich treasury of Latin American classical piano music.
Also, one very personal story, about another bridge: At the age of four, when all my friends were playing with dolls, I was playing the piano. The grownups made a great fuss over this, but to me it was nothing special—I was just doing what I loved. And of all the music I played, the composer I loved the most was Chopin. I covered the walls of my room with pictures of Chopin, everywhere but the light switch, the way other children might have pictures of a favorite movie or sports star.
And one day, returning from a visit to her family in Italy, my Mom brought back a record by the wonderful Italian pianist Alberto Pomeranz, called Rarities of Chopin. And on that recording, there was one track in particular that I fell totally in love with—Chopin's Nocturne No. 20 in C? Minor. So you see—even that piece is itself a bridge from myself as a small child to the myself of today! Because my mom gave me this particular disc when I was a child, knowing my love for Chopin, I feel that she was my own bridge of inspiration and the inspiration for this CD; I dedicate to her this Nocturne every time I played it.
But there was more—I wanted to play the piece, but I couldn't get the sheet music in Argentina! So I had to wait and wait. Finally, when I was old enough to start to tour around the world, I finally found it—but there was still a problem! I found edition after edition, and each of them was different! I had to know what it was that Chopin actually wrote. So at last I went to the library of the Chopin Society of Warsaw in Poland—and there it was, Chopin's original manuscript. At last! So I learned it from that copy, and performed it at the Chopin Society of Warsaw and also the famous Palace in Katowice, and, in the years that followed, all around the world.
And finally, one more type of bridge—a pair of bridges in fact, between me and the composers on this recording: After my first concert in Carnegie Hall, I had the pleasure of meeting Georgina Ginastera, the daughter of composer Alberto Ginastera, and, after my 2014 Carnegie Hall concert she asked me to give a concert in 2016 honoring the 100th anniversary of Ginastera's birth—that concert was both an honor and a great joy for me! And yet another bridge: I began to exchange emails with Pablo Williams, the grandson of Alberto Williams, asking for copies of Alberto Williams's music. And when I gave a concert of Alberto Williams's music, Pablo Williams was in the audience, which was a great thrill for me. Knowing these two descendants of the composers whose music I play makes me feel connected to them in a special way.
Yes—So many bridges, all built of love and music!
Your Bridges recital traces a lineage that connects the great 19th-century Polish pianist and composer Frédéric Chopin to the 20th-century Argentine father of the Nuevo Tango and bandonéon master, Astor Piazzolla. If you would, describe that lineage, and the five composers who occupy this musical family tree.
The bond between a young musician and a long-time teacher is deep and powerful. Georges Mathias studied with Chopin for five years and passed Chopin's teaching on to generations of younger pianists. And one only needs to listen to Mathias's music to hear how deeply he loved and revered Chopin.
When the young Alberto Williams won a scholarship to study in Paris, George Mathias became Williams's piano teacher, and when Williams published his Novellette, op. 8, he dedicated the piece to "my teacher Georges Mathias." Williams, in his later works, took Chopin's style and interest in popular dance forms and transformed them with a new and distinctively Argentine character—but under the surface, I think you will clearly find the Chopin heritage.
In the young Alberto Ginastera, Williams found a student of true genius. And for all his individuality, Ginastera's brilliant compositions based on native Argentine materials are an extraordinary extension and creative reimagining of Williams's earlier experiments.
And then there is Astor Piazzolla, for whom Alberto Ginastera was a major teacher and influence. In a piece like Ginastera's Milonga, I hear the roots of Piazzolla's future style. But beyond his debt to Ginastera, I hear in Piazzolla's subtle, emotionally complex, and poetry-filled transformations of Argentine popular dances a deep connection with Chopin's own similar transformation of the waltz, the mazurka, and the polonaise.
Link by link, a grand heritage connects Chopin, through Mathias, Williams, and Ginastera, all the way to Piazzolla.
Our readers are familiar with Chopin, Ginastera, and Piazzolla, but perhaps less so with Georges Mathias and Alberto Williams. Tell us about their careers and music.
Yes, you are right, and so let me tell you first about Mathias. His complete name was Georges Amedee Saint-Clair Mathias; besides being a prolific composer, he was a very active and successful concert pianist and teacher. Born in Paris to a family of German and Polish immigrants, Mathias trained at the Paris Conservatoire, but also took private lessons from Chopin for five years. Chopin's music would remain the strongest influence on his compositions. Something funny I read was that decades later, in a memoir published after his death, he said that Chopin was "so sensitively organized that, like the X-rays, he saw a thousand things where others see only one." His broadest influence was as a teacher—he spent over 30 years as a piano teacher at the Conservatoire, where he attracted an international group of students from Europe and the Americas, including two notable South American musicians: the Venezuelan phe­nomenon Teresa Carreño and Argentine pianist-composer Alberto Williams.
He wrote overtures, including to Hamlet and Mazeppa, five morceaux symphoniques for piano and strings, two piano concertos, six piano trios, a symphony, Oeuvres choisies pour le piano, Études de genre, Études de style et de mécanisme, a collection of two- and four-hand piano pieces, and transcriptions, including the one of some scenes from Mozart's The Magic Flute. What I can tell you is that his music is absolutely Romantic and, as I said, you can hear Chopin's spirit and inspiration in his music.
I recorded two pieces of Mathias for this CD. In the 1850s Mathias published a set of Romances sans paroles (Songs Without Words), op. 18. Like the nocturne, this genre seems to have its roots in the music of Irishman John Field. The first one, the Romance, op. 18/4, clearly bears the imprint of Chopin's lyrical style: A main idea surrounds a slightly more melancholy middle section, before ending with a sentimental postlude. The other piece, the Caprice-Valse, op. 38/1, was one of three Morceaux de concert Mathias published in about 1865. This is an extended series of musical sections that have a family resemblance to Chopin's waltzes, though Mathias introduces rather gentle chromati­cism, and some adventuresome modulations in the middle of the piece, before return­ing to a few main ideas at the end.
Alberto Williams was one of the founders of Argentine classical music at the turn of the 20th century, and a keystone because he had a deep and lasting influence on Argentine classical music. He was a leading musical figure in Argentina for over 50 years as a composer and educator. As a teenager, he won a scholarship to the Paris Conservatoire, where he studied with Georges Mathias and César Franck. After returning from Paris in 1889, Williams began to travel widely in Argentina, studying the country's folk music and incorporating those styles into his own compositions. He wrote nine symphonies, three orchestral poems, two concert overtures, three sonatas for violin and piano, and other works.
Williams founded Argentina's first European-style conservatory in 1893, a school which still bears his name today; it was a few blocks from my apartment in Buenos Aires. Williams published well over 100 works for solo piano! Many of them are inspired by Chopin's music. As for the three pieces I recorded for the CD, I will explain a little bit later.
In one of my conversations with Pablo Williams he mentioned how much his grandfather admired Mathias. He sent me a copy of Alberto Williams's book Alocuciones, Discursos y Conferencias (Buenos Aires, 1947) in which he expressed that on October 14, 1926, honoring Mathias on the 100th anniversary of his birth: "The Conservatory of Music and his 108 branches are honoring him in TRIBUTE OF ALBERTO WILLIAMS: ADMIRATION, GRATITUDE AND AFFECTION." Absolutely beautiful! And I feel honored that I got this special information!
How did you go about choosing the specific repertoire you include on Bridges?
That's a very important question. The first piece came to me, as I mentioned before, from my heart as a little girl, and also from the experience of connection I had when I performed it as an adult. You may remember what I said in the beginning that it has a very personal story with me.
Actually, in the last concerts at Carnegie Hall, in which I performed the repertoire of all classical Latin American composers, when the audience asked me for an encore, my natural feelings were to play the first piece on the CD, the Chopin Nocturne No. 20. This piece was so strong within me that it had to be first on this recording. The second Nocturne, No. 14 in F? Minor, op. 48, has always captivated me with the contrast and dialogue between the first part—so lyrical and sentimental—and the middle section with the agitated rhythmic chords. In the last selection I chose by Chopin, I wanted some contrast to the nostalgic melodies of the first two nocturnes. I love joyful waltzes in general and especially love Chopin's waltzes. But there is also another connection, as this particular waltz has a middle section that is as melancholic as the nocturnes.
The next composer was a natural choice as I had discovered that Mathias, of German and Polish heritage, was a student of Chopin. The problem I had was that his compositions were very difficult to find. Fortunately I had my own connection through a student of Mathias, Alberto Williams. On my previous recording called Abrazando, I had contacted Pablo Williams, the grandson of Alberto Williams and the administrator of Williams's music. Since Mathias was Williams's teacher, I contacted Pablo and asked him if he had some music by Mathias in his archives. I also contacted Lucio Videla in Argentina. I was filled with hope when Pablo said he thought he had some of the pieces, but he was not sure and needed to confirm this with me. To my delight, he sent me by email the Waltz Caprice, op. 38/1, and I fell in love with it!
I love doing world premieres of these masters because I am giving exposure to magnificent but previously unheard gems. It is like honoring the composer. The obvious problem I had was that there is no reference for how the pieces should be played. Later, when I was recording this piece, and I will never forget this, the recording engineer, Max, said: "I've never heard this piece, but it sounds like Chopin."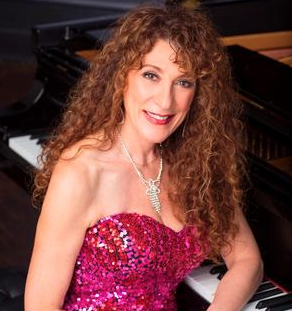 Then, I asked Pablo, "By any chance do you have another piece that is in a slow tempo?" And when he said, "I think I have the Romance Without Words," I said, "This might be the other piece I need!" Of course, when I finally got the pieces, op. 18 (which I appreciate so much from Pablo, since he had to work hard trying to find it), I was so happy when I read it because I felt that I found, in No. 4, the perfect one! It really was like a nocturne by Chopin!
As for Williams, I had already performed several world premiere pieces, and I knew his musical connection with Chopin. I asked his grandson if he had some pieces that were never performed or recorded, and after he took the time to look, he sent me several. When I read the Novellette, op. 8, in 9/8 tempo, I felt like it was a ballad or waltz, or an impromptu form. After reading it and giving time to analyze and play several times, I knew it was the perfect one, with the middle section so lyrical, Romantic, and nostalgic, and the other sections so powerful and joyful, passionate, and Romantic! Then I asked him for a slower tempo piece, and he sent me several pieces of the op. 29. I felt like the Valse was the perfect one to create the melancholic and nostalgic feelings I wanted. Even better, it was a waltz. Next I felt that the CD needed a faster tempo piece, but also wanted to show how the European style evolved through the incorporation of the folk music of Argentina. And so I chose Huella, op. 46/1.
Regarding Ginastera, who was Williams's student, and whose music I have performed for many years, I can tell you that I always felt in many of his pieces I played, such as Danza de la Moza Donosa, Milonga, and "Danza del trigo," how his music kept the Romanticism and lyricism! I was talking about this with his daughter Georgina after my concert at Carnegie Hall at which I met her, and she said to me that her father did not only compose pieces in fast tempo and energetic rhythms and dynamics. She loved that the audience can hear both ways, as her father always expressed to her. But of course I chose the other pieces with great rhythms to show also the evolution which came from Williams to incorporate the influence of folk music in Argentina and Latin America.
Since I have already recorded Danza de la Moza Donosa, I decided that Milonga, and "Idilio crepuscular" and "Danza del trigo" from the ballet Estancia, would be the best to deliver the feelings of Romanticism! And to continue with the feelings of melancholy and nostalgia but with the evolution of his music with the incorporation of Argentinian folk music, I decided that from the 12 American Preludes, "Vidala," "Triste," and "Pastorale" were the perfect ones! And "Homenaje a Juan José Castro" was the best to show these feelings—and, it is in anticipation of Piazzolla, since it is played in tempo di tango! The other American Preludes: "Homenaje a Garcia Morillo" and "Danza Criolla," and "Pequena danza" (or "Danza final") from Estancia were perfect for the contrasting feelings, with the very fast tempos and furious shifting cross-rhythms.
Finally, Piazzolla!
Bridges includes several world premiere recordings of works of Mathias, Williams, and Piazzolla. Tell us about those works, and how you first became familiar with them?
It is my passion to discover and promote "gems" from the composers that do not get the exposure they deserve, and then to share them with my audience and the world.
In reference to Mathias, after reading his biography I was familiar with the names of two of the pieces that are now on my CD. Before the recording, when I researched them further, I was surprised that they would be world premieres!
The difficulty was actually finding the music. I reached out to Pablo Williams, the grandson of Williams, who was the student of Mathias, and was very excited when he mentioned that he thought he might have the music but needed some time to find it. I was thrilled that he found the Mathias pieces and sent them to me. Of course I became familiar with them shortly after I received them, but there was a challenge to this situation. Since no one ever recorded these pieces—in fact, no one had ever recorded any of his pieces—there was nothing to listen to for me to even have an idea of a starting point or reference. I had to create the music just by knowing his style, some history, notes from Chopin, his notes, etc.
May I humbly say that this is where my own knowledge of music history, style, and form served me well. In Argentina, I studied composition at the National Superior Conservatory of Music so I became very familiar with styles, forms, and musicology in general. I learned how much Chopin influenced Mathias's music. I read the notes that Chopin sent to Mathias and the notes Mathias sent to Chopin, learning how much Mathias admired Chopin and his music.
As for Alberto Williams: In further conversations with Pablo his grandson, we both agreed that it would be wonderful to record some of his grandfather's pieces that were never done before. I suggested pieces with two different styles, one waltz-like and one more lyrical. Since all the waltzes by Williams had been recorded, he told me about this beautiful piece Novellette, op. 8, in 6/8. He sent it to me and I fell in love with it, even though it was very difficult and would take some time to prepare for recording. I also asked him for some soothing and melodious pieces and he sent me the Valse, op. 29/3, a slow and romantic waltz.
There is a very important concept of two different evolutions in the progression of the music through the five composers. The first is the evolution of the style from Chopin's European Romanticism to Piazzolla's tangos, as you hear in Oblivion and Balada para un loco. The second is the gradual adoption of Argentine idioms from Williams to Ginastera and Piazzolla. I had this desire to complete my idea of the evolution of style and Argentine idioms, which showed the European styles combined with Argentinean roots, especially folk. Because of this, I had a difficult request from Pablo: to find another piece by Williams never played before with these characteristics. He sent me several possibilities, all never recorded, and I chose Huella, op. 46/1, because it has these characteristics. ("Huella" means the imprints in the ground from the horse's hooves when they are galloping.) It has a faster tempo, and also a middle section that is more warm and Romantic. As you can see, I am a "hopeless romantic"; it is something that is deeply a part of me.
The entire undertaking of Bridges was to me like solving a mystery or a puzzle. I started this project because I felt the connections, but I had to select just the right pieces and then connect them in a logical and musical way. The bridges were about teacher-student, musical evolution, and cross-cultural and -national connections, ultimately arriving at Piazzolla.
As for Piazzolla, though I love to find previously unrecorded gems, it was very difficult to find works that were never recorded for solo piano. I chose Balada para un loco (Ballad for a crazy man) and Oblivion, though both of them had been recorded previously. But I loved them! Also, Oblivion has a special meaning to me because the Cultural Attaché of the Argentinian Consulate, Eduardo Almirantearena, loves this piece and I admire him very much. This was an additional reason to record this work.
The construction of my CD has a continuing motif of having for each composer some selections that are slow and lyrical, and additional selections that are rhythmical, fast, and uplifting. Since both tangos are extremely lyrical and romantic, I needed something faster and rhythmic; the problem was that I also wanted them to be world premieres! I looked in my extensive album and sheet music collection of Piazzolla's music, but I didn't find anything I was deeply attracted to. Then I remembered I had some individual pieces, sheet music that I had bought in Buenos Aires from tiny, out-of-the-way stores on the street. There they sell very old used books and records. I found one piece, very uplifting, that I fell in love with: La partida. This is not fast and rhythmical, but it was unique for Piazzolla because it was a zamba, not a tango, but it was never previously recorded for piano solo, so it was another world premiere.
Next I needed to find a fast-tempo piece. In this same collection of music I bought on the streets of Buenos Aires there were several fast pieces, and I chose Yo soy el negro. It is a dramatic song in the candombe form, which has its roots in African drum ensemble music. I liked it because it was also so different from Piazzolla's tangos.
Bridges includes a set of pieces by each of the five featured composers. The composers are sequenced chronologically, a reminder of the influence each had upon his successor. But it also seems to me you selected the recital repertoire to emphasize musical affinities between one composer/teacher and the next.
Yes, the construction of the CD is based on both the influences, sequentially, of one composer on the next, and also on affinities in style and form. As I previously mentioned, Bridges traces the evolution from Chopin's European Romanticism to Piazzolla's tangos, as well as the gradual adoption of Argentine idioms. Finally, there is the evolution of Latin American and Argentine styles from Williams to Piazzolla.
For the first evolution, I chose the pieces that show the affinities and influences through the form and Romantic style. That is why the first piece of a composer has a connection with the concluding piece of his predecessor. You can hear the progression from the two nocturnes by Chopin, to the Romance sans paroles, op. 18, by Mathias, to the Valse, op. 29/3, by Williams, to the "Danza del trigo," "Idilio crepuscular," and Milonga by Ginastera, to, finally, Oblivion and Balada para un loco by Piazzolla. You can hear how the circle is complete if you listen to the Chopin nocturnes and right afterward to Piazzolla's two tangos! A second affinity and influence is between the Chopin waltz, the Caprice-Valse by Mathias, and the Novellette by Williams in 9/8 time signature, which is actually a waltz. These last three pieces also follow that same form and order on the CD. For the evolution of the Latin American and Argentinian styles, we have Huella by Williams, "Pequena danza o Danza final" and the American Preludes by Ginastera, and ending with the tangos, zamba, and candombe, with their Uruguayan and African roots.
Is there repertoire by the composers included on Bridges that you have not yet performed in concert, but would like to?
Yes! I have not yet performed yet the Waltz in G Major, op. posth., by Chopin, and Romance sans paroles, op. 18/4 and the Caprice-Valse, op. 38/1, by Mathias. Also I look forward to performing the Valse, op. 29, the Novellette, op. 8, and Huella, op. 46/1, by Williams. And lastly, I am excited about also soon performing the four pieces by Piazzolla: Balada para un loco, Oblivion, La partida, and Yo soy el negro.
Please tell us about upcoming concert and recording projects.
Of course I plan on playing all, or most, of the above pieces in the coming months in different halls to introduce the CD. One of them will be at the auditorium in the Argentinian Consulate of New York. Some of the others planned are at the Lambs Foundation, Harvardwood Foundation, and many more for which I need to confirm the dates. Of course, I am planning to perform again in Carnegie Hall and other halls. These concerts will be soon posted on my website, rosaantonelli.com. About recordings, I am planning for my next CD to do a compilation of tangos from all over the world. Another one will be about undiscovered classical Latin American composers who deserve to heard.
We've talked a lot about the kinds of bridges that connected these various composers to each other, and bridges that connect musical styles. But the repertoire on your Bridges CD, and indeed your own life and career, evoke another kind of bridge.
As you may remember, at the beginning of the interview, and also in the CD booklet, I proposed (revealed) the idea that all the composers on this CD traveled to different countries and different cultures to enrich and improve themselves. Chopin traveled to Paris, and the others from South America to Europe, searching for the progress in the evolution of their art. All of them were immigrants, both literally and/or musically. So, underlying the repertoire of this disc is the free exchange of ideas that come from travel and immigration. There is no place that is good or bad. This of course includes my own journey, from Italy to Argentina, to Spain and many parts of Europe, and finally to the United States.
In researching and then recording these composers, some very strong feelings came to me—maybe an inspiration from their spirit, or maybe just the message through their beautiful music. I think that as human beings in the process of creation of art, in all its expressions, we are all working together, building bridges across borders, of all kinds, to create a unified and better world. There is only one universe, and all of us have an important place in it. As has been said, "Build bridges, not walls."
The music, the humanity, the art and love, are all part of the same universal spirit. Sincerely, from the deepest part of my heart, I wish that this CD will contribute, even in a small way to sharing, advancing, and promoting this ideal.
BRIDGES FROM CHOPIN TO PIAZZOLLA • Rosa Antonelli (pn) • ALBANY 1783
CHOPIN Nocturnes: No. 20 in c?, op. posth.; No. 14 in f?, op. 48/2. Waltz No. 11 in G?, op. posth. 70/1. G. MATHIAS Romance sans paroles, op. 18/4. Caprice-Valse, op. 38/1. ALBERTO WILLIAMS Valse, op. 29/3. Novellette, op. 8. Huella, op. 46/1. GINASTERA Estancia (excerpts). Twelve American Preludes: excerpts. Milonga. PIAZZOLLA Balada para un loco. Oblivion. La partida. Yo soy el negro
Category Sight, Sound, Word | Tags:
---
Comments Off

on An Interview with Pianist Rosa Antonelli
Sorry, comments are closed.