Comments Off

on Sacco and Vanzetti – A Review by Guy Kaldis
September 24, 2022 by Admin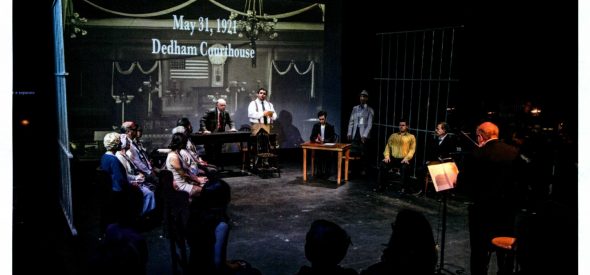 I received word [from the Harvard Club of Long Island] that an opera about Sacco and Vanzetti by Marc Blitzstein and Leonard Lehrman was to be performed at Lehman College [Sep. 10 & 11, 2022].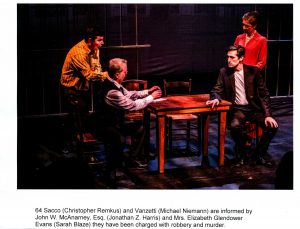 I was excited as my dad, Aristodimos Kaldis, had been active in the labor movement as soon as he started to work in the Watertown plant of the Hood Rubber Factory, He had been a union organizer and a Trotskyite leader. He had told me that he knew Sacco and Vanzetti. Later, through misspelling my father's name in the NY Times online archive, I found a small clipping with no date and no place that police arrested my father for protesting the execution of the pair of anarchists. I had seen a dramatization of the trial and the judge's prejudice against Italians and arbitrariness. My father, as a Greek, experienced prejudice from Irish American police officers, so when he and his friends returned to Watertown after being in downtown Boston, they would break into any Irish American songs they knew. Later I learned that appeals were heard only by the trial judge at that time, in 1920s Massachusetts.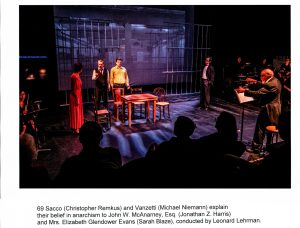 I was extraordinarily pleased, once I found the small theater in which it was to be performed. The musicians were great, especially the woodwinds, to whom we sat closest. The music was stirring and proper to the action on stage. I understand some great arias in the opera had been written by Blitzstein, but he had never pulled together all the music. I had seen Leonard Lehrman do a superior performance on Long Island before, and was pleased when I realized it was the same person. I look forward to seeing it again when the orchestra would have been more familiar with the timing of musical entrances. It was well cast with police investigators only going after the pair. Later it was discovered that a gang had committed the murder. I was pleased the Dukakis commemoration of the tragedy of injustice was included, as Dukakis came from the same town as my grandfather: Mytilene, Lesbos, leading my father to say that he and his famous cousin Olympia were related to the Kaldis family.
– Guy Kaldis [Harvard College Class of 1959]
Photos by Joel Simpson
More photos from the performances below. Read a TheaterScene.net review of the September 10 presentation at http://www.theaterscene.net/music/sacco-and-vanzetti/victor-gluck/.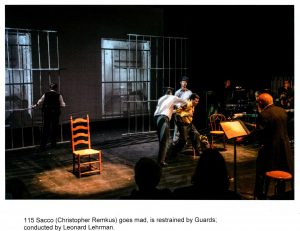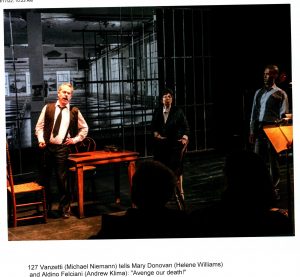 ---
Comments Off

on Sacco and Vanzetti – A Review by Guy Kaldis
Sorry, comments are closed.