Comments Off

on The Winding Road to Sacco and Vanzetti by Leonard Lehrman
August 19, 2022 by Admin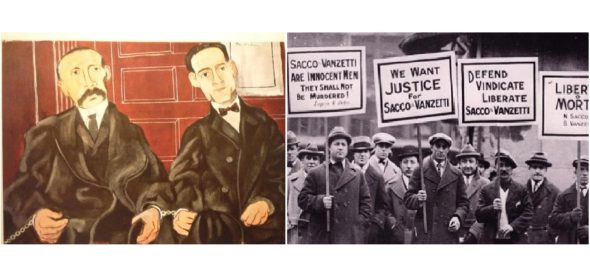 The Winding Road to Sacco and Vanzetti
© Copyright 2022 Leonard Lehrman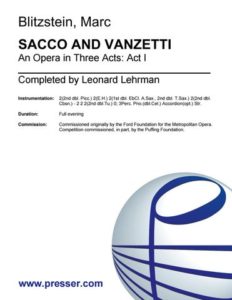 This article was inspired by my Harvard classmate Peter W. Sage, a very sagacious blogger on politics, who invited me to contribute a 700-word essay on our upcoming premiere, which he posted at https://peterwsage.blogspot.com/2022/08/the-past-is-never-dead.html, and then suggested I might want to post elsewhere a longer article on "The Winding Road" to the realization of this project.  This is that article.
The two Red Scares of 20th century America have haunted me all my life. The post-World War One Palmer Raids of 1919 led directly to the Sacco-Vanzetti Case of 1920-27, while the post-World War Two Cold War led directly to the Rosenberg and Alger Hiss Cases, 1948-53. Four of the defendants were executed; one disgraced.  All of them insisted they were innocent.  Understanding them, and making clear the veracity of their claims, has been an artistic quest of mine for nearly half a century, at least in part I guess due to my parents' social activism, and the McCarthyism they endured.  The work of Miriam & Walter Schneir, the brother of a childhood friend of my father's, has been particularly admirable; I was proud to aid in the publishing of The Final Verdict, which showed the Rosenbergs had not been guilty of atomic espionage.
Along the way there have been friends, allies, and obstacles.  "The Sacco-Vanzetti case united the liberals," wrote one of my Harvard professors, David Riesman, in the 1960s. "The Rosenberg case divided them."  Alger Hiss has had his supporters, including Bard College President and conductor Leon Botstein.  But no one, not even he, and not the Puffin Foundation (which has supported every other project I've approached them with, since 1991), has expressed interest in an opera on him, still on the back burner, that librettist Kim Rich and I began back in 2007.   (See https://youtu.be/eFAU2SCm1To.)
A key to the Sacco-Vanzetti case was the investigative work of appeals assistant attorney Herbert Ehrmann (1891-1970), who convinced composer Marc Blitzstein (1905-64) of the Italian anarchists' indisputable innocence of the crime – robbery and murder – for which they were convicted. Ehrmann and his wife Sarah (1895-1993), ardent opponents of capital punishment, also managed to convince their Brookline, Mass. neighbor, Governor Michael S. Dukakis, as I learned in my first in-person meeting with him and his wife Kitty at their house in Brookline, June 8, 2022.  It was thus natural that "Governor Mike" (as he asked me to call him) brought closure to the case with his exoneration proclamation of July 19, 1977, declaring August 23, the 50th anniversary of their death that year, "Sacco and Vanzetti Day" in Massachusetts, a date honored yearly by the Sacco Vanzetti Commemoration Society (see saccoandvanzetti.org), this year at 7pm with Governor Mike and me, among other speakers. And it was natural that the conclusion of the opera should include that exoneration, as the Blitzstein Estate agreed, in 2000.
Josephine Davis (1902-87), Marc Blitzstein's sister, told me that when he began writing his opera Sacco and Vanzetti, commissioned by the Ford Foundation, optioned by the Metropolitan Opera, in 1959, he was thinking of the Rosenbergs.  He had already treated the theme abstractly in his large, unproduced choral opera of 1930, The Condemned. But this was to be a human drama, not so much like his Brechtian masterpiece of 1936, The Cradle Will Rock, with its deliberately cartoonish characters (though there would be some of that too), but more like No For an Answer – a mildly anti-war labor opera he would shelve after Germany invaded Russia in 1941 (seeing this past July 12th the only complete video of a production, archived in 2001 and viewable only at the American Conservatory Theater in San Francisco was a revelation); Regina, a 1949 Broadway opera of cruelty based on Lillian Hellman's The Little Foxes; or Reuben Reuben, an urban folk opera on the difficulties of communication, which failed to communicate with its audience, despite much gorgeous music, set in New York's Little Italy, though it never got there, opening and closing in Boston in 1955.
With the help of my private teacher and mentor (since the age of 11), Elie Siegmeister (1909-1991), who lent me his personal copy of the score, in November 1969 I adapted, re-orchestrated, staged and conducted The Cradle Will Rock at Harvard's Loeb Experimental Theater, in its second Boston production.  The first had been by Leonard Bernstein, also at Harvard, at Sanders Theatre, in 1939.  When Bernstein heard about my production he remarked: "I'm glad somebody at Harvard still has taste."  So when he came to dinner at Dunster House, Dec. 2, 1969, he already knew who I was, and stayed to talk with a group of us until 3AM, about Blitzstein, musical theatre, and the state of the world.  Of particular interest, to me, were the unfinished works Bernstein had partially premiered at a Blitzstein Memorial Concert April 11, 1964, especially Tales of Malamud, one-act operas based on stories by Bernard Malamud.
On Siegmeister's urging, in July I went down to Philadelphia, met Jo Davis, and examined the nearly-complete score of Idiots First, the first Malamud opera.  (There have been five more since then, by me, by Siegmeister, and by Raymond Goldstein.) What struck me at the time was that its style was so close, harmonically, to my own just-completed song cycle on Karl Shapiro's poetry, The Bourgeois Poet, I felt that I could have written this music myself, but needed to learn more about opera, and about Blitzstein.  The following month, at the Bennington Composers' Conference, I interviewed Virgil Thomson and Bernard Malamud, and then hitchhiked a ride to Chicago, taking a bus from there to Madison, Wisconsin for my first visit, of five, to the Marc Blitzstein Archives.
On Dec. 5, 1970 I adapted, directed, music-directed, and starred in a triple bill of Blitzstein's Harpies (1931) and I've Got the Tune (an autobiographical radio song play of 1937) in their Boston premieres, along with Bernstein's Trouble in Tahiti, that had been dedicated to Blitzstein. Bernstein was there.  Hearing him yell "Bravo!" was one of the great moments of my life.  Afterwards, when I requested his permission (as Blitzstein's musical executor) to complete Idiots First, came another of those moments:  He took me in his arms, murmuring: "God bless you."
In December 1973, after carefully analyzing the work with Siegmeister, and in Paris on a Fulbright with Nadia Boulanger (who had been both Siegmeister's and Blitzstein's teacher), I completed the work and played it for Siegmeister, then Malamud, then the Blitzstein Estate, who asked me to play it for Bernstein, who was unavailable, composing The Dybbuk with Jerome Robbins.  "Call David Diamond," demanded Jo.  So I played it for him, along with After Dinner Opera Company's Richard Flusser, who had heard about my completion, and asked to meet me at Diamond's Juilliard studio.  Diamond gave it the warmest possible endorsement (in 1996, in Fontainebleau, hearing another of my completions, he announced: "This man writes Blitzsstein!") and suddenly Bernstein, his secretary told me, was taking a "breather" and wanted to see me.  On January 17, 1974 he signed a photo of the Dec. 5, 1970 curtain call: "From Leonard to Leonard, von Herz zu Herz," sat down next to me, turning pages as I played and sang, and sang along with me – an octave lower.  He later told Richard Flusser: "Leonard Lehrman is Marc's dybbuk."
Peter Sage wrote on Aug. 16, 2022 that Bernstein had "passed the torch on Sacco and Vanzetti to" me.  But that's not quite true.  He certainly passed it to me regarding Idiots First, which had four productions – at Cornell, in Indiana, with New York's Bel Canto Opera Company – winning the first Off-Broadway Opera Award for "most important of the season" in 1978 – and an orchestral premiere by the Center for Contemporary in 1992 at NYU.  But in October 1984, in Berlin, I saw him in person for the last time.  At first he didn't recognize or remember me, but when gently reminded he did, jumping up, nearly overturning a table, and hugging me, exclaiming "Where have you been?"
Perhaps he did not know, or was unaware, that I had been in a 7-year "economic exile," working in European theaters, having been deemed "overqualified" for any position in academia, which I had reluctantly left after being offered a one-year contract – on his recommendation – as Assistant Chorus Master at the Met.  And so, not knowing my whereabouts, maybe that's why he asked another young composer of opera, Daron Hagen (1961- ), to consider completing Sacco and Vanzetti.  Since the two of them looked only at the extant musical sketches, they both concluded that Blitzstein had not written enough to go on.
But they were wrong.  I found a clear outline of each act in Blitzstein's handwriting in the Appendix at the back of his copy of Ehrmann's first book.  And I also saw how the composer had been appropriating and developing materials from his own earlier works, especially Reuben Reuben.  Years later, with the Blitzstein Estate's encouragement, I repurposed music from 14 songs in that show, along with a number of other songs and instrumental pieces, including his last completed composition, a piano "portrait" of Ben Cooper, the husband of mezzo-soprano Brenda Lewis, who created the role of Birdie and later took on the title role in Blitzstein's Regina, and at whose home in Connecticut he had written much of Sacco.
But there's more to the story:  In 1978, as I was concluding my year at the Met, with the Bel Canto Opera success behind me, I started thinking about Sacco and Vanzetti, spoke about the opera with trustees at the Met who admitted that its controversial subject had made them "not sorry" it had disappeared, and queried Jo Davis about possibly finishing it.  Unlike Idiots First, where she had been maximally encouraging (to Bernstein, Rochberg, Bolcom, Diamond, Siegmeister, and then me), she was a bit cagey: She thought someone in England was working on it, claiming not to remember his name.  Believing it might be composer/musicologist Wilfrid Mellers, a friend and strong advocate of Blitzstein and his music, I wrote to him, asking if I could visit him, and if he might be finishing Sacco.  He wrote back, warmly inviting me, setting up a lecture for me to give at York University where he was on faculty, but not answering the second question until I got there, whereupon he told me No, he was not.  In London I asked Weill scholar David Drew if he might be doing it, or knew who was.  He wasn't, and didn't.
So I called Jo Davis when I got back to New York, told her of my travels and travails at not finding any British Blitzstein completor, and she said:  "Well, I don't think he's interested any more, so if you want to do it, go ahead."  Meanwhile, I was writing and producing my own operas, oratorios and musicals, in and around New York and Germany, including my Rosenberg Cantata, We Are Innocent, which premiered in 1988-89 with the Metropolitan Philharmonic Chorus (which I organized) & Orchestra, commissioned by the National Committee to Reopen the Rosenberg Case, which I later co-chaired, 2006-10.  Jo died in 1987.   A year later I was invited first to direct and then to consult on a Blitzstein double-bill at Soho Rep in New York, and put together on request supplementary songs which eventually coalesced as "A Blitzstein Cabaret" with Helene Williams, Ronald Edwards, and me at Lincoln Center, on Premier Records, and elsewhere.  On line at the memorial to civil rights attorney (and good friend of both the Blitzstein and Lehrman families) Leonard Boudin in November, 1989, Christopher ("Kit") Davis and I found ourselves trapped for half an hour, as he told me of his reluctant take, in contrast to his mother's, on having his uncle's work finished.
It took a) a video of the 1992 orchestral premiere of Tales of Malamud, which Kit's older brother Stephen saw; b) a letter endorsing my completion of Act I from my Cornell professor Robert Palmer, who had visited Blitzstein in Rome and played part of the Sacco score with him, four-hands, in 1963, and then came to my house after I played some of his music on my 50th birthday concert, August 20, 1999; and c) an offer I made to put the copyright in the name of the Blitzstein Estate, despite my having actually composed more than half the opera – based mostly on themes created by Marc –  to convince Kit to sign on to a back-end commission (meaning out of royalties, until a certain figure was reached) set up by Tom Broido at Theodore Presser.  But once he did, he enthusiastically supported the final draft of the libretto, including the words from Dukakis's exoneration, and the quotation from my We Are Innocent.
On Dec. 1, 1995, the National Opera Association's Boston convention included a session on Sacco and Vanzetti, with tenor Charles Osborne and speakers Paul Talley (on Blitzstein), Robert d'Attilio (on the case), Howard Zinn (on the historical perspective), and me.   D'Attilio connected us with relatives of Vanzetti in Villafalletto and Sacco in Torremaggiore, whom we visited in 2000, along with the families' graves.  Sacco's niece Fernanda showed us the 8-foot monument she had erected, with the text of the Dukakis exoneration translated into Italian and engraved in stone.  She also arranged for a plaque given to us when we gave a concert of Italian songs and excerpts from the opera at the local music school.  Years later, she got a committee to translate the libretto into Italian. She died at age 90 July 3rd, and will be memorialized Aug. 23rd.
The NOA also sponsored a program of excerpts from the opera in January 2001.  Brenda Lewis heard about it, and told me "Everything Marc wrote, everything, was just prelude and preparation for Sacco and Vanzetti.  If you finish it, I'll get you a production."  I did, and she did, August 17, 18 & 19, at the White Barn Theatre in Westport, CT, in association with the After Dinner Opera Company, concertante, with piano.  The day of the premiere, I wrote in The Forward ("A Case of the 'Prophetic Imperative'"): "I am hopeful that this is only the first step toward the fully staged production, with orchestra, that this opera deserves.  Perhaps such a goal is attainable by next year… or at least by the Blitzstein Centennial in 2005."
But that was not to be.  9/11 put the kaibosh, at least temporarily, on any opera with anarchists as heroes and law enforcement as villains.  And Opera News published a diatribe against the work by a critic who hadn't even attended a performance, prompting what the magazine itself called "A STORM OF PROTEST": 14 letters, of which 5 were published; the others I posted online.  Companies in Boston (Opera Boston, which could not find a "medium-sized" venue, and went bankrupt trying to produce even well-known American operas like The Consul  and The Crucible in large auditoriums), Los Angeles (Kent Nagano's proposal was "shot down" by Placido Domingo; Peter Kazaras's efforts at UCLA were undermined by insufficient endowment and enrollment), Philadelphia and Italy (Karen Saillant) considered and even announced plans to produce it, but all fell apart.  Hofstra University, which had hosted a Sacco-Vanzetti Conference in 2005, scheduled it three years in a row at its Italian Festival, which was canceled each time due to COVID.  A Retrospective Preview was offered on Zoom, Oct. 17 & 19, 2021 (viewable here: https://www.youtube.com/playlist?list=PLmhHI8m9j-XsJKhQglT2U7iuGooq7CjiF), funded by a NYSCA Decentralization grant, featuring director Benjamin Spierman and members of the cast, old and new.  But the staged orchestral premiere will be in the Bronx, again presented by After Dinner Company, with the Metropolitan Philharmonic Chorus & Orchestra September 10 at 7pm and September 11 at 3pm at Lehman College Studio Theatre – the first opera ever produced there.  Admission is Pay What You Can.  For reservations please call 516-825-2939.
Three arias, cut from the show, will be featured at the Sacco-Vanzetti Day Memorial presented on Zoom by Community Church of Boston, August 23 at 7pm. Go to their website or saccoandvanzetti.org to attend.
This is Leonard Lehrman's 31st article for SoundWordSight.com. His website is at http://ljlehrman.artists-in-residence.com.
Listen to Leonard Lopate's live interview with him, Helene Williams & Ben Spierman, Thursday, Sept. 8, 2022 at 1pm on WBAI-FM or wbai.org. Also on WBAI, Monday, Sept. 5, 2022 at 10:45am David Rothenberg interviews Lehrman.
---
Comments Off

on The Winding Road to Sacco and Vanzetti by Leonard Lehrman
Sorry, comments are closed.