Comments Off

on Ensemble Midtvest in Concert – A Fine Debut at Carnegie Hall's Weill Recital Hall
February 26, 2012 by Admin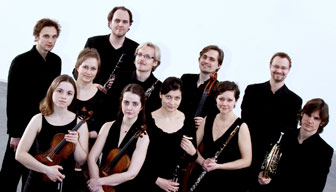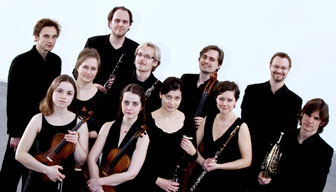 Ensemble Midtvest in Concert – A Fine Debut at Carnegie Hall's Weill Recital Hall
The Danish-based Ensemble Midtvest made a fine debut at Weill Recital at Carnegie Hall on Friday, February 17, 2012.
As they say on their website (http://www.ensemblemidtvest.dk/), "The Ensemble MidtVest consists of ten young musicians, who studied at the world's leading music conservatoires, and who devote themselves not only to classical chamber music but also to music projects that cross various music genres and styles."
Although there was no genre-crossing at this concert, there was marvelous musicianship and a happy sense of great pleasure in making music.
The program opened with a rarely heard gem of chamber music, Bartok's Contrasts for violin, clarinet and piano. Probably best known for its connection to violinist Joseph Szigeti, clarinetist (and commissioner) Benny Goodman, with the composer himself on piano, and their recording of it, the piece deserves to be much better known in the concert hall.
Violinist Matthew Jones, clarinetist Tommaaso Lonquich ands pianist Martin Qvist Hansen gave a committed, nuanced and nicely stylish performance.
The first movement featured a good use of dynamics and an exceptionally fine conversation between the violin and clarinet – with a very well executed clarinet cadenza.
The second movement's lovely, hushed opening was appropriately mysterious with a good Bartokian tension –again, with an effective violin/clarinet dialogue. There was especially sensitive playing from pianist Hansen at the end of the movement with its hushed atmospherics.
The third movement, with its Hungarian barn dance-opening, led to fine trio interplay and again, marvelously conversational violin/piano and clarinet/piano combinations. Bartok's odd but superbly effective tension was always kept to the fore, driven forward to a rousing finish by the players' collective sense of propulsion and purpose.
This 20th Century masterwork was beautifully essayed by the ensemble players, who, like Szigeti, Goodman and Bartok are all three superb soloists, working beautifully together.
Next up was Carl Nielsen's Wind Quintet, Op. 43, performed by flutist Charlotte Norholt, oboist Peter Kirstein, clarinetist Tommaaso Lonquich, hornist Neil Page and bassoonist Alexander Kasper.
Again, fine ensemble, with polished, lovely playing.
The ensemble sound in the first movement was especially lush, with a nice blending of bassoon and horn. They seemed to understand Nielsen's use of the sounds of nature and certainly conveyed his musical wit.
The second movement danced from the start, but was perhaps a bit too square rhythmically. Their approach needs to be more flexible, danceable and perhaps even a bit more delicate. The playing was solid throughout, with especially good bassoon and lyrical flute.
The final movement opened with a strong, committed, serious statement of a prelude, leading into and almost anthemic moment of beautiful ensemble work – and then came the variations.
These were strongly played, with wit and brio. It struck me that the music seems like a series of interesting conversations between interesting people, with exceptional clarinet/bassoon interplay.
One small criticism – sometimes the breaks between the variations were a touch too long, and interrupted the flow of ideas. That said, the performance was generally quite fine.
The second half of the program was Schumann's Piano Quintet in E-flat major. Although I'm not a huge fan of Schumann's music (owing to over exposure), Ensemble Midtvest's performance made me take more than usual notice of this warhorse, and not always for the right reasons. They proved there's some life in the old boy yet.
Performers were pianist Martin Qvist Hansen, violinists Ana Feitosa and Karolina Weltrowska, violist Sanna Ripatti and cellist Jonthan Slaato. There was no want of enthusiasm in their performance.
The first movement was driven by very strong piano playing, with good control of dynamics and legato. Fine string ensemble playing throughout, with a nicely balanced sound that "sounded" well in Weill Halll.
In the second movement, the 1st violin seemed to need a little more rosin on her bow, as the sound was too muted at the opening. In general, the opening of the movement was too tentative. Things certainly picked up with faster tempos, and the playing seemed more sure and committed as the movement progressed, but I was left with the impression that the lyrical moments could use a little punching up.
The players seemed on slightly firmer ground technically with the third movement, but there was a curious muted sound quality. The movement was generally good, but the molto vivace was not molto enough.
In the finale, there were some very fine passages, and on balance, the presentation was quite good. However, as with most of this performance, it was missing that last spark, that feeling of ease and familiarity with the music that would move it to the next level.
The players are young and fine enough to continue to grow with their deepening understanding of standard repertoire such as this. I fell certain they will and would love to hear how they perform the piece five years from now.
Ensemble Midtvest's young musicians are to be commended for this program. I look forward to hearing them on their next visit to the United States.
Jeffrey James
February 26, 2012
Category Sound | Tags:
---
Comments Off

on Ensemble Midtvest in Concert – A Fine Debut at Carnegie Hall's Weill Recital Hall
Sorry, comments are closed.