Comments Off

on Another of Kubrick's Early Films
April 7, 2012 by Admin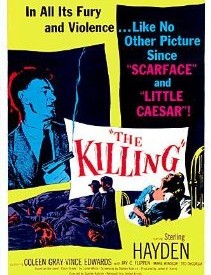 Stanley Kubrick's second significant film was 1956's The Killing, the story of a racetrack heist gone wrong and the group of men who tried to pull it off. Wonderful performances from Sterling Hayden (later General Ripper in Dr. Strangelove), Elisha Cook, Jr., Marie Windsor and other familiar faces of the day. The ending is especially surprising and even pleasing in its uniqueness.
Kubrick had an obvious love for these kind of stories, and was a master of dark atmospherics and the kind of black and white verite that I find attractive. Here's the theatrical trailer for the film:
Category Sight | Tags:
---
Comments Off

on Another of Kubrick's Early Films
Sorry, comments are closed.