Comments Off

on Kubrick's Early Films
April 1, 2012 by Admin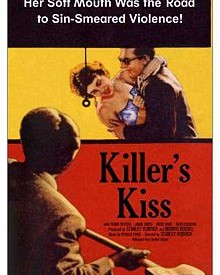 Before he directed such large-scaled films as Spartacus, 2001 – A Space Odyssey, A Clockwork Orange, Full Metal Jacket and The Shining, Stanley Kubrick had a remarkable early career as creator of several small scaled black and white films that I've been exploring recently. Today, we'll consider Killer's Kiss, from 1955.
The story is about a boxer falling in love with a woman who's being stalked by her employer, the owner of a Roseland-styled dance hall, and the consequences that come from the fighter's interference. Made on a low budget, with a seamy film-noir realism, it was shot right on the streets of Manhattan without benefit of being able to shut down locations. Passers-by occasionally look at the camera, but it doesn't take away from the atmosphere, which is considerable. Especially fascinating are the scenes shot inside the original and long-gone Penn Station. No immediately recognizable actors, but that only adds to the film's authenticity. Here's a minute or so of Killer's Kiss:
Category Sight | Tags:
---
Comments Off

on Kubrick's Early Films
Sorry, comments are closed.