Comments Off

on Zombies, Flying Disc Men and Other Cold War Annoyances
September 3, 2012 by Admin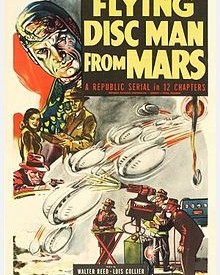 I recently raided my videotape library to find some of the old movie serials I had collected awhile back. I found Flying Disk Man from Mars and Zombies of the Stratosphere.
For those that don't know about them, these were action/adventure stories, shown one 10 to 15 minute segment at a time over the course of, usually, 12 weeks. They involved lots of fistfights, car/boat/plane/rocketship/anything-that-moved chases, dangerous situations that were obvious to everyone but the hero (the one man who was able to save the earth), an enthusiastic but not very bright sidekick, a pretty girl office manager, lots of scientists and other "officials", and a weekly how-will-he-get-out-of-this-one cliffhanger ending. Of course, the next week, the hero would regain consciousness just before the disabled speed boat he was in was swept over the falls. The plots also featured the demolition of truly impressive numbers of cars, trains, speedboats, planes, rockets and laboratory equipment.
Flying Disk Man from Mars and Zombies of the Stratosphere were Cold War products, so the overarching spectre of atomic power figured into the plots as well.
Take a look at the trailer for Zombies of the Stratosphere:
Here's most of the first episode of Flying Disk Man from Mars:
Interesting how Mota the Martian sounds like he's from Mars via Budapest….
Anyway, these serials are really a lot of fun and there are many to be found online or at NetFlix or whatever your video source. I have a weakness for the old science fiction serials, but there are many, many more to explore. So, tune in next week….
Category Sight | Tags:
---
Comments Off

on Zombies, Flying Disc Men and Other Cold War Annoyances
Sorry, comments are closed.