Comments Off

on New York Concert Reviews and Notes from Mark Greenfest
March 23, 2014 by Admin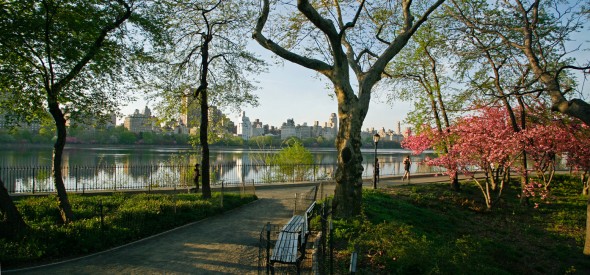 From independent New York concert reviewer Mark Greenfest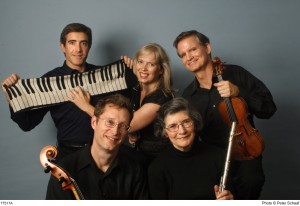 Da Capo Chamber Players held its late-winter concert, Big Apple New Music, Sunday, February 16, 2014 at 8pm at Merkin Concert Hall in New York (W. 67 St. near Broadway).
The program featured pieces by Judd Greenstein (b. 1979), Eleanor Cory (b. 1943), Leo Kraft (b. 1922), Louis Karchin (b. 1951), Bruce Adolphe (b. 1955), and Fred Lerdahl (b. 1992).  The ensemble consists of Curtis Macomber, violin; James Wilson, cello; Patricia Spencer, flute; Meighan Stoops, clarinet; and, Blair McMillen, piano; and, Sharon Harms, soprano, appeared as a guest artist.
Greenstein's piece, At the end of a really great day (2008), opened the program. Its neominimalist cells quietly build a textured background, while the flute sings colorfully.  It was commissioned by the Seattle Chamber Players in memory of Emily Driscoll; and, it sounds like a really great day. Mannes prof. Eleanor Cory, Violin Sonata No. 1 (2012) in three movements, had its world premiere. The violin soars, with a sometimes astringent tone, and then engages in a dialogue with the piano. This is a major piece. Leo Kraft, of the Aaron Copland School of Music, and one of the most eminent living composers, had the World Premiere of his piece, To Whom It May Concern, featuring the full ensemble in five movements – the last of which the performers recite John Donne. This is a very rich and visceral composition of great virtuosity and profound depth. Each movement is different – the whole is a "lively, intense piece with an American feel to it." (Kraft.)  Louis Karchin, the guiding light of NYU composition, had a wonderful performance of his piece, A Way Separate (1992, revised 2013), based on poetry of Ruth Whitman and of Hannnah Senesh, who perished in the Holocaust rescuing Jews. Soprano Sharon Harms gave an excellent performance.  Bruce Adolphe, composer in residence for the Chamber Music Society of Lincoln Center, got a memorable performance of Machaut Is My Beginning (1989); and Columbia professor Fred Lerdahl's, Marches (1992) – a "phantasmagoria of overlaid march-like ideas," written for CMS of LC, concluded the program. To enhance the feeling of new musical community, there was a very amiable wine and cheese reception afterwards.
Visit them at http://www.da-capo.org/.
The NYU Symphony , conducted by David Rosenmeyer, performed Benjamin Britten, Four Sea Interludes from Peter Grimes, and Peter Ilyich Tchaikovsky, Symphony No. 4 in F minor, exceptionally well, Monday, March 3, 2014, 8pm at the NYU Skirball Center (Washington Square). Two NYU Steinhardt students had pieces performed, Nell Shaw Cohen, Point Reyes from Chimney Rock (2014) and Kyle Tieman-Strauss, Just for the Record (2014).  The Shaw Cohen piece sounded like an impressionist fantasy – a tone poem – and was most appealing sonically. The Tieman-Strauss piece borrowed a lot of music, some of it from Britten, from a different perspective, and explored a lot of interesting ideas.
Frances-Marie Uitti (http://www.uitti.org/) is one of the best cellists in the world and the only one who can perform comfortably with two bows in her hand. The Italian Academy of Columbia University featured her at its free series on Wednesday, March 5, 2014 at 7pm.  She performed Count Giacinto Scelsi (1905-88), Ygghur (1965); Il Funerale di Carlo Magno [Charlemagne] for two-bowed cello (1978; US Premiere); and, her own piece, Homage to G.S. (2014, world premiere). Scelsi's music tends to explore the nocturnal and the the very quiet; he made a pilgrimage on the Silk Road from Italy, long before it became popular again; and is a musical pioneer. During the first half of the program, Ric Whittaker hosted a conversation with Ms. Uitti and the two editors of the book, Music as Dream: Essays on Giacinto Scelsi. Ms. Uitti's piece was performed in the light and one could see technique that was unique. The music was beautiful!
As a change of pace from contemporary music, I attended the outstanding Ensemble for the Romantic Century program, Tchaikovsky: None But the Lonely Heart, at BAM Fisher, March 7, 2014, at 7:30pm in Brooklyn. Eve Wolf, the company's director, was pianist, with Rachel Lee Priday, violin; Adrian Daurov, cello; Blake Friedman, tenor; Daniel Mantei, dancer; and two actors taking the leads, Simon Fortin as Piotr Ilyich Tchaikovsky and Ariel Block as Nadezhda von Meck. The program featured readings from the letters of Tchaikovsky to his benefactor, Mrs. von Meck, with well-chosen selections of his chamber music and songs – nocturne, scherzo, the song, None but the Lonely Heart, and so on. The format, interweaving autobiographical letters with instrumental music, song and dance is both instructive and entertaining – the night's program left a lasting impression, and I learned quite a bit. The performers are some of the top artists in the New York metropolitan area and this company's production standard is superb.
The Concert Artists Guild (http://www.concertartists.org/) is one of the few organizations which provides management for emerging young artists. I attended the program at Carnegie Weill Recital Hall, Monday, March 10, 2014 at 7:30pm that showcased Jay Campbell, cello, with Conor Hanick, piano, and Mike Truesdell, percussion.  Although young, Jay Campbell is a master of his instrument.  He performed pieces by Claude Debussy (Sonata in D minor), Matthias Pintscher (Uriel [2012]), Simon Steen-Anderson (Next to Beside Besides [2004/06], David Fulmer, (Canantes Metallis [2013-14]) and Igor Stravinsky (Suite Italienne). The Pintscher piece, which has a very long and quiet interior, drew the comment from a colleague that it was the best new piece for cello and piano he had ever heard. It's a beautiful piece. The David Fulmer piece was very exciting – written for cello, percussion and prepared piano – this modern piece plays with the full range of singing metals, and not only is it sonically interesting, but it is a fascinating composition. The Debussy and Stravinsky are acknowledged masterpieces. These performers are all outstanding, and the consensus was that Jay Campbell can write his own ticket for a career.
Marc Peloquin, pianist, presented the Piano Works of David Del Tredici at the Here and Now Series at Bargemusic, Friday, March 14, 2014, at 7pm.  The program included Soliloquy (1958), Three Gymnopedies (2003), Virtuoso Alice (1984), and Mandango (2008), five gay-themed pieces for piano solo. As Del Tredici, who is now 77, had recently had a medical procedure done, the four-hands piece Carioca Boy-Tango (2009) was not performed. Del Tredici is credited with being one of the first composers (if not the first) to lead neo-romanticism and to leave academic serialism behind.  Peloquin (http://marcpeloquin.com/), who is a most strong and sensitive pianist, is a brilliant interpretive artist and champion of Del Tredici's music. This concert was stellar.
Music Mondays at the Advent Lutheran Church presents an entire concert series, once a month, free of charge to the public. Last night, ECCO (East Coast Chamber Orchestra), a conductorless orchestra, performed a varied program of Mozart, David Ludwig (b. 1974), Eric Satie, Judd Greenstein (b. 1979), Carlo Gesualdo da Venosa (1560-1613), and Maurice Ravel, Monday, March 17, 2004, at 7:30pm, to a full house. The New York Times ran a review by Zachary Woolf of the same program, this time ticketed, at a different house. This is a string orchestra, and they are excellent performers – many principals and soloists with established careers. The pieces were excellent! Visit them at http://eccorchestra.org/.
Category Sound | Tags:
---
Comments Off

on New York Concert Reviews and Notes from Mark Greenfest
Sorry, comments are closed.