Comments Off

on Symphonic Masterpiece – Vagn Holmboe's Symphony No. 8 "Sinfonia boreale"
March 9, 2014 by Admin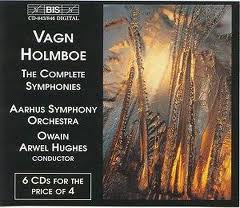 AllMusic has some nice things to say about the works of Vagn Holmboe (1909-1996):
"Few Scandinavian composers other than Sibelius and Nielsen (I might also add Kaija Saariaho, ed.) have succeeded in claiming international attention. Holmboe was an exception and is becoming widely recognized as the most important Danish composer since Nielsen. His 13 symphonies (1935-1982), 20 string quartets (1949-1975) and other compositions, including three operas, Requiem for Nietzsche (1964), 13 chamber concertos and Epilogue (1962), are increasingly shown to be significant contributions to twentieth century music."
"International attention came when his Fifth Symphony was performed at the International Society for Contemporary Music Festival in Copenhagen in 1947, after which Holmboe received commissions in various parts of Europe. The seventh and ninth symphonies are the most intense of Holmboe's orchestral output, and the Fourth Quartet the most intimate of his chamber works."
My favorite of his works is driving and intense Symphony No. 8 "Sinfonia boreale", especially in this performance by Owain Arwel Hughes with the Århus Symphony Orchestra.
The piece, from 1951, is in four movements I. Allegro molto intensivo, II. Tempo giusto, III. Andante con moto and IV. Allegro passionato. Interesting notes about the piece from a 2012 performance by New York City's American Symphony Orchestra at http://americansymphony.org/symphony-no-8-sinfonia-boreale/.
Now, let's hear this masterpiece:
Category Sound | Tags:
---
Comments Off

on Symphonic Masterpiece – Vagn Holmboe's Symphony No. 8 "Sinfonia boreale"
Sorry, comments are closed.