Comments Off

on April 2015 New York Philharmonic Concert Reviews
April 18, 2015 by Admin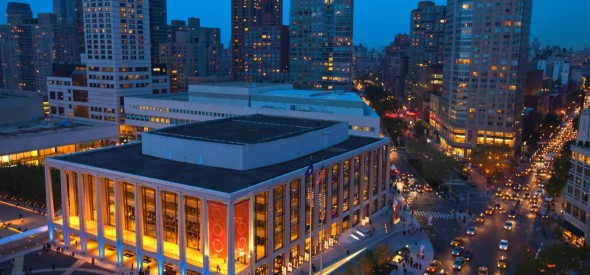 Here are some more New York City concert reviews from our friend Mark Greenfest. Good to have him back writing for SoundWordSight.
The New York Philharmonic performed the U.S. premiere of Thomas Ades' Totentanz (2013), conducted by the composer this past March. The piece has tremendous energy – line dancing, with strong percussive accents – massed strings and drums augmented by other percussive instruments – sufficiently transparent cross-currents – low and high melodic passages.
Death was portrayed by the baritone; and the mezzo-soprano portrayed the other personae, starting with the Pope and ending with the Baby. I found these passages from the late medieval dance of death to be particularly poignant – the Peasant ("with your honest labor, you can dance joyfully now"); Death to the Maiden, which is beautiful and lyrical; and, Death to the Child, which is very tender and gorgeous, akin
to Mahler, ("I cannot walk, yet I must dance").
Visit Thomas Ades at http://thomasades.com/.
The Philharmonic, on April 8-11, 2015, (which I heard on April 11) presented a fascinating program conducted by its Music Director, Alan Gilbert, featured the J. S. Bach, Concerto in C minor for Oboe. Violin, and Strings, BMW 1060 (c. 1717-23); Thierry Escaich (b. 1965) , Concerto for Violin, Oboe, and Orchestra  (2014-15, U.S. Premiere), with soloists Lisa Batiashvili, violin, and her spouse, Francois Leleux, oboe, as soloists; and, Dmitri Shostakovich's Tenth Symphony.  Alan Gilbert conducted with his hands and only the Shostakovich piece was for a full orchestra.
The Bach piece is very well known; and the Escaich work is based upon it – he borrows melodic material from that piece in rearranged and transposed form – and that piece shows off the sonorities of the solo instruments – Leleux's oboe and Batiashvili's violin. The orchestra echoes the soloists parts and provides counterpoint as a background – much like a musical tapestry. The virtuosic interplay between the two (spousal) soloists was tremendously exciting.  Alan Gilbert's conducting, with his hands, was precise and invigorating – he's one of the best conductors in the world. The orchestra's performance, spirited and lively, was splendid.
As for the Shostakovich Tenth Symphony, this monumental hour-plus work, is also very well known and highly regarded.  If the Soviet Union of Composers called Dmitri Shostakovich's Tenth Symphony an "optomistic tragedy" that was spot on. The piece is lovely, yet sombre – it was started in the early 1950s and finished after Stalin's death. The beautiful, but dirgelike opening music, for instance, transforms into an energetic and insistent full-orchestral parade – before it drifts back into the soft twilight of strings and airy woodwinds. This was an excellent performance of this lengthy masterwork.
Visit the Philharmonic at http://nyphil.org/.
Mark Greenfest, Independent New York Music Critic
Category Sound | Tags:
---
Comments Off

on April 2015 New York Philharmonic Concert Reviews
Sorry, comments are closed.