Comments Off

on The Music of Joel Feigin on May 2 at NYC's DiMenna Center for Classical Music
May 12, 2015 by Admin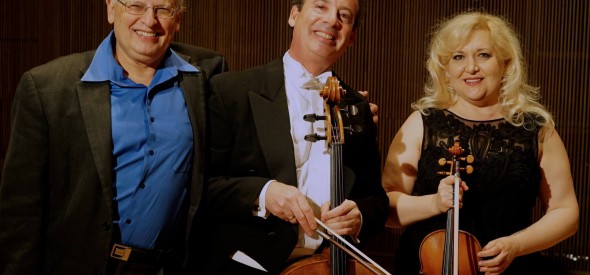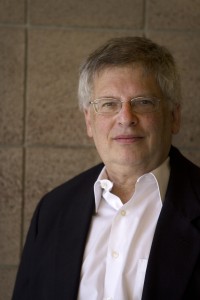 Music of Joel Feigin Performed by Elaris Duo – Benefit for Sandy Hook Promise
Saturday, May 2 at 7:30 PM – Cary Hall of The DiMenna Center for Classical Music, 450 West 37th Street in Manhattan
This concert was presented as a fundraiser for Sandy Hook Promise, which was created in response to the Newtown, Connecticut school shootings. Performers were the Elaris Duo, violinist Larisa Elisha and cellist Steven Elisha, with composer Joel Feigin on piano.
The first work on the program was the World Premiere of Feigin's Shifting Spirits (2010) duo for violin and cello. Somewhat acerbic in some of the violin passages, the piece presents a true dialogue between the violin and cello. The music and the Duo's performance was emotional and poignant and also quite fascinating and memorable.
Erwin Schulhoff's Duo for violin and cello is a rich, tonal work, presaging neo-romanticism, with gorgeous sound showing the exquisite tonal control of the performers. Schulhoff, who perished in the Holocaust at age 48, is finally being lionized as the major composer he is.
Feigin's On the Death of our Young (2013), with Steven Elisha, cello and the composer on piano, was written as a memorial, after the Connecticut school shooting. This touching and magnificent piece shows an extraordinary range of musical material, from lush and lyrical cello melody to cannoning piano chords and delicate, glassine figurations in various forms. The piece is profound and committed, as was the playing. Hear it below.
After intermission, Joel Feigin performed Meditation 1 from Lament Amid Silence (2009). Influenced by an ancient zen master, the delicate and reflective nature of this piece, elegant, vivid and poetic, mark it as an as yet unrecognized masterpiece of contemporary piano literature. It's a gem and Mr. Feigin is an excellent and most sensitive pianist. The performance is below.
Finally, we heard Kodaly's three movement Duo for violin and cello. Influenced by Hungarian folk music as well as by the great middle-European chamber music tradition, this duo is exceptionally lovely and satisfying. Here again, the Elaris Duo shines with their golden tone and intimate ensemble. They have a remarkable depth of range and interpretive artistry.
Joel Feigin is a composer whose works have been widely praised for their "very strong impact, as logical in musical design as they are charged with emotion and drama." (Opera Magazine). His latest opera, Twelfth Night, based on the play by William Shakespeare, has been produced twice this season, by the Opera Theater of DePaul University, and the Opera Theater of the University of California, Santa Barbara, where it was praised as "a magical score…sophisticated and playful…fresh and artistically satisfying".  Feigin's first opera, Mysteries of Eleusis, was performed at the Moscow Conservatory and the Russian-American Operatic Festival. Commissions include a Fromm Commission for Aviv: Concerto for Piano and Chamber Orchestra, written for Yael Weiss, as well as other commissions for pianists Margaret Mills and Leonard Stein, two orchestral works for the Santa Barbara Youth Symphony, and many chamber works. His CDs include the North/South Recordings 2-CD set, Transience, as well as two major piano works performed by Margaret Mills in Meditations and Overtones on Cambria Master Recordings. Feigin's latest CD, Lament Amid Silence, on the MSR label (MS1413), and features violist Helen Callus.  Professor of Composition at the University of California Santa Barbara, Dr. Feigin studied with Nadia Boulanger at Fontainebleau and with Roger Sessions at The Juilliard School, and is a student of Zen Buddhism. His website is at http://www.joelfeigin.com.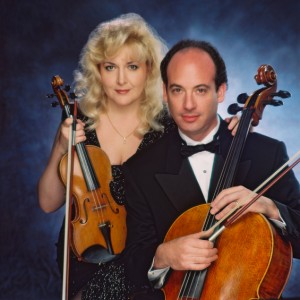 The Elaris Duo has gained national and international renown through their various performances, live radio broadcasts and educational activities, including the Bergen International Festival, Sunflower Music Festival, the National Taiwan University of the Arts, Elaris Chamber Music Academy, as well as solo appearances with Hastings (Nebraska) Symphony, Topeka Symphony, Gulf Coast Symphony, Sunflower Music Festival Chamber Orchestra, Lawrence Chamber Orchestra and the Taiwan National Arts Orchestra. The duo has been featured at the Hawaii International Conference on Arts and Humanities, Georgia Music Educators Association Conference and American String Teachers Association National Conferences. Their acclaimed MRS Classics release, Duo Virtuoso, was featured in Fanfare Magazine and many other leading publications and web syndications. Visit them at http://elarisduo.com/.
Sandy Hook Promise's mission is to protect children from gun violence so no other parent experiences the loss of their child by engaging and empowering parents and communities with targeted prevention programs in the areas of mental wellness early-identification & intervention, social & emotional development and firearm safety & security. They help their community by providing resources and programs that foster connection, resiliency and overall wellness. Visit them at http://www.sandyhookpromise.org/.
Freelance New York Classical Concert Reviewer Mark Greenfest
Category Sound | Tags:
---
Comments Off

on The Music of Joel Feigin on May 2 at NYC's DiMenna Center for Classical Music
Sorry, comments are closed.