Comments Off

on Barab & Spektor: A Delightful & Moving Double Bill
December 7, 2016 by Admin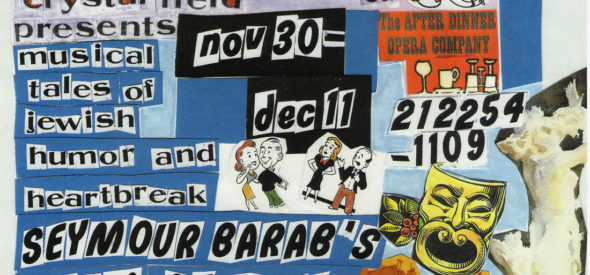 Reviewed by Leonard Lehrman
Seymour Barab (1921- 2014) and Mira J[osefowitz] Spektor (b. 1929) were great friends, of each other and of ours (both attended and heard their music performed by Helene Williams and me at our wedding, July 14, 2002, (see https://www.youtube.com/playlist?list=PLmhHI8m9j-XtvY5ucmd1hxRzi02pjMGl_) and it's great to be able to report that the best works of both are done ample justice in the production that opened Dec. 1 and runs thru Dec. 11, 2016 at Theater for the New City, 155 First Avenue, just below 10th Street, co-sponsored by the (still alive!) After Dinner Opera Company (b. 1950!).
The evening is billed as "Musical Tales of Jewish Humor & Heartbreak."
Barab's baker's dozen sketches from 1992, originally called "Jewish Humor from Oy to Vey," here whittled down to 5 ("In the Cards," "Identity," "Prospects," "Bed & Breakfast," and "Franchise") now bear the abbreviated title: "Oy to Vey."  They were dispatched with aplomb by Darcy Dunn, Douglas McDonnell, James Parks, Bennett Pologe, and Amanda Yachechak.
The final sketch, which manages to combine aging, retirement, money and sex, was, as usual, the most effective, concluding with Dunn's crowning Pologe with a hamper of clothes.  This particular number is something of a specialty of Helene's and mine, as we've performed it over 15 times (8 times in 2014 alone, including Barab's funeral, on request), in English and in a German translation by the Viennese cabarettist Gerhard Bronner (1922-2007), who liked it so much he wrote his own music to it, under the title "Der Sparstrumpf." (See https://www.amazon.com/Der-Sparstrumpf/dp/B003Q4L0GU.)  (You can select and watch any of 11 of our performances (the 12th one, in the nude, is only for selected audiences:>) at https://www.youtube.com/playlist?list=PLmhHI8m9j-XsICivYhqbgxr-hmPHfBeys.)
Spektor's Lady of the Castle is the older of the two works, based on a play by Lea Goldberg, translated from the Hebrew into English by T. Carmi.  It tells the story of two pioneers from the land of Israel, still called Palestine, in 1947, rescuing hidden books and children in Eastern Europe, in the wake of the Nazis' defeat.  The music is spare, for just 4 voices and 3 instruments.
It premiered at this very theater in 1982, and has had several productions.  My mother heard it at the Jewish Arts Festival of Long Island a year later and wrote to me about it in Berlin.  It turned out that Mira, who was born there but with her family fled Hitler's ascent to power at the age of 3, had never been back.  She flew over to attend the production (the European premiere) and became a friend of our family for life.  The 1985 production was one of the crowning achievements of the Juedischer Musiktheaterverein Berlin [see attached poster], and can be seen on Youtube, in 19 segments, at the following playlist – https://www.youtube.com/playlist?list=PLmhHI8m9j-Xst8i8OfZDIvB8qZTds8MvO.
The tenor's first song was created for that production (on my request); the English libretto was discarded and rewritten, based on the play, and then beautifully translated with the poet Miriam Walter into German, with most of the lyrics now rhymed. (I have always kidded Mira that the mostly unrhymed English libretto "loses in the original.")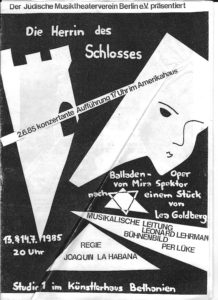 The Berlin production had special poignancy, as the tenor, like the character he portrayed, had been trained by his father as a watchmaker, in Dresden.  And the mezzo-soprano, not Jewish but a tremendous Israelophile, with a home in Jerusalem, brought tremendous pathos to her aria
"I Want to Go Home [to Yerushalayim]."  The young girl they discover, who has been hidden by the Count (now the Caretaker of the Castle, become Museum), does not know the war is over.
In our production, she was played by a Korean coloratura soprano who, in the series of numbers preceding the opera, sang the role of Shin-Ta, a Korean girl who wants to help Jews in the Jewish Autonomous Region of Birobidjan, in a scene from Bruce Adolphe's opera MIKHOELS THE WISE, in which the title character visits the region.  (Then, in the Spektor opera, the singer becomes Jewish!)
It was with special affection that I got to play the role of Solomon Mikhoels, actor, director, and head of the Jewish Anti-Fascist Committee, who raised millions of dollars for Russian War Relief in his 1943 tour of North America, beginning at Symphony Hall in Boston.  My mother was his interpreter there, and throughout New England.  Mikhoels' most famous role was that of Shakespeare's King Lear, in Yiddish.  (More next time on the Slonimsky opera based on the play, just premiered in St. Petersburg October 28, 2016.)
You can watch that Adolphe scene, as Helene & I performed it on June 11, 2016, in Minsk, the city where Mikhoels was killed Jan. 13, 1948, on the secret order of Josef Stalin, here – https://youtu.be/6u_r4_vAWXo
The current production of the Spektor opera is listed as "Re-Imagined" by director Lissa Moira.  And it is. Pianist/Musical Director Jesse Lozano has composed an opening fantasy-pantomime, based on a short song in the score, in which the young girl (Amanda Yachechak) flails around (to her own choreography) with sounds of barking dogs and Nazis marching in the background.  Opening night the composer found those sounds too loud; the second night they could barely be heard at all.  Surely a happy medium was to be found, and will be, for the remaining performances.  Sound Design is by William Giraldo, Set Design by Lytza R. Colon.  Darcy Dunn and Douglas McDonnell as the pioneers and Bennett Pologe as the Count are all adorable.
In a review at theasy.com, http://www.theasy.com/Reviews/2016/L/ladyofthecastle.php, Katherine Neddar calls the Spektor "an exquisite new opera."  It is not new. But it is indeed re-imagined.  And it is very good.  Go!  Reservations:  (212) 254-1109 Photo [posted with that review] by Peter Welch: Amanda Yachechak and Bennett Pologe in Lady of the Castle.
---
Comments Off

on Barab & Spektor: A Delightful & Moving Double Bill
Sorry, comments are closed.