Comments Off

on Jaromir Weinberger Re-Discovered
April 6, 2017 by Admin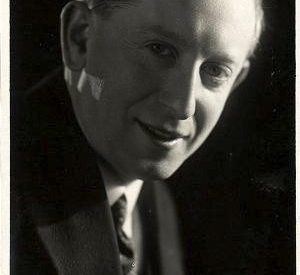 by Tristan Willems
What began as a simple curiosity has turned into one of the largest musicological finds of the last hundred years.
Musicologist and Conductor, Tristan Willems has spent the last five years traveling between Jerusalem, Prague, Bratislava, Berlin and the U.S. in search of the composer, Jaromír Weinberger (above and at right).
"While researching Weinberger´s Saxophone Concerto for a possible performance, I discovered that the orchestral materials were unavailable from the publisher. Furthermore, the printed piano reduction of the work contained so many errors that it was practically unusable. This was due to Weinberger´s death in 1967 and his widow´s need for funds. The edition was put out posthumously, under protest, by the publisher under this pressure."
After locating the orchestral materials in a basement in South Dakota, Willems soon realized that the parts and the piano reduction did not correspond to each other.
" This was due to the fact the he (Weinberger) wrote the reduction first and told the commissioning saxophonist (Cecil Leeson) that he would score the work when a performance was pending. Due to the Second World War, this occurred seven years later. In the meantime, the composer revised the score, adding and subtracting material. I have reconciled all materials so that they now match as well as editing the piano reduction so that more of the orchestral material is present, thereby being more useful to the soloist´s concept of what is going on around them. I look forward to conducting the world premiere of this work at the Jerusalem Saxophone Symposium in June 2013. It is long overdue."
This led Willems to find out more about this composer´s output only to find that only a handful of works were still in print.
"Before Weinberger arrived in the United States as a "displaced person" due to World War II, he was a victim of Nazi oppression. His music publishers in Berlin, Vienna and Prague had been nationalized, thereby freezing his royalty income and as a Jew, all his staged works had ceased to be performed thus ending his grand rights income. Many of his publishers were forced out of business and outside of a few copies of his smaller works in various libraries, everything else seemed lost."
Recently, Willems has unearthed 5 boxes of manuscripts, sketchbooks and documents which represent over 70% of the composer´s oeuvre. Hailed as "The New Mozart", Weinberger was publishing works from the age of nine, performing in public and conducting concerts by age twelve. His early works have a decidedly "French" quality to them which then settles into the Nationalistic style of Smetena, Fibich and Suk which we recognize as his style in his Post-War career.
"These materials turned up in a most unlikely location and the simple fact that they survived in the first place, is a minor miracle. When the Nazi´s occupied Prague in 1939, they seized Weinberger´s home. Rather than destroying everything that they couldn´t use, I assume some culturally astute officer decided that these materials had value. The manuscripts were packed away in crates and shipped out. When the Soviet army expelled the Nazis, they could have destroyed these same materials as well and again, they were spared. They arrived at their present location in 1962 without documentation; it was only by chance that I learned of their existence in Autumn, 2011 as I had previously visited and checked this source site several times."
Since then, Willems has corrected and edited not only these manuscripts, most which have never been published before, but also all of the previously published works as well.
"It is well documented that Weinberger´s relationships with his publishers was tenuous at best. They released his materials with numerous errors and omissions (which they never rectified). This led to him dissolving all ties to them and tried his hand at self-publishing in the early 1960´s. Based upon the materials I have found, we really never knew this man´s contribution to his art. His craftsmanship was impeccable, his ideas, fresh. He was not the "one-hit wonder" (his Opera – "Schwanda, the Bagpiper") we have remembered him as. It is important that we revisit this master."
You can support the Jaromir Weinberger – Returning A Musical Heritage project at https://www.gofundme.com/JaromirComesHome.
Category Sound | Tags:
---
Comments Off

on Jaromir Weinberger Re-Discovered
Sorry, comments are closed.